Ukraine Has Right to Develop Missiles Now That Russia-U.S. Nuclear Treaty Is Canceled, Foreign Ministry Announced
Ukraine has the right to develop intermediate-range missiles to protect itself from Russian aggression now that Moscow and Washington have abandoned the Intermediate Range Nuclear Forces (INF) treaty, the country's foreign minister said in a statement.
The Trump administration recently announced that it would pull out of the INF treaty, which was signed by the U.S. and the Soviet Union in 1987, because Russia is violating the treaty. The decision to abandon the agreement has, however, sparked concerns about an arms race. The treaty had banned ground-launched ballistic and cruise missiles with a range of about 300 to 3,500 miles.
"The potential military pressure of the Russian Federation on European members of NATO due to the withdrawal from the Treaty, aimed at establishing total control by Moscow over the broader region from Baltic to the Mediterranean Sea, poses a serious threat to the whole European continent. Ukraine retains the right to develop military weapons as necessary for defense capabilities of our country, including the relevant missile weapons," Ukraine's foreign minister said in a statement on Thursday, following a meeting between Ukraine's President Petro Poroshenko and the country's national security and defense council.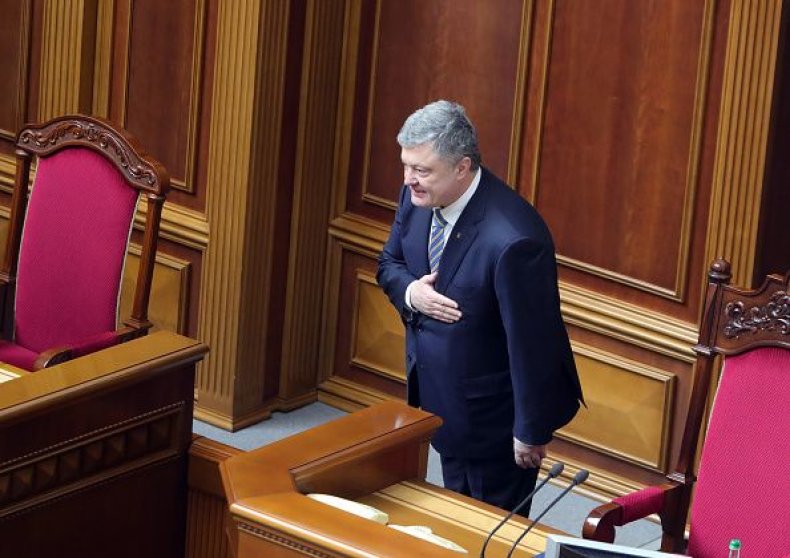 "Ukraine and its U.S. partners condemn the development and tests of Russia's RS-26 Rubezh ballistic missile, which has an effective range of nearly 2,200 kilometers, as well as the upgrading of the combat capabilities of the Iskander-M operational-tactical missile complex, particularly through the modernization of the system's cruise missiles," the statement continued. "The Iskander-M was spotted during military exercises in Ukraine's Russian occupied territory of Crimea."
Russia and Ukraine have been in conflict ever since a pro-Western social movement ousted the formerly pro-Russian president Viktor Yanukovych in late 2013. Moscow has since annexed the Crimean Peninsula from Ukraine, a move that the international community does not recognize, and helped prop up pro-Russian separatists in eastern Ukraine.
Most recently, Russia annexed three Ukrainian navy ships that were navigating into the Sea of Azov off of the coast of Crimea.
Moscow has denied involvement, but numerous investigations, and even social media posts by Russian soldiers, have demonstrated that Russia provides the separatists in the Donbas region with ammunition and fighters.
Officials in the U.S. recently floated the idea of sending Ukraine more lethal aid to help bolster the country's defenses.
"Russia's use of force against a peaceful neighbor must not be tolerated by reputable states," Secretary of State Mike Pompeo said in a statement in late February. "The United States reiterates its unwavering position: Crimea is Ukraine and must be returned to Ukraine's control."