A Ukrainian official has said that the U.S. is working on a plan to target Russia's Black Sea Fleet to free up ports whose blockade by Moscow threatens world food supplies.
With Ukraine one of the world's biggest suppliers of grain, there are fears the blocking by Russia of the ports that allow the distribution of the food will spur a global food shortage.
On Friday, Ukrainian ministry of internal affairs adviser Anton Gerashchenko tweeted that the U.S. "is preparing a plan to destroy the Black Sea Fleet."
"The effective work of the Ukrainians on warships convinced (the USA) to prepare a plan to unblock the ports," he said. "Deliveries of powerful anti-ship weapons (Harpoon and Naval Strike Missile with a range of 250-300 km) are being discussed."
His message follows a report from Reuters that the White House is working on a plan to put anti-ship missiles in the hands of Ukrainian troops to defeat the naval blockade.
U.S. officials and congressional sources said the powerful anti-ship missiles which Gerashchenko referred to may be either directly shipped to Ukraine, or transferred through a European ally.
Ukraine has called for more U.S. firepower beyond the artillery, Javelin and Stinger missiles it currently has so it can push an estimated 20 Russian navy vessels including submarines, away from its Black Sea ports. In April, Russia's Black Sea Fleet flagship vessel, Moskva, was sunk by Ukrainian missiles.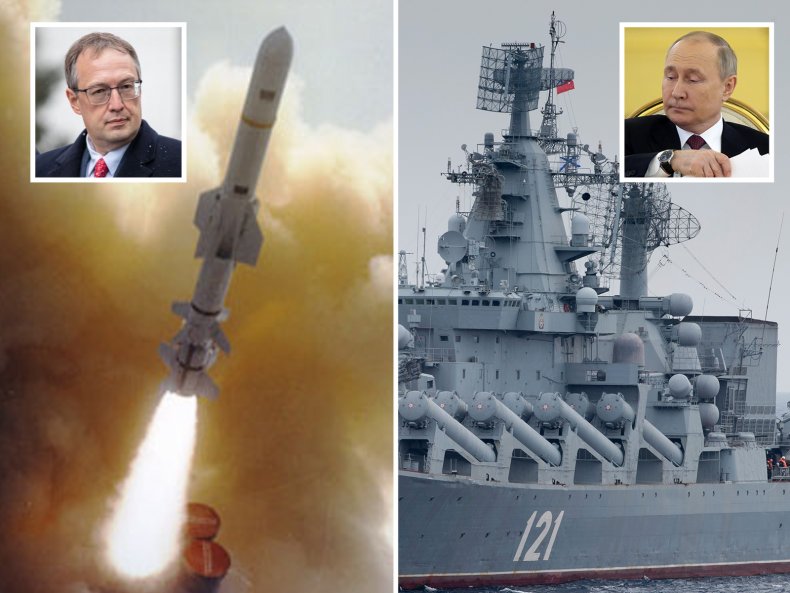 As well as offering a tactical advantage to help Ukraine's war effort, the supply of more arms would also have global ramifications, as it would pave the way to a restart of shipments of grain and other agricultural products.
But just how to further arm Ukraine has U.S. officials worried about what might happen if the weapons were captured by Russian forces and add to an escalation, according to Reuters.
One American official said no one wants to be the first or only country to supply a Harpoon, fearing reprisals from Russia.
Also, there are logistical difficulties with Harpoons, which are made by Boeing and are mostly sea-based with a limited availability of platforms to launch them from shore.
However, the agency reported that the U.S. was looking at potentially pulling a launcher off an American ship.
In a statement to Newsweek, a State Department spokesman said, "As the conflict is changing, so too is our military assistance to deliver the critical capabilities Ukraine needs for today's fight as Russia's forces engage in a renewed offensive in eastern Ukraine.
"We are the world's leading provider of security assistance to Ukraine in its hour of need, and we are encouraging Allies and partners worldwide to do the same."
The prospect of food rotting at Black Sea ports has caused alarm in the international community. The United Nations food chief, David Beasley, appealed directly to Vladimir Putin that millions would die around the world because of the Russian blockade.
"If you have any heart at all, you need to open up those ports," he said.
Newsweek has contacted the Russian Defense Ministry for comment.
Update 05/20/22, 3.30 p.m. ET: This article has been updated with comment from the U.S. State Department.