Ukraine EU Membership—Candidate Status Explained and What Happens Next
While there is no shortage of good will towards Ukraine's European Union aspirations, it could be a long time before Kyiv joins the bloc.
The European Commission agreed on June 17 that Ukraine be granted EU candidate status, which is set to be approved on Thursday by the bloc's leaders.
Ukraine has pivoted towards Brussels for years but four days after Russia's full-scale invasion on February 24, applied to join the EU, which has reacted with expressions of solidarity.
With approval from Germany, France, Italy and Romania, the next step is for Ukraine to get unanimous approval for candidate status from all 27 EU members.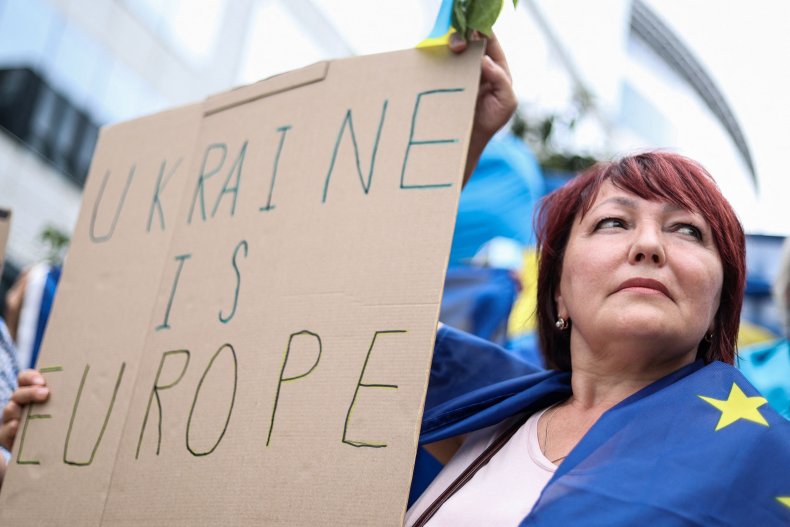 This looks likely as even Hungary, considered to be the most pro-Kremlin EU member state, said it would back Ukraine's candidate bid.
Candidate status is the first official step towards EU membership although Kyiv's ambassador to the bloc, Vsevolod Chentsov told the BBC that "real integration" could only start after the current war with Russia ends.
However, Orysia Lutsevych, manager of the Ukraine Forum in the Russia and Eurasia Program at the Chatham House think tank said it would be "a mistake to postpone real integration to post-war."
"EU integration and reform can help modernize Ukraine by strengthening institutions, especially of justice," she told Newsweek.
"The EU will demand strong accountability around recovery funds," she said, "reform as part of EU candidacy could ensure this. So procrastination on implementation would be counterproductive."
In any case, getting a seat at the top table in Brussels is an arduous process. The European Council has also recommended candidate status for Moldova, putting Ukraine in a queue of half a dozen other countries in the EU waiting room.
Turkey first applied in 1987 and received candidate status in 1999 but talks have since stagnated. North Macedonia has been a candidate since 2005 and Serbia and its neighbor Montenegro have been candidates since 2010. Albania became a candidate in 2014.
Meeting the criteria for EU membership is not easy. In analysis this month, the Atlantic Council noted that candidates have to adhere to EU standards on democratic principles and incorporate 80,000 pages of rules governing judicial systems and trade.
Already facing a flawed system inherited from its Soviet past riddled with corruption, Ukraine will have to establish rule of law and an independent judiciary.
It will also have to develop anti-trust laws to break up monopolies and big conglomerates and privatize state-owned enterprises by selling them at market prices to legitimate buyers.
"It will probably still be many years before Ukraine can expect full-fledged EU membership," wrote the Atlantic Council's nonresident senior fellow Diane Francis.
A Ukrainian delegation at the EU could also shift the balance in power in Brussels. Kyiv would have a large influence in policies made by qualified majority voting, which is determined by population. Before the war Ukraine had a population of around 40 million.
When the European Commission gave the thumbs up to Kyiv's candidate status, Ukrainian President Volodymyr Zelenskyy tweeted it was "the 1st step on the EU membership path that'll certainly bring our victory closer."
The positive feeling is shared across Europe, according to one poll released this week, which found European public opinion fortified the EU's unity in the face of Russian aggression in Ukraine.
A survey of 8,172 people in 10 EU countries conducted by the European Council on Foreign Relations (ECFR) found 57 percent of people supported Ukraine joining the EU, compared with only a fifth (19 percent) who opposed it.
At 70 percent, Poland had the most respondents that backed Ukraine's EU membership, closely followed by Portugal, Finland (both 69 percent) and Sweden (66 percent). The poll had a margin of error of 3 percent.
Piotr Buras, head of the ECFR's Warsaw office told Newsweek in a statement that the war in Ukraine had caused a "profound reconsideration of the EU's and its neighbors' interests."
Buras called for the EU to establish a Partnership for Enlargement, that offers Ukraine, Moldova, Georgia and Western Balkan states "concrete steps towards deeper integration and a pathway to eventual membership. "
This should include single market integration and the reconstruction of Ukraine, energy and climate transition and stronger cooperation in security matters.
"It is important that Germany and Poland as countries with key interests in the Ukraine war should work particularly closely to drive this new project forward," he said.