Ukraine Says It Has Killed Another Russian General
Ukraine has said that it had killed another Russian general which would add to a growing list of Vladimir Putin's commanders who have died, according to Western officials since the start of the invasion.
The reported blow to Russia's forces comes as Putin's top two officials overseeing Putin's war appeared in public after speculation over why they had not been seen for two weeks.
Oleksiy Arestovich, adviser to the head of the President's Office said in a video address that Lt, Gen, Yakov Rezantsev, the commander of Russia's 49th combined army, was killed in a strike near the southern city of Kherson—the first city Russia occupied in the war.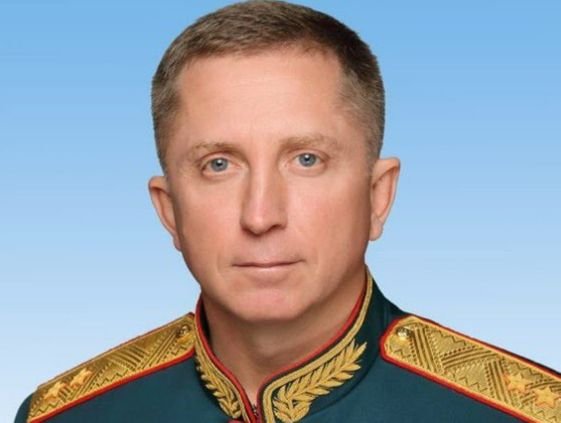 Russian general Yakov Rezantsev has reportedly been killed in a Ukrainian strike near Kherson, Kyiv has said. It is the latest top Russian commander to have died in the Ukraine war.
Twitter
Ukrainian media reported the general was killed at the Chornobaivka airbase, which Russia is using as a command post. Another lieutenant general, Andrei Mordvichev, was also reportedly killed at the same base.
Ukraine's Defense Ministry tweeted on Friday: "Yakov Rezantsev is the second Russian lieutenant general to die in the war against Ukraine.
"Torn apart Georgian Abkhazia, bombed-out Syria and finally inglorious elimination in Ukraine. This is becoming a typical track-record of Russian generals," it added.
According to the website of the Russian Defense Ministry, Rezantsev held positions of platoon commander and army commander and had been awarded a number of state prizes, including Order of Merit for the Fatherland.
Newsweek has contacted Russia's Defense Ministry for comment. Moscow has not commented on the alleged killing in keeping with most of the reported deaths of its commanders.
Russia has only confirmed the death of one general, although Kyiv and Western officials believe up to seven have been killed since the start of the war.
A source inside the Ukrainian presidential administration told the Wall Street Journal that Kyiv had a military intelligence team dedicated to targeting Russia's officers, arhuing their demise gives them a significant public relations coup.
Meanwhile, Russian Defense Minister Sergei Shoigu and chief of the general staff Valery Gerasimov were seen speaking in a video for the first time in over two weeks, amid speculation about their whereabouts.
After having not been seen in public since March 11, amid reports that he was suffering health issues, he did reappear, albeit briefly, as Russian state-owned news agency RIA Novosti published video online showing Putin speaking to his advisers, with Shoigu appearing on a screen in the top corner. The Russian news agency said the meeting had taken place on Thursday.
The Defense Ministry released a clip on Saturday of him, this time addressing senior generals. There was nothing in the video to clarify when it had been filmed.
Reading from a script Shoigu talked about the supply of weapons to troops in Ukraine.