As concerns continue to mount that Russia could invade Ukraine, allies have signaled support for both nations in recent weeks.
The United States and other members of the North Atlantic Treaty Organization (NATO) have raised concerns about Russia deploying roughly 100,000 troops near its border with Ukraine—enough to invade an entire country, according to the Pentagon. Still, Russia has denied reports that it plans to invade Ukraine.
Ukraine leaders have also insisted they do not believe an invasion is imminent. Experts say the nation is trying to calm its citizens while ensuring they have assistance in the case of an invasion.
At the end of 2021, Russian President Vladimir Putin refused to rule out invading Ukraine. Russia is demanding guarantees that Ukraine would not be allowed to join the NATO alliance—a large goal of the nation since Russia's annexation of Crimea in 2014.
"We have made it absolutely clear that NATO's expansion to the east is unacceptable," Putin said in December. "What's not clear about it?"
United States
The United States serves as a key ally to Ukraine and has already placed 8,500 troops on high alert in the case Russia does invade. The U.S. also sent equipment and munitions as part of a $200 million security assistance to Ukraine last week.
President Joe Biden on Monday threatened that Russia would face "swift and severe consequences" if the nation "chooses to walk away from diplomacy and attack Ukraine."
"The United States and our Allies and partners continue to prepare for every scenario. The world must be clear-eyed about the actions Russia is threatening and ready to respond to the risks those actions present to all of us," Biden wrote in a statement.
Secretary of State Antony Blinken has called for a "return to dialogue in the context" of the Minsk Agreement, a peace plan signed in 2014 and 2015 that brought an end to a separatist war involving Russian speakers in Ukraine.
Some Republican lawmakers in the U.S. have urged the Biden administration to avoid getting involved in a war with Russia as leaders warned about a possible invasion. Some American diplomats have been evacuated from Ukraine, sparking condemnation from the country's foreign ministry who called the decision "premature."
NATO States
Many European nations have signaled support for Ukraine.
Germany threatened that Russia's $11 billion Nord Stream 2 gas pipeline would be hit with sanctions if they invade Ukraine. Annalena Baerbock, the German minister for foreign affairs, threatened a "strong package of sanctions," adding that "we want dialogue at all times."
Baerbock also met with Blinken to discuss the matter. In a press conference, she said "renewed violation of Ukrainian sovereignty by Russia would have severe consequences.
On Friday, French President Emmanuel Macron spoke on the phone with Ukrainian President Volodymyr Zelensky, reaffirming his solidarity with Ukraine, according to France 24, a state-owned television news service. The two agreed to continue de-escalation efforts, while Macron made clear his determination to preserve Ukraine's sovereignty.
Spokespersons for other NATO states previously told Newsweek that Russia will face severe consequences if Putin orders an invasion of Ukraine.
"Any military action against the territory of Ukraine will lead to severe economic and political consequences to Russia, a spokesperson for the Estonian Foreign Ministry warned.
United Kingdom
The United Nations is considering a major NATO deployment to strengthen European borders that could double troop numbers and send weapons to nearby Estonia.
Britain has also threatened sanctions on Russian oligarchs if Ukraine is invaded. The sanctions could include the seizure of London property.
U.K. Foreign Secretary Liz Truss said preventing an invasion remained her top priority.
"That's we are offering to deploy extra troops into Estonia, we are providing more air support across the Black Sea, and we're supplying defensive weapons to Ukraine to make sure they are in the best possible position should Vladimir Putin try to stage an incursion," she said while appearing on Sky News Sunday.
She said the U.K. will use diplomacy, but added: "The number one thing that will stop Vladimir Putin taking action is if he understands the costs of that action. This could result in a quagmire and he should be well aware of that."
U.K. Prime Minister Boris Johnson plans to visit Ukraine this week in an attempt to thwart an invasion.
China
China has backed Russia amid the conflict, calling on western nations to consider Moscow's "legitimate security concerns" surrounding NATO. Earlier in January, Russia demanded that NATO forgo any expansion plans in Europe
Chinese Foreign Minister Wang Yi called for restraint in dealing with the Ukraine crisis while on a telephone with Blinken last week.
"We call on all parties to remain calm and refrain from doing things that agitate tension and hype up the crisis," Wang said in a statement. He also voiced support for a new Minsk Agreement.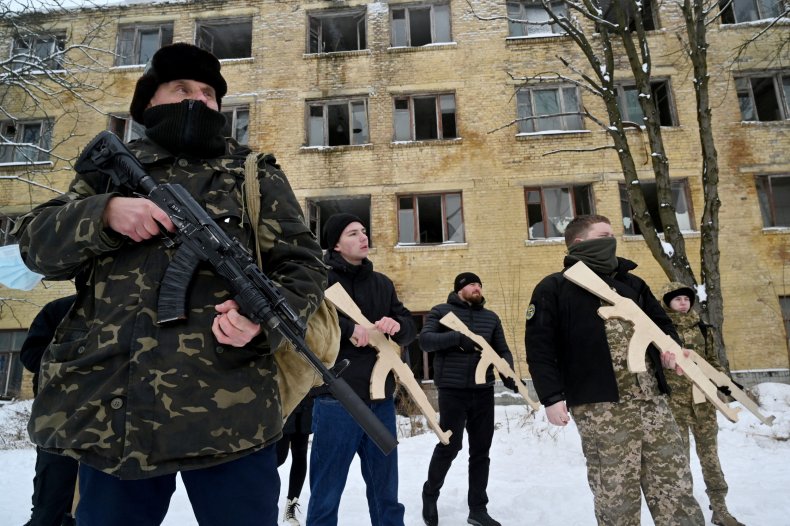 China's Foreign Ministry spokesperson Zhao Lijian also said in a press briefing: "As the world's largest military alliance, NATO should abandon the outdated Cold War mentality and ideological bias, and do things that are conducive to upholding peace and stability."
Belarus
Belarus is a close ally of the Kremlin, sharing a border with both Russia and Ukraine. Russia deployed military forces to Belarus for joint exercises between the two nations earlier this month and said they would leave once the drills are over, according to Reuters.
Belarusian President Alexander Lukashenko warned that war would only break out if either Belarus or Russia were directly attacked.
"If our country faces an aggression, there will be hundreds of thousands of Russian soldiers here, who will defend this sacred land together with hundreds of thousands of Belarusians," he said during a national address on Friday.