Secretary of State Mike Pompeo is traveling to Central Europe, a region where Russia is increasingly spreading its influence, to secure support for Ukraine and for membership in the North Atlantic Treaty Organization (NATO), which Moscow views as its rival.
The trip is a sign of the Trump administration's commitment to NATO, despite the fact that President Donald Trump's has questioned the value of the Western military alliance. Analysts say that the trip also aims to counter Russian influence in a region that has been drifting closer to Moscow.
"The United States' commitment to NATO's Article Five is ironclad. We expect all allies to invest adequately in their own defense responsibilities by meeting their share of the NATO alliance's capability needs. We encourage Hungary and Slovakia to continue to work toward meeting these defense investment targets," the State Department said in a statement ahead of Pompeo's arrival.
"Slovakia selected the F-16 as its next generation fighter, which will improve its air-defense capabilities and allow for expanded and deeper cooperation with NATO-allied militaries, while also reducing Slovakia's dependence on Soviet-made legacy equipment and the Russian crews that maintain them," the statement continued. "The United States, Hungary, Slovakia, and all NATO allies have a shared interest in a prosperous, stable and democratic Ukraine that is unfettered in its engagement with – and path to – eventual membership in NATO."
Both Slovakia and Hungary, formerly communist countries that were part of the Soviet-aligned Warsaw Pact, joined NATO in 2004. Since then, however, Hungary has been accused of democratic backsliding and recently announced that it was launching new nuclear and gas energy projects with Russia. Many analysts in Hungary note that the country's increasingly authoritarian Prime Minister Viktor Orban maintains close ties to Russian President Vladimir Putin.
In Slovakia, nationalist and euro-skeptic politicians have similarly gained prominence over the past year, and the Defense Department's decision to purchase U.S. F-16s was widely criticized by some elements in the coalition government. Bratislava also refused to join in when other European Union countries were expelling Russian diplomats over the poisoning of former Russian double agent Sergei Skripal in the U.K.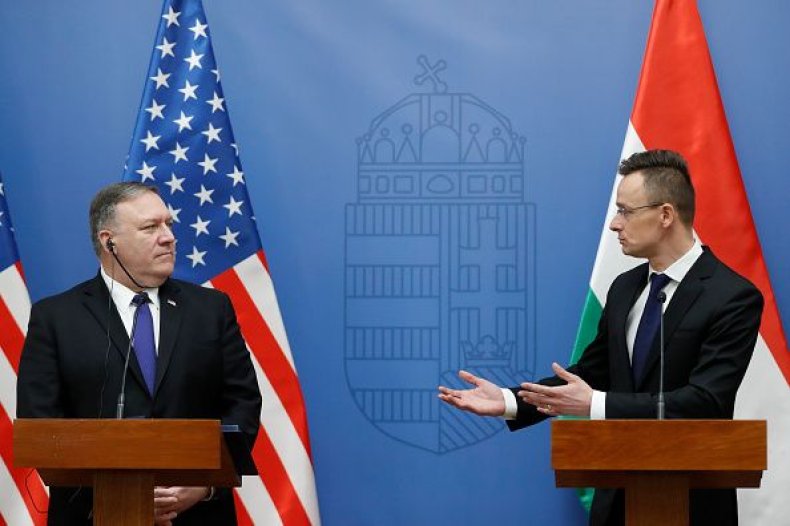 In July, a Putin-aligned motorcycle gang took over an abandoned military camp in Slovakia, raising red flags about potential Russian influence operations in a European Union country.
Experts in the region argue that Pompeo's visit is meant to reverse these trends and solidify Hungary and Slovakia's commitment to its Western alliances.
"Military and energy are Pompeo's two priorities in countering Russian influence over Central Eastern Europe," Szabolcs Panyi, an investigative reporter in Hungary who has been tracking U.S. diplomacy in the region, told Newsweek.
"The U.S. will conclude a defense cooperation agreement with both Hungary and Slovakia, which will allow U.S. troops to easily navigate through Central European countries. Pompeo is also here to sell a Raytheon NASAMS missile system to Hungary, which will for sure make Russia nervous," Panyi continued. "Also, there is a strong U.S. push for Hungary to create the infrastructure for buying American liquefied natural gas through pipelines coming in from Croatia and Romania. This could be the alternative of Russian gas for the region."
During a joint press conference with Pompeo on Monday, Péter Szijjártó argued that his country's relationship with Russia doesn't harm its relationship with the U.S. and NATO. He also stressed that Hungary was "fed up" with being portrayed as a country tied to Putin.
Getting Hungary's support for Ukraine, however, might be more difficult, analysts note. Hungary's relationship with Ukraine, which has been fighting pro-Russian separatists on its territory since 2014, has deteriorated significantly over the past several years. Ukraine and Hungary recently engaged in a diplomatic spat, and Ukraine's ambassador to Budapest was expelled from the country in October. The dispute centered on the treatment of ethnic Hungarians in Ukraine's Western Transcarpathian region.
Budapest was accused of giving Ukraine's ethnic Hungarian population passports and encouraging them to pledge allegiance to Budapest, despite the fact that dual citizenship is illegal under Ukrainian law. Hungarian officials, meanwhile, have slammed a Ukrainian law that bans teaching minority languages after primary school, arguing that it violates the rights of ethnic Hungarians who want to learn their native language.
Meanwhile, some analysts argue that the Trump administration's decision to reaffirm its commitment to NATO in Central Europe will be viewed with skepticism.
"I'm glad to hear that Pompeo is taking a reassuring tone with NATO members on his European trip, but these statements should not have been needed in the first place," Martin Edwards, an expert in international diplomacy at Seton Hall University's School of Diplomacy and International Relations, told Newsweek.
"Pompeo himself has not always been clear about NATO, specifically whether the U.S. would defend new NATO member Montenegro, and the President has apparently floated the idea of withdrawing from NATO to advisors," Edwards continued. "All of this uncertainty raises sensible doubts about the U.S., not only in terms of whether the U.S. would honor its treaty commitments, but also in terms of who is making U.S. foreign policy in the first place."
Still, in Hungary the U.S. appears willing to invest resources to secure its foothold in the country. Washington has floated the idea of helping develop a military airport in the Hungarian city of Kecskemet, according to the Hungarian investigative outlet Direkt 36.
Human rights groups in Hungary have also called on Pompeo to pressure Orban on alleged human rights abuses in the country, including Hungary's war on migrants and asylum seekers and the country's crackdown on civil society and the free media.