Hacked Emails Appear to Reveal Russia Is Backing Comedian Likely to Be Ukraine's Next President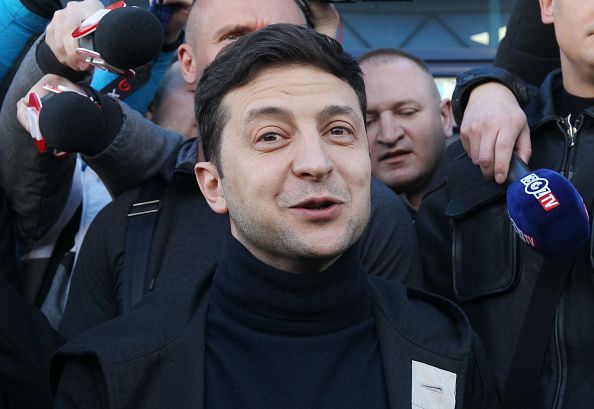 Comedian and actor Volodymyr Zelenskiy, a political novice, has upended Ukraine's presidential race over the past several months by promising young voters a break from a past riddled with corruption and leaders beholden to powerful oligarchs.
But now, a tranche of hacked emails suggest that Zelenskiy may have a powerful patron of his own: the Kremlin.
On Tuesday, Ukraine's security services revealed that they are investigating whether Zelenskiy's campaign received financing from members of the Russian security service who are supporting the leadership of the Donetsk People's Republic, a self-proclaimed, pro-Russian separatist proto-state in Ukraine's eastern Donbas region.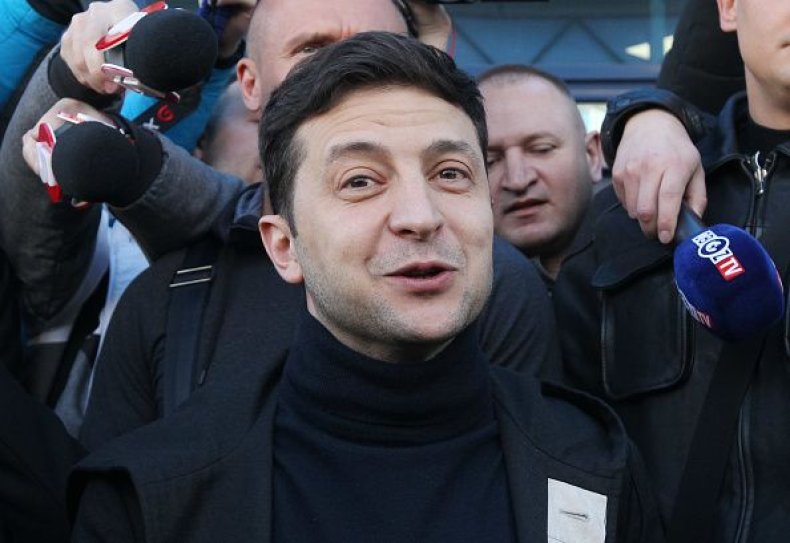 The claims first surfaced after a Ukrainian hacking group associated with the non-profit Myrotvorets Center released a set of hacked emails showing that a Russian security official with links to the DPR's leadership had attempted to exchange cryptocurrency for cash to send to Zelenskiy's presidential campaign. In one of the emails, a member of the Russian security services notes that they "have approved the budget for the actions of the comedian."
The emails also appear to show that some of the financing came from Kremlin aide Vladislav Surkov and Russian billionaire Konstantin Malofeev, both of whom allegedly help dictate the Kremlin's policies towards Ukraine.
"Surkov is the chief architect of the Kremlin propaganda most known for 'non-linear warfare,'" Olga Lautman, an investigator focused on Russia and Ukraine, told Newsweek. "He was one of the architects of the annexation of Crimea [from Ukraine]."
"Malofeev is believed to serve as an intermediary between pro-Russian rebels in Donbas and Moscow, and was sanctioned by [former President Barack] Obama for allegedly financially supporting Russian nationalists in Crimea," Lautman continued.
The Insider, a London-based investigative reporting site, published copies of the leaks on Wednesday and determined that they appear to be real. Euromaidan Press, a Ukrainian website launched in the wake of the pro-Western Euromaidan movement in 2014, similarly reviewed the documents and determined that "the hack is probably authentic, but it is impossible to completely verify the most compromising messages." Other independent researchers came to similar conclusions.
Still, some experts have cautioned against believing the information released by hackers from the Myrotvorets Center.
"The reputation they have is not a good one. It's one of indiscriminate, politically motivated leaking that puts people, specifically journalists, at risk," Nina Jankowicz, a global fellow at the Wilson Center's Kennan Institute, told Newsweek.
Zelenskiy has promised to retake control of Ukraine's eastern Donbas region, which has been ruled by pro-Russian separatists since 2014. But he says he favors dialogue with Russia in order to put the country back on the road to peace.
Questions have also been raised about whether Zelenskiy is too beholden to Ukrainian oligarch Ihor Kolomoisky, the man who owns the television channel where Zelenskiy's popular television show is aired. Some note that, although it is likely the Kremlin favors Zelenskiy over incumbent President Petro Poroshenko, the comedian may not need Kremlin funding.
"If truly authentic, the significance of the emails show that the Kremlin wants to push deeper inside Ukraine and see Zelenskiy as an instrument to do that," Andrea Chalupa, a writer and filmmaker focused on Ukraine, told Newsweek.
"The emails have been reportedly confirmed as real. As for the funding itself, as headline grabbing as it is, if the funding, too, is real it pales in comparison to the resources Zelenskiy already has as a successful TV star embedded with powerful interests. He has the full support and access to one of the major TV networks owned by the oligarch Kolomoisky, widely considered to be his backer," Chalupa continued. "It's clear that Zelenskiy is the best candidate for the Kremlin given his utter lack of political experience and his resistance to transparency and accountability as a candidate."
None of this, however, appears to have deterred voters in Ukraine.
Opinion polls released Tuesday showed Zelenskiy was likely to win the second round of elections on Sunday, April 21, by a landslide, garnering a little over 70 percent of votes.
As they prepare for their electoral win, members of Zelenskiy's staff have been making the rounds in Washington to meet with influential members of the foreign policy establishment, including members of Congress and think tank representatives. On Wednesday, a Foreign Agents Registration Act filing revealed that Zelenskiy's Servant of the People Party, which was named after his hit television show, hired the D.C. lobbying firm Signal Group for $60,000.
The FARA filings note that Signal Group will work to "elevate the profile" of Volodymyr Zelenskiy.