Olympic Champion Shooter Joins Ukraine Forces, Warns Putin: 'I Shoot Well'
A Ukrainian woman whose sharp shooting ability helped her top an Olympic podium has said she intends to use her skills to protect her homeland.
In 2016, Kristina Dmitrenko, 22, won gold in Lillehammer, Norway at the Winter Youth Olympic Games in the biathlon—the demanding sport that combines the endurance of cross-country skiing with the fine aim of firing a rifle on target.
At the end of February, Dmitrenko had been in the Carpathian mountains in the west of Ukraine where she was putting the finishing touches on preparations for an international competition.
But when Russia invaded her country on February 24, everything changed. She was due to go to Switzerland on February 27 and then on to Italy to compete but her sporting career paled into insignificance when faced with the images of war she received from friends in Kyiv and her home city of Chernihiv, in the north.
Feeling the call of her country, she has joined the National Guard of Ukraine where she is uniquely qualified to take up arms against her country's invader.
"I never in my life could have thought that anything could be like this," she said according to a translation of a post on the Ukrainian interior ministry's Facebook page.
"I have no fear of the enemy," she said, "I shoot well so the invaders will not have a chance." She insisted she would not be fazed by swapping a biathlon rifle for a machine gun.
"Whatever weapon I have in my hands, whether I am in competition or in the military, I will stand until the end," she said in the post, "victory will definitely be ours."
Underneath the post of her story were messages of support for Dmitrenko. "What brave and courageous women are in Ukraine," wrote one, "Wishing you the best of luck," wrote another.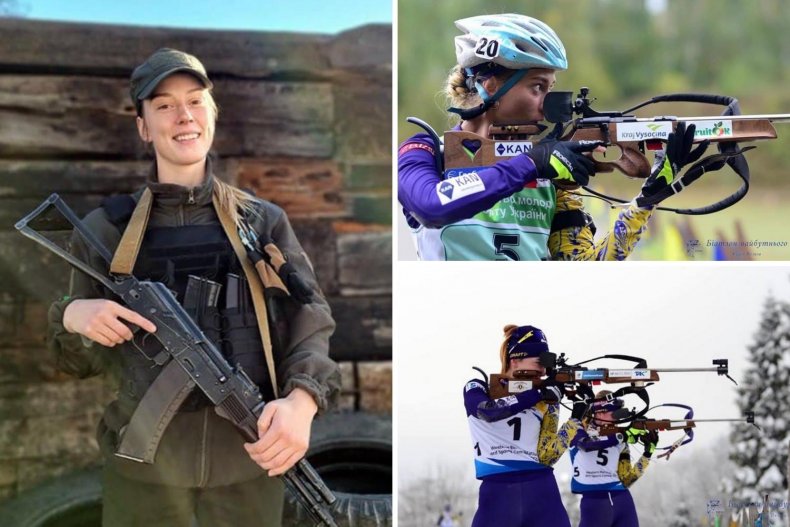 It comes as Ukrainian forces have reportedly forced Russian troops to withdraw from the second city of Kharkiv. The U.S. think tank the Institute for the Study of War (ISW) said in its latest analysis that Ukraine is winning the battle for the city.
In its analysis on Friday, it said that the Russian military is likely to have decided to withdraw fully around the city "in the face of Ukrainian counteroffensives and the limited availability of reinforcements."
Meanwhile, Ukraine's head of military intelligence Major General Kyrylo Budanov gave an upbeat assessment of his country's war effort, telling Britain's Sky News that "the breaking point will be in the second part of August."
"Most of the active combat actions will have finished by the end of this year," he said, "as a result, we will renew Ukrainian power in all our territories that we have lost including Donbas and the Crimea."