Ukraine Close to Controlling Crimea as Russia's Southern Front Collapses
Breakthroughs by Kyiv's forces against Russian troops in the south of Ukraine, near a key point that supplies water for Crimea, have put at risk Moscow's control of the peninsula it annexed in 2014.
The military blog, Military Land.net tweeted this week that Ukrainian forces were continuing to push south on a heading to Nova Kakhovka after recapturing several settlements as they advanced toward the city of Kherson.
This was retweeted by New Voice of Ukraine journalist Euan McDonald, who wrote that Nova Kakhovka was "an important objective as it's at the head of the canal that supplies Ukraine's Russian-occupied Crimea with lots of its water."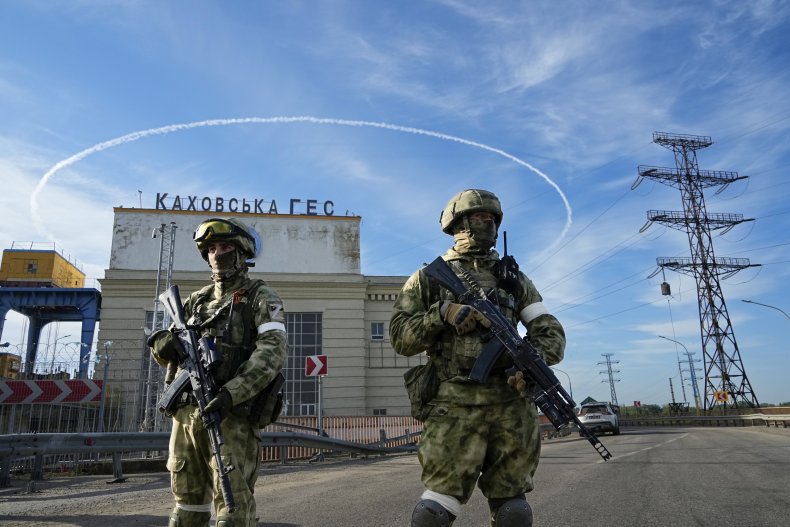 As well as having a power station and dam, Nova Kakhovka lies downstream of the source of the start of the North Crimean Canal (NCC), which takes fresh water to Crimea. Western officials have said that Ukraine taking control of such a nexus would be a significant development in the war.
"I believe Ukrainian forces will try to block the NCC if they manage to control that area," Alla Hurska, an analyst at the Jamestown Foundation, told Newsweek.
She said the canal is seasonal, and flows from March to November, when it's necessary to close the water flow to prevent technical problems.
"This is really strategically important. I would say that they will be able to stop the flow," she said, "and in case of further success in Crimea, Ukraine will need to check and repair the whole system of the NCC before allowing the water in spring," she added.
Until 2014, the canal provided the peninsula with more than 80 percent of its overall water intake, most of which was used for agriculture. Since Moscow annexed Crimea, the peninsula's water supply has solely depended on internal reserves, but these are proving to be insufficient.
Over the last eight years, Crimea has seen an influx of people from other parts of Russia as well as the setting up of military bases, which have added further pressure on water consumption, Hurska said.
The guarantee of water to Crimea was among a four-point plan suggested by Tesla founder Elon Musk that sparked anger in Kyiv for its proposal to allow the peninsula to remain under Russian control in order to end the war.
Nova Kakhovka also has considerable strategic value for Ukraine's quest to recapture the Kherson region.
A video tweeted on Friday by Twitter account War Translated showed former Russian commander Igor Girkin saying that Ukrainian troops were closing in on Beryslav, which would lead to a threat to Nova Kakhovka.
He said if Ukrainian forces could cross the Dnipro River, "holding Kherson will come into question." Meanwhile, a U.S. military source told The Telegraph that Ukraine's recapture of Crimea was a "very real possibility."
Dionis Cenusa, a visiting fellow at the Eastern Europe Studies Center, said it was "too early to argue that the advances in Kherson are strategic or not."
"Ukraine's advantage is that its counteroffensive is going in several directions, pushing the Russians to make tactical decisions about which less strategic cities they should leave to stay alive," he told Newsweek.
"Every Ukrainian territorial gain looks like a significant defeat for Russia because it is traumatizing its forces' morale and pro-war propaganda."