Ukraine, Russia, U.S. React to Disputed Vote Approving Putin's Annexation
Amid Russia's claims that the results of an internationally disputed referendum held in four regions in Ukraine under partial Russian military control have produced near-unanimous support for their annexation to become part of the Russian Federation, reactions from Kyiv, Moscow and Washington have detailed their next steps in the conflict still raging in Eastern Europe.
Preliminary results were released late Tuesday by election commissions established under Russian military administration in the four contested eastern and southern regions.
The reported results included 99.23% in favor in Donetsk and 98.42% in favor in Luhansk — two regions partially under pro-Moscow separatist control since 2014 — as well as 93.11% in favor in Zaporizhzhia and 87.05% in favor in Kherson, according to Russia's state-owned RIA Novosti.
The results were rejected outright Wednesday by the Ukrainian Foreign Ministry, which referred to the vote as a "propaganda show" in a statement shared with Newsweek.
"Forcing people in these territories to fill out some papers at the barrel of a gun is yet another Russian crime in the course of its aggression against Ukraine," the ministry said. "Such actions severely violate the Constitution and laws of Ukraine, as well as norms of international law and Russia's international obligations."
The ministry also accused Moscow of further impeding any diplomatic path to resolving the conflict launched by the Kremlin in February, and called on the international community to provide greater support for Kyiv's efforts to regain control of the four regions.
"We expect relevant countries to draw conclusions regarding Russia's true intentions and increase their support for Ukraine in countering Russian aggression," the ministry said, "instead of abstaining from actions under the guise of their wish to play a role of peacekeepers that Russia does not need."
Specifically, the ministry asked the European Union, NATO and the Group of Seven (G7) "to immediately and significantly increase pressure on Russia, including by imposing new tough sanctions, and significantly increase their military aid to Ukraine, including by providing us with tanks, combat aircraft, armored vehicles, long-range artillery, anti-aircraft and missile defense equipment."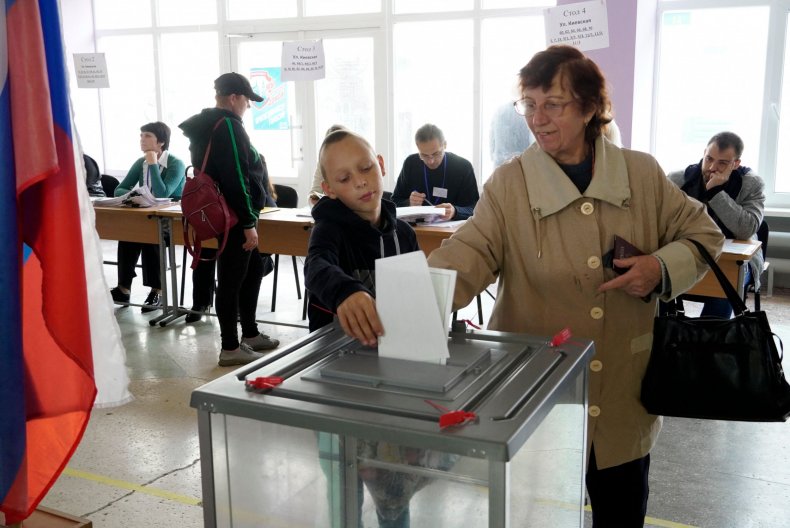 Reached for comment, the U.S. State Department referred Newsweek to the words of Secretary Antony Blinken, who, as the final results neared Tuesday, dismissed them as "sham referenda and annexations," and said President Joe Biden's administration "will impose additional severe and swift costs on Russia" for proceeding with them.
He accused Russia of invading Ukraine, seizing territory and then engaging "in a diabolical scheme" that included coercive population transfer ahead of the votes.
"We will not — indeed, we will never — recognize the annexation of Ukrainian territory by Russia," Blinken said. "And I've also been equally clear that Ukraine has the absolute right to defend itself throughout its territory, including to take back the territory that has been illegally seized one way or another by Russia. And the equipment, the weapons that we and many other countries are providing them have been used very effectively to do just that, as we've seen in northeast Ukraine and as we see as well in the south."
"And again, because there is no change at all in the territory that is being annexed by the Russians as a matter for us or for the Ukrainians," he added, "the Ukrainians will continue to do what they need to do to get back the land that has been taken from them. We will continue to support them in that effort."
State Department spokesperson Ned Price reiterated this position after the vote tallies came in Wednesday, saying the "results are completely fabricated and do not reflect the will of the people of Ukraine."
"We will continue to work with allies and partners to bring even more pressure on Russia and the individuals and entities that are helping support its attempted land grab," Price said.
And he said the White House and Pentagon would soon announce new aid for Kyiv as "we will continue to provide security assistance to Ukraine so it can defend itself and its sovereign territory for as long as it takes."
Russian Ambassador to the United States Anatoly Antonov responded to the U.S. position of responding to the referendums by increasing arms to Ukraine in comments shared with Newsweek via social media late Tuesday.
The Russian envoy argued that the Biden administration "continues to ignore the fact that arms deliveries to Ukraine lead to further escalation of the conflict."
"The U.S. and NATO military equipment is sowing death and destruction," he said.
"Civilians and children are being killed. Residential areas, schools and hospitals are being irreparably damaged," Antonov added. "In instigating Kiev to continue using the military equipment received from the West, Washington does not realize the riskiness of its actions."
Echoing a warning delivered during Newsweek's interview last week with Russian Foreign Minister Sergey Lavrov, Antonov said that "the sponsors of neo-Nazi criminals are approaching the dangerous line that Russia has repeatedly and clearly warned about."
"The United States becomes a party to the Ukrainian conflict," he added.
And he said it was Kyiv and its foreign backers who were proving a hindrance to ending the conflict through diplomatic means, which he said "cannot be effective as long as the collective West uses the Zelensky regime as a military mercenary against Russia."
"Our steps to defend the Fatherland will be firm and decisive," Antonov stated.
A statement later shared Wednesday with Newsweek by the Russian Foreign Ministry further justified the vote as legitimate, saying that, "despite the provocations of the Kiev regime that gave criminal orders to massively shell areas where civilians gather and civilian facilities, people were not afraid to come to the polls and express their will."
"The results of the plebiscite speak for themselves – the residents of Donbass, as well as the Kherson and Zaporozhye regions do not want to return to their former life," the ministry stated. "They have made a conscious and free choice in favour of Russia."
The ministry said that the populations of these four regions "had no alternative left" given accusations that Ukraine did not honor post-2014 ceasefire agreements and put civilians at risk, an allegation of which Ukrainian officials have said Russia was guilty.
"In the near future," the ministry stated, "we will enter a critical stage in our joint efforts to translate into life the desire of the residents of the DPR, LPR, and the Zaporozhye and Kherson regions to be together with Russia."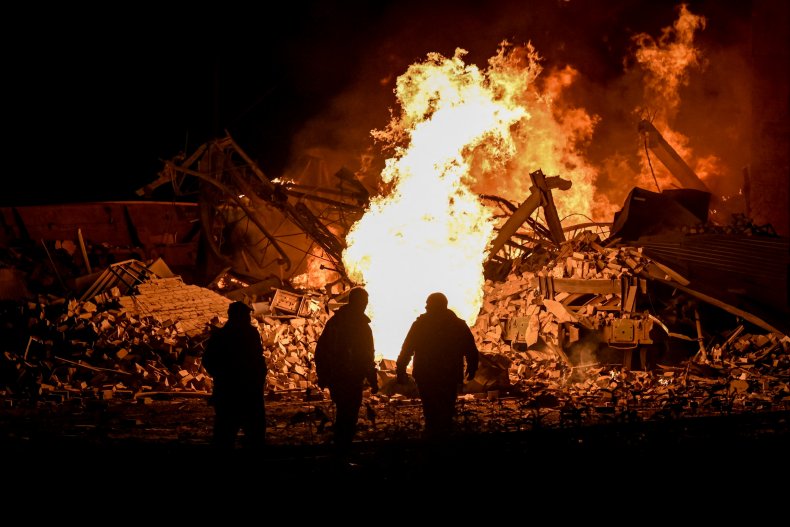 While the Russian Foreign Ministry has reported that 133 observers from 40 states participated in monitoring the referendums in conformance with international standards, no country other than Russia has explicitly backed the votes, and a number of Western nations and their allies have opposed them.
Prior to the referendums, Russia, Syria and North Korea were the only U.N. member states to recognize the independence of the self-proclaimed Donetsk and Luhansk People's Republics. South Ossetia and Abkhazia, two Russia-aligned breakaway states on territory internationally recognized as part of Georgia, also backed the two fellow separatist states' claim to sovereignty.
A prior referendum in 2014, when unrest first erupted in Ukraine, saw the southern Crimean Peninsula annexed by Russia in a move also met with Western criticism and a lack of recognition.
As was the case eight years ago, the Kremlin is expected to announce formal measures to annex Donetsk, Luhansk, Kherson and Zaporizhzhia into the Russian Federation, even as Ukrainian forces stage counteroffensives in an attempt to reclaim them. The move would incorporate key parts of Ukraine's eastern industrial Donbas region and southwestern Black Sea coastline, connecting Russia to Crimea by land.
It would also make the four regions subject to Russia's nuclear doctrine, which, in addition to responding to a ballistic missile or nuclear attack against the nation, allows the Kremlin to use nuclear weapons in the event of an "attack by [an] adversary against critical governmental or military sites of the Russian Federation, disruption of which would undermine nuclear forces response actions" and "aggression against the Russian Federation with the use of conventional weapons when the very existence of the state is in jeopardy."
This is a developing news story. More information will be added as it becomes available.