Russia Tells U.S. to look in 'Mirror' Before Accusing Kremlin of Aggression Over Ukraine
Russia has hit back at U.S. criticism that Moscow is guilty of aggression amid growing international concerns of a Russian military build-up by Ukraine's border.
In a post on Telegram, the social media platform, foreign affairs spokeswoman Maria Zakharova referred to U.S. Secretary of State Antony Blinken's condemnation of Russia this week.
"If the State Department decided to look for aggressors violating international law, then its partners should start this process, by standing in front of the mirror," she wrote.
She referred to past NATO operations in Iraq, Libya and Syria and Yugoslavia and said that Blinken's comments "are nothing more than a failed attempt to provide an ideological basis for the 'Summit for Democracy' organized by Washington," which will take place on December 9 and 10.
Tensions between Moscow and Washington are high ahead of a proposed summit between Presidents Joe Biden and Vladimir Putin next week.
Upping the ante is U.S. intelligence which has reportedly sounded the alarm over a potential Moscow-led invasion of Ukraine in early 2022.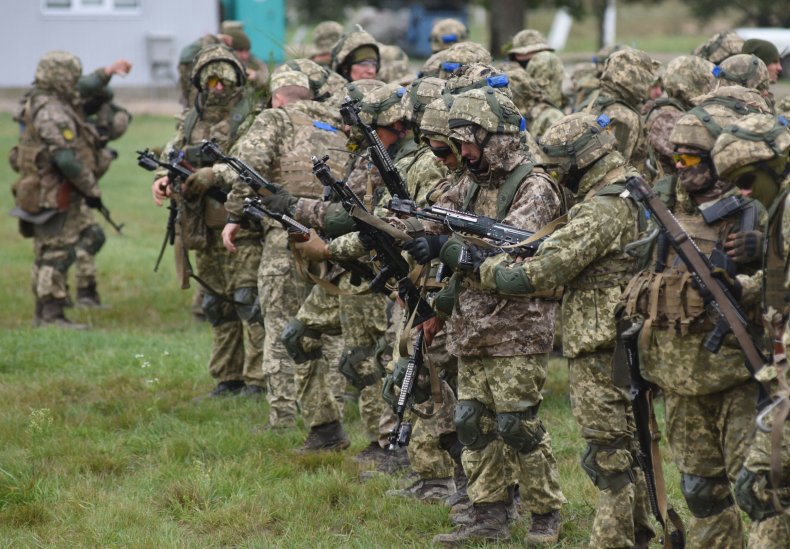 An unclassified document obtained by The Washington Post includes satellite pictures showing Russian forces groups in four locations, 50 battlefield tactical groups, as well as weaponry that has just arrived.
An unnamed Biden administration official told the Post that based on the images, the Russian plans "call for a military offensive against Ukraine" early next year which "involve extensive movement of 100 battalion tactical groups with an estimated 175,000 personnel."
Kyiv has estimated that there are over 94,000 Russian troops near Ukraine and Moscow-annexed Crimea, although U.S. intelligence officials said there are closer to 70,000 troops, The Associated Press reported.
Officials and diplomats are concerned at a sudden mobilization of reservists although Moscow says such a measure is needed to help modernize the Russian armed forces and denies it is threatening anyone.
"I am more worried now about the prospect of an invasion than in April, " said Richard Connolly, a Russia expert who is director of the Eastern Advisory Group consultancy referring to the last major build up of Russian troops by Ukraine.
"This buildup has been accompanied by a fairly consistent drumbeat of statements by the Kremlin really ramping up their dissatisfaction with what is happening in Ukraine," he told Newsweek.
Putin is "keeping his options open" according to Connolly, who is also the author of Russia's Response to Sanctions. "There is perhaps a greater chance of a use of significant military force. What form that will take, who knows?
"It could be an invasion of a large swathe of land, it could be an attack on Ukrainian military forces—designed not necessarily to seize land but to degrade Ukraine as a military force."
Putin has repeatedly accused NATO of encroaching on Russian borders and has demanded Biden to guarantee that Ukraine will not be allowed to join the alliance.
Russia's military build-up calls to mind Moscow's annexation of Crimea in 2014 which Biden condemned as a "blatant violation of international law" when he was Vice President in the Obama administration.
Biden said that his current administration was putting together "the most comprehensive and meaningful set of initiatives to make it very, very difficult for Mr. Putin to go ahead and do what people are worried he may do."