Ukraine Posts Video of Russian Losses, Shows Planes and Tanks Destroyed
Ukraine has released a video in which it claims that Russia has suffered significant losses in its invasion of the country and lists the numbers.
The video was posted on the General Staff of the Armed forces of Ukraine Facebook page on Friday.
Accompanied by loud pounding music, clips show footage of Russian equipment, tanks, helicopters and vehicles being destroyed.
The video, titled "Combat Losses of the Enemy," highlights the alleged losses Russia has suffered since Vladimir Putin's so-called "special military operation" began on February 24.
Russia casualty figures provided by Ukraine have regularly differed from Russian totals. Newsweek has not been able to independently verify the numbers given in the latest video.
According to the post, a total of 46,250 Russian military personnel have been killed, with what is seemingly an update stating that an additional 400 had died most recently.
A total of of 1,935 tanks are said to have been destroyed, with an additional seven recently, along with a total of 4,257 armored personnel vehicles.
The video says Russia has lost 1,043 artillery systems, 272 multiple launch rocket systems and 148 anti-aircraft warfare systems.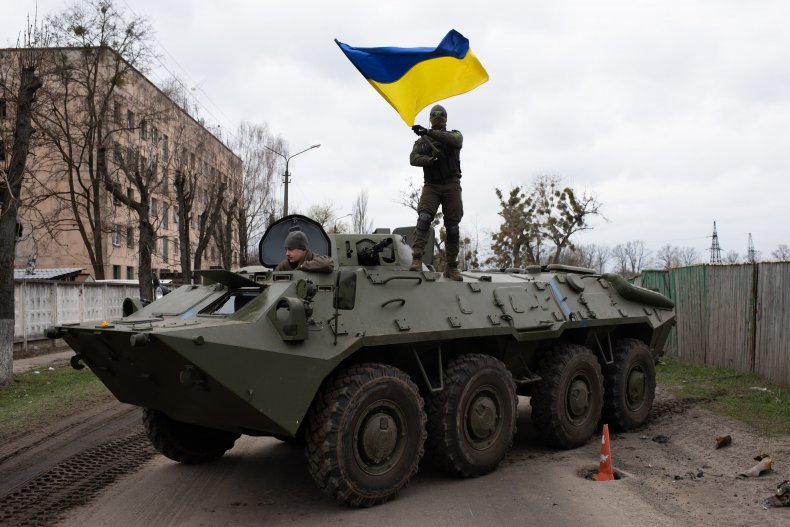 Amid clips showing planes being struck by missiles and crashing, the video says 234 Russian aircraft and 202 helicopters have been destroyed.
It adds that Russia has lost 314 vehicles and fuel tanks, as well as 15 warships.
The video closes by stating Ukraine has destroyed 834 UAVs, 196 cruise missiles and 99 pieces of special equipment.
Unlike Ukraine and Western intelligence agencies, Russia does not provide regular updates about its casualties in the on-going conflict. The figures it does provide tend to be significantly lower than those given by the West.
However, on April 7, Kremlin spokesman Dmitry Peskov told Sky News: "We have significant losses of troops and it is a huge tragedy for us."
On August 8, the U.S. Under Secretary of Defense for Policy, Colin Kahl, corroborated this.
During a press conference, he said: "Russians are taking a tremendous number of casualties on the other side of the equation.
"Regarding precise figures there is a lot of fog in war but I think it is safe to suggest that the Russians have suffered 70 or 80,000 casualties in less than six months.
"That is a combination of killed in action and wounded. That number might me a little lower or higher but I think it is in that ball park."
Newsweek has contacted the Russian Ministry of Foreign Affairs and Ukraine's Ministry of Defense for comment.