'Nobody Can Imagine': Ukrainians Under Siege Reveal Horror of Daily Lives
The 14th floor of an apartment block is too high when you can hear explosions. Anastasiia Kovalenko needed to take her 4-year-old daughter Daiana somewhere safer.
Before the war, the 33-year-old IT recruiter and her girl lived in Irpin, an unassuming suburb in the northwest of Kyiv with no shortage of playgrounds. Now its battle scars have been seen globally as a testament to Ukrainian resistance and Russian brutality.
"Nobody can imagine that somebody would be interested in this city," she told Newsweek, "but we couldn't imagine that Russia would start the war in such a way."
Her priority after she woke just before 8 a.m. on February 24, had been getting Daiana to kindergarten. But the missed calls from family and friends alerted her to a new reality—Vladimir Putin's forces had invaded. "My hands began trembling," she said.
Her thoughts turned towards her parents who lived in Vasylkiv to the southwest of the city. Their house there was built more than a century ago by her great-grandfather when Russia was still an empire—something Putin is accused of trying to reinstate.
With its pre-revolutionary style wooden interior and full of books and memories, the house was more than just a childhood home. "I always thought of it as the safest place in the whole world."
Not any more. Vasylkiv has a military air base, whose strategic significance made it the scene of a fierce battle. Along with Irpin and Bucha, it was also one of the focuses for an attempt to encircle the capital by Russian forces whose retreat has revealed alleged atrocities.
In haste and oblivious to the prospect of never returning, Anastasiia only managed to grab from her apartment some documents, clothes and a My Little Pony toy for her daughter, who loved the television series.
Left behind were things she would give anything to have now— the diary chronicling every day of her daughter's life since her birth, and the prenatal scans before it that marked a future of hope. Their lives were now squashed into a backpack.
They went to a friend's ground-floor apartment in another part of Irpin where they stayed that evening. "I was really frightened, the explosions sounded very near," she said via WhatsApp, "it is really scary when you hear sounds and don't understand what is happening around you."
Gallows humor was a coping mechanism. "We had a joke that as long as you can hear the explosion, it's OK, because it hasn't hit you. The one you don't hear is the one that gets you."
The ominous approach of Russian tanks in Irpin spurred her friends to decide it was too dangerous to stay. With her friends' dog Reya in tow, the group upped and left in two cars, in their hurry almost forgetting to bring food.
As they drove through the night, their eyes were peeled for gas stations that had not run out of fuel.
The dog was a key distraction for Daiana as was the My Little Pony doll. "If something is scary, I can make her a little bit happier with this pony," she said, "sometimes when I take my backpack I hold my things and when I see this pony I start crying."
Anger not fear
Before the war, Michael Chernomorets, 33, owned three restaurants in Kharkiv in eastern Ukraine. His catering concern now is to provide food and support for his fellow citizens left vulnerable and bewildered in their city battered beyond recognition.
"We at least for a few years have been living in this fear of an invasion but in the evening you go and sleep as usual, charge your phone and go to bed," he told Newsweek.
"Then you wake up at 5 a.m. with bombs and lights in the sky from the bombing and you don't understand what happened or how it happened."
He relocated his family but he stayed and helped set up a group called Rescue Now, which needs donations. On the first day he drove seven people more than 120 miles away, where it is safer.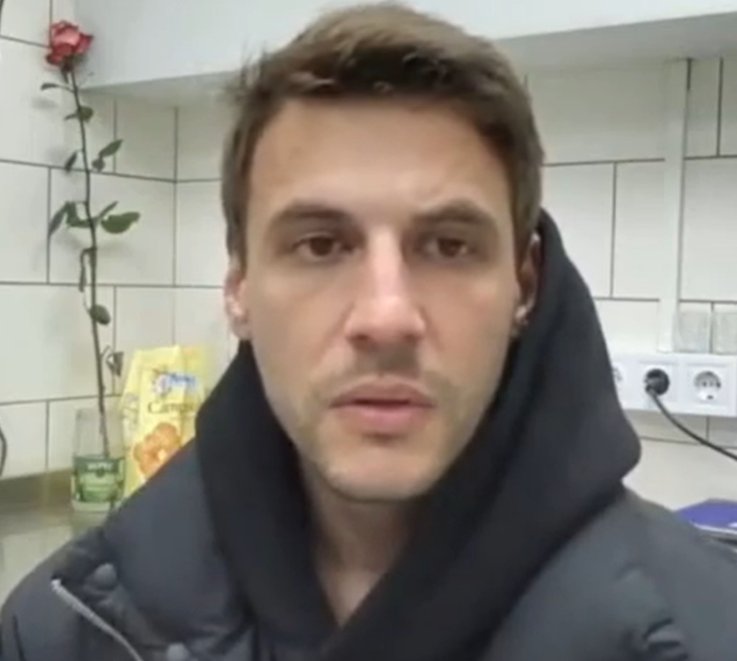 Michael Chernomorets, seen in this screengrab, told Newsweek about how he has stayed in Kharkiv after Russia's invasion to help the residents of his city.
Rescue Now via Instagram
The operation by his team grew in size and scope quickly and within five weeks more than 2,000 people had been spirited away to Poltava and Dnipro, which is further away.
Buses take people out and bring provisions back for a kitchen which now prepares 8,000 meals a day.
They feed those who are not evacuated, either because of their age, their infirmity or just their resilience. The phrase customer demand took on a new meaning.
"Every day we look after people who cannot be evacuated and people who can't go to a shelter or people who are staying in the basement of their building without any food or electricity."
"Many people do what they can. We have many people who can't handle a weapon," he said, "they do whatever they can to support the army and civilians who can't take care of themselves."
"We have at least five or 10 air attack alarms per day and we have bomb attacks and we go to places where there are dead bodies on the road." With understatement, he said these are "not casual conditions, this is a real war."
Kharkiv is predominantly a Russian-speaking city. Michael, also a Russian speaker, felt strong ties to those who spoke his language on the other side of the border. He even supported Russia in the Eurovision song contest and the Olympics.
"We had many agreements with these people, we had an agreement to protect each other," he said, "we didn't feel any difference between us."
The business of staying and keeping others alive is at the forefront of his mind now, as is a sense of betrayal. "It is not fear I feel," he said. "We are angry, we are people, no one can feel fear because it is our country and we don't fear anything.
"We want our houses, our cities, our parks, our family, our children. You know we are so angry about it."
Spring
Heading west, Anastasiia and her group tried to avoid big cities which would be obvious bombing targets. They first stopped in Berdychiv in the Zhytomyr region and then headed to Polyanitsa in the Ivano-Frankivsk region in the Carpathian mountains.
Then they took the train to Lviv from where they were driven to the Medyka-Shehyni border crossing with Poland.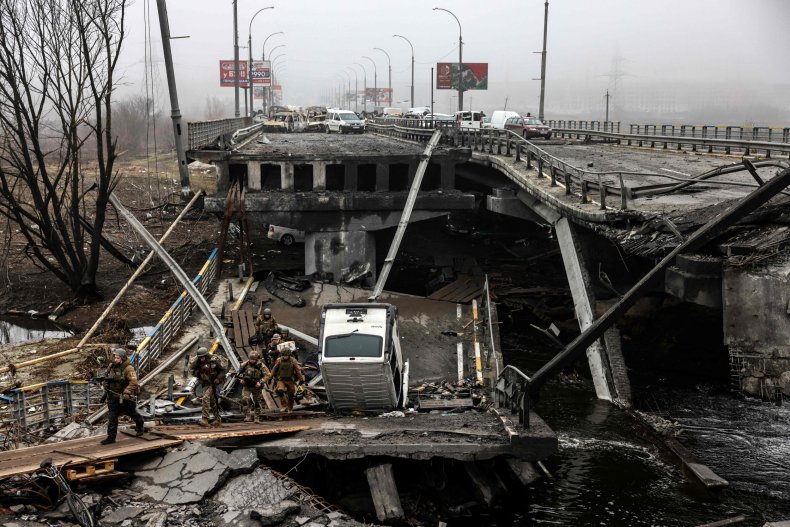 Through the stress of passing through constant military checkpoints and hearing explosions, air alarms and jets overhead that they prayed were Ukrainian, Anastasiia kept her emotions in check for her daughter's sake.
"She is reading me and she will have the same mood as me," she said.
Keeping Daiana close was sometimes tricky with a heavy backpack in crowds and on trains. Stories Anastasiia had heard of refugees dying and leaving their children to fend for themselves terrified her. "You are prepared that at any second everything can change."
She struggles to pronounce the name of Drogheda, a town in Ireland they are now in as part of a scheme by the country's government to welcome refugees.
But even harder to say is whether she will ever get back to her country after fleeing for her daughter's future. Her father has refused to leave and remains in Vasylkiv but her mother is with her in Ireland.
The trauma of her passage to safety revisits Anastasiia in unexpected ways. While in Eindhoven en route to Ireland, she took her daughter to a playground.
Spring had come earlier to the Netherlands than to Ukraine and while her daughter played, she burst into tears.
"My country is at war and here everything is fine—even the trees blossom."