Ukraine Names 'Four Enemies' of Russian Missile Arsenal as Stocks Dwindle
Ukrainian Defense Minister Oleksii Reznikov on Tuesday named "four enemies" of Russia's missile arsenal, as he suggested that the country's missile stockpile was dwindling.
"Four enemies of the russian missile arsenal: brilliant Ukrainian air defense forces; inept russian missile forces; sanctions; time," Reznikov tweeted, sharing an illustration showing Russia's high-precision missile arsenal as of November 18.
"Let's demilitarize the terrorist state to live in peace!" the defense minister wrote.
According to the illustration of Russia's ground-launched, sea-launched, and air-launched missiles, as of November 18, the country had 8,476 missiles left out of the 11,227 missiles it had when it first invaded Ukraine on February 24.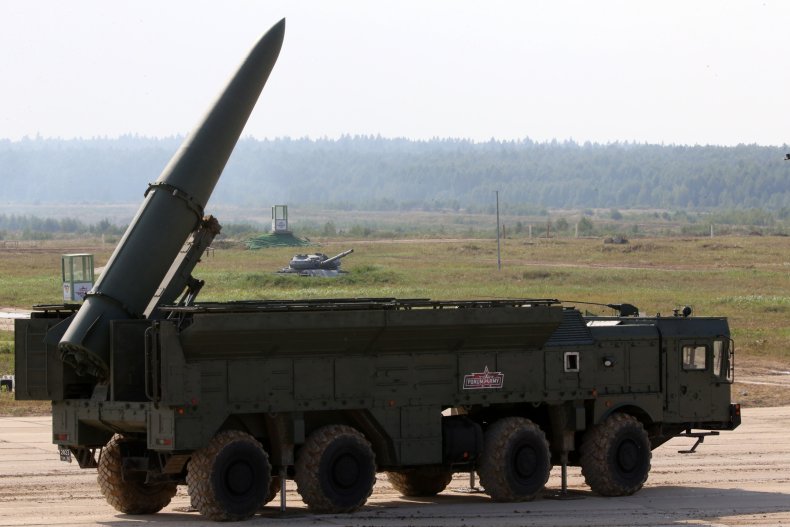 The 8,476 includes an additional 664 missiles that were produced throughout the course of the war, according to the illustration, which is based on Ukraine's assessments.
Last month, Reznikov suggested that Russia's missile arsenal was diminishing.
"Demilitarization of russia," Reznikov wrote. "By using hundreds of high-precision missiles against civilian objects of Ukraine, the aggressor state reduces its ability to strike the military targets."
He added: "Two conclusions: - russia's military defeat is inevitable; - russia is a terrorist state."
The Main Directorate of Intelligence of the Ministry of Defense of Ukraine separately released a report on November 7 that said Russia only had 120 of its modern missiles left in its arsenal.
The report said Russia has used an estimated 80 percent of its modern missiles and now only has 120 Iskander missiles left.
British defense officials have also highlighted that Russia is facing issues with equipment. The British Ministry of Defense said on November 3 that in the middle of October, Russian forces were losing more than 40 armored vehicles a day, which is roughly the equivalent of a battalion's worth of equipment.
Russia has been forced in recent weeks to turn to Belarusian stocks to acquire at least 100 additional tanks and infantry fighting vehicles.
Kremlin spokesman Dmitry Peskov acknowledged in October that Russia is facing issues with equipment for its conscripted soldiers following President Vladimir Putin's partial mobilization order which defense officials said would affect up to 300,000 reservists. He said that a council created by Putin was working on attempting "to rectify the situation."
Meanwhile, Ukraine has been receiving military assistance from the West to fight against Russian forces. The Washington-supplied High Mobility Artillery Rocket Systems (HIMARS) have been widely credited with turning the tide of the war.
Three United States officials told CNN on November 17 that there is concern that U.S. stockpiles won't be able to meet Ukrainian demands going into the winter.
Newsweek reached out to Russia's defense ministry for comment.