A Ukrainian town has paid tribute to two brothers, who local media report were born in Russia, following their deaths fighting to defend Ukraine.
Roman Butusin and Leonid Butusin, died in the Chernihiv region fighting against Russian forces, according to Ukrainian television news service TCH.
Pictures showed a mourning procession for the brothers was held in Kalush on Sunday.
Ukrainian locals dubbed the pair "our guys" and "our heroes" after the service.
The brothers' father, Oleg Butusin, reportedly moved the family from Russia to live in Ukraine in 2014 out of the desire to flee Russian leader Vladimir Putin's regime.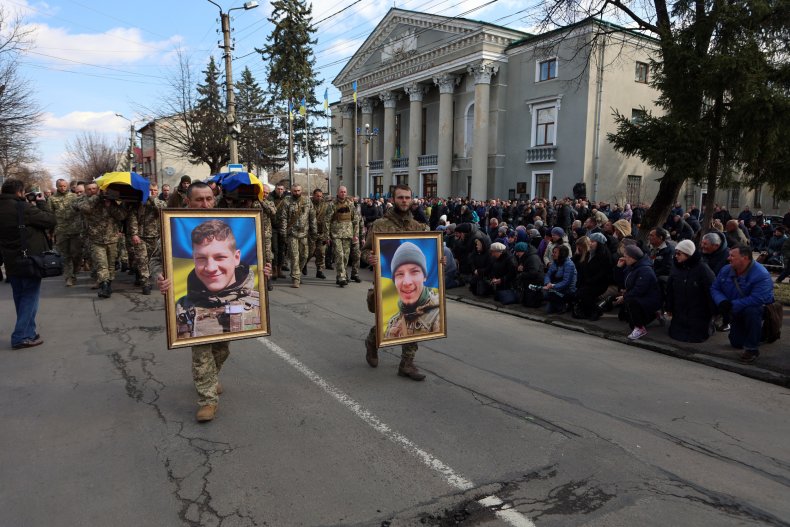 The father also volunteered to fight the Russians and was also able to retrieve the bodies of his two sons and take them from the battlefield, TCH said.
"Your blood, my dear, beloved children, it was shed in vain. This will be the key to our future victory and the uprising inside Russia itself," Oleg Butusin said in a video at the site of his sons' last battle.
"I still think and hope that the conscience of these men who call themselves Russians will wake up."
Kalush Mayor Andriy Naida posted information regarding the tribute and what route the procession would be taking on his Facebook page. He also noted that a funeral was to be held near Mineral Park.
During the procession, people spoke to local media praising the two men for fighting in the Ukrainian army, according to a Suspilne News report.
"Today we have gathered here to meet our heroes who laid down their lives for the freedom of Ukraine, defended our state with dignity," local Natalia Kulbanska said.
"That's why we decided to pay tribute to our heroes with the whole family and teams. We came from a nearby village, but we think they are our guys. After all, we live in one district, in one community on Ukrainian soil."
Oksana, a resident of Kalush, also praised the two soldiers for their efforts and expressed condolences to their family.
"I want to sympathize with the parents who have suffered a great loss," she said.
"Our heroes"
"Two children died and I want to pray that God will help [the] parents endure this grief.
"Thank you for raising such children. Yesterday I saw a report with the father on the place of death of his sons. I can't hold back my tears. That's why I ask people not to forget our heroes who give their lives."
Newsweek has contacted the Ukrainian Ministry of Veterans' Affairs for comment.