Ukraine's Savchenko Condemns Russian 'Slave Mentality'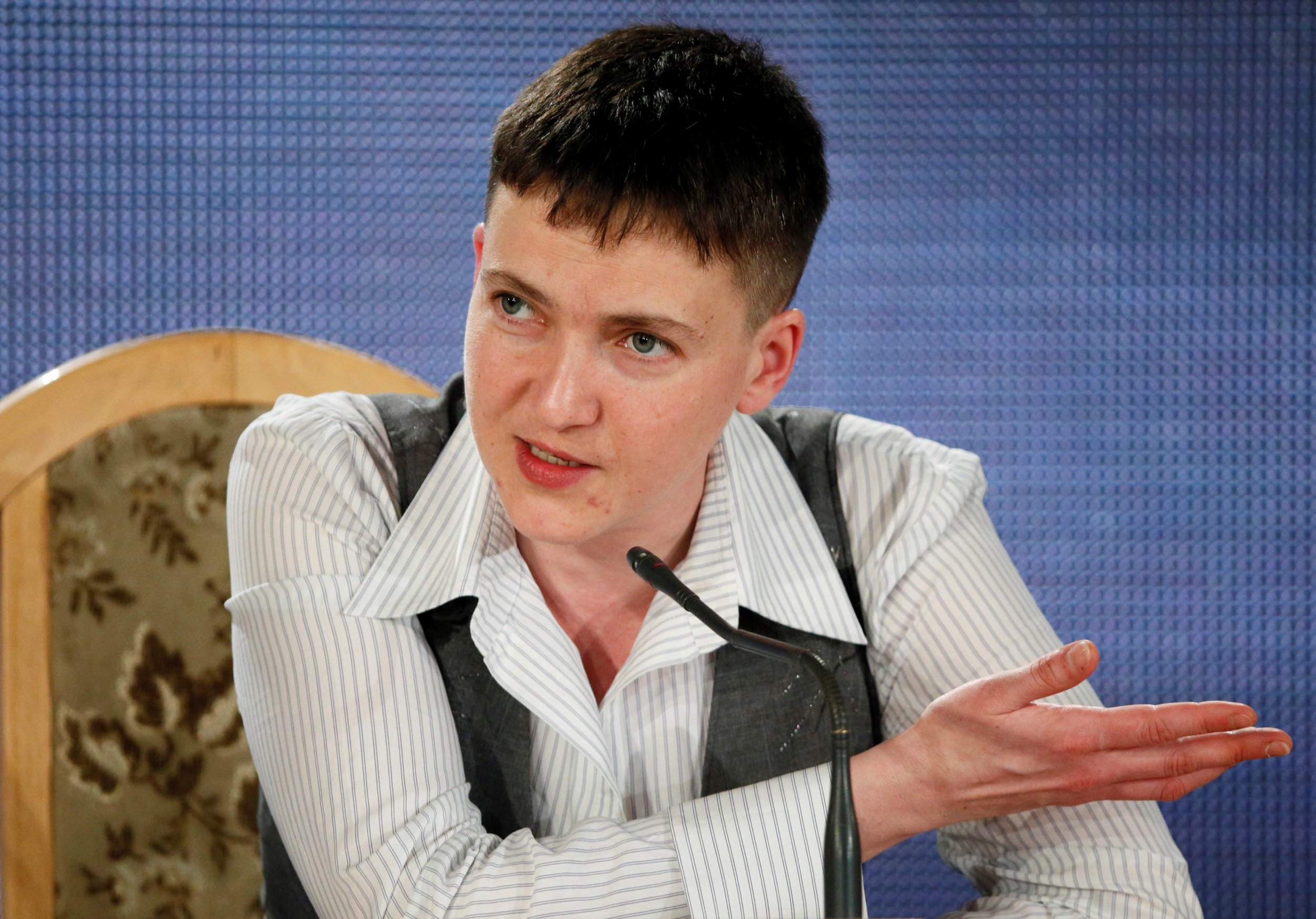 Ukraine's most popular politician, who spent nearly two years in Russian and rebel captivity, has accused Russians of having the mentality of slaves in an interview with Ukrainian news site Apostrof.
Nadiya Savchenko, a former military pilot, who was captured during the height of combat in east Ukraine two years ago, was elected to parliament while in captivity as a member of former Prime Minister Yulia Tymoshenko's populist, pro-EU Batkivshchyna party. She appeared to have been captured while fighting Russian-backed separatists in eastern Ukraine and forcibly sent to Russia, though Russian officials denied this, insisting that she had tried to sneak into Russia and been apprehended at the border.
Her hardships during an ensuing trial, during which she was controversially convicted of assisting in killing two Russian journalists in Ukraine, made her a hero in Ukraine. Her release was secured in May and she has returned to Ukraine, where her high popularity sees her frequently tipped to one day run for president.
Speaking to Apostrof she said that she would hold a referendum as her first act, if she were president, to allow the Ukrainian people to decide whether to move towards Europe or not and whether to lend power to regions or centralize power.
She was also asked what relations she would like to see Ukraine have with Russia.
"Beneficial economic ones; other than that, none," she said. "We do not need their cultural and moral values because ours are different. We don't need their political achievements, their Russian world, because that hurts us. We are not slaves and here 'slaves do not go to heaven'," she said referring to a popular quote, attributed to Ukrainian national hero Ivan Sirko.
"They are all slaves, on their knees—that is their mentality. We have a different mentality. We need good economic relations with them," she said.
When asked about the upcoming parliamentary elections in Russia, she said that Russian President Vladimir Putin "is not eternal" and that Russians should elect a new president in order to be free.
"I will say this, the Russian people ought to be the ones thinking about this. It is their life, their country, let them find him a replacement," she said. "I do not deal with Russia, I want to elevate Ukraine. I want to do everything so it is easier for my people to live."
Savchenko is known for her often tumultuous speeches and intense speaking style. Despite her time in captivity, she said she still has sympathy for the parents of Ukrainian and Russian soldiers dead in the conflict. She has also reserved some of her most searing criticisms not for the Kremlin but for the Ukrainian government and has declared she is open to negotiate directly with the pro-Russian separatists in eastern Ukraine, which the current government will not do.