Ukraine's Chief Directorate of Intelligence for the Ministry of Defense on April 2 accused Russian soldiers of attempting to sell personal property they had stolen from Ukrainian civilians. The accusation was published on the directorate's official Telegram channel, and was also posted to Facebook.
The post, titled "The Russian military has opened a bazaar to trade in loot," said that "In the city of Narovlya (Belarus) the occupiers set up a specialized bazaar selling property looted in Ukraine. The 'assortment' of the marauders' bazaar included: washing machines and dishwashers, refrigerators, jewelry, cars, bicycles, motorcycles, dishes, carpets, works of art, children's toys, and cosmetics. All of these things, the Russians gained through marauding and robbing peaceful civilians in Ukraine."
"Currently, the occupiers are organizing delivery of new shipments of looted 'goods' to their bazaar." the post added. "From the city of Buryn [in Ukraine's northeastern Konotop district, Sumy region] towards the national border a convoy of delivery vehicles is moving various effects — both industrial goods and household items."
The Russian Ministry of Defense did not immediately respond to Newsweek's request for comment.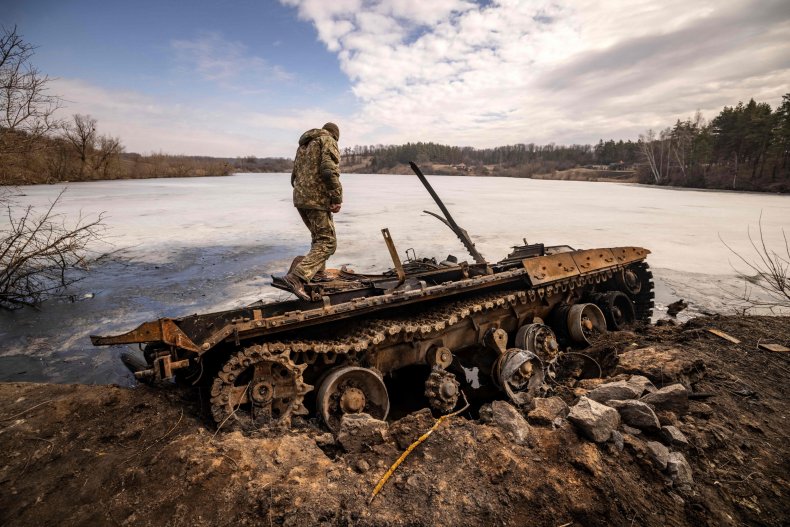 Further evidence of the existence of the bazaar in Belarus was not provided. However, photographs, video, and telephone intercepts lend credibility to the accusation that Russian soldiers have been stealing from Ukrainian civilians.
Also on April 2, news aggregator Ukraine Alert published a picture of what multiple outlets claim was an immobilized Russian military truck. The truck was said to have been photographed on a road in Bucha, a suburb north of Kyiv recently liberated by Ukrainian forces. In the bed of the burned-out vehicle sits what appear to be the charred remains of three washing machines.
There is also growing evidence that Russian soldiers who managed to make it across the border to Belarus are attempting to send packages of stolen goods to relatives back home.
On Saturday, Congressman Adam Kinzinger retweeted a video purportedly showing Russian soldiers in Mazyr lined up at a collection point of SDEK, a popular delivery service that operates throughout Russia and much of the former Soviet Union.
On Sunday, Belarusian independent news site Motolko Help uploaded over three hours of surveillance camera footage showing the Russian soldiers at the SDEK location filling out paperwork and sending off their parcels.
This follows the April 1 publication by Ukraine Alert of a TikTok video showing Ukrainian territorial defense forces displaying looted goods found in an abandoned Russian armored personnel carrier. Among the items stowed in the Russian military vehicle were Ukrainian currency, unopened children's toys, and frying pans.
Since the early days of the conflict, the Security Service of Ukraine has been releasing some of the telephone calls they've intercepted between Russian soldiers and their relatives back home. In a representative example, a young soldier chats with a female relative back home about when he might return.
"I stole some cosmetics for you," he tells her before discussing the sacks of household items he and his comrades in arms had gathered in the Kyiv suburbs.
"That will make for a nice 'hello from Ukraine,'" the girl laughs. "What Russian person doesn't steal anything?"