Ukraine Seeks More Evidence of Russian Humanitarian Crimes for Court Cases
Ukraine has launched an appeal for new evidence of Russian human rights abuses to be used in the United Nations (UN) International Court of Justice and the European Court of Human Rights.
Andriy Yermak, the top aide to Ukrainian President Volodymyr Zelensky, announced the launch of a new website to collect user-submitted evidence. Ukraine has accused Russia of committing multiple human rights violations and war crimes amid its ongoing military assault.
"The collected facts will be used as evidence for the defense and representation of Ukraine in the European Court of Human Rights and the International Court of Justice," Yermak said in a statement.
"By his decree, President Volodymyr Zelenskyy has already authorized those responsible to represent and defend Ukraine's interests in the UN International Court of Justice in the case against Russia on genocide charges," he added. "And there will be more such cases."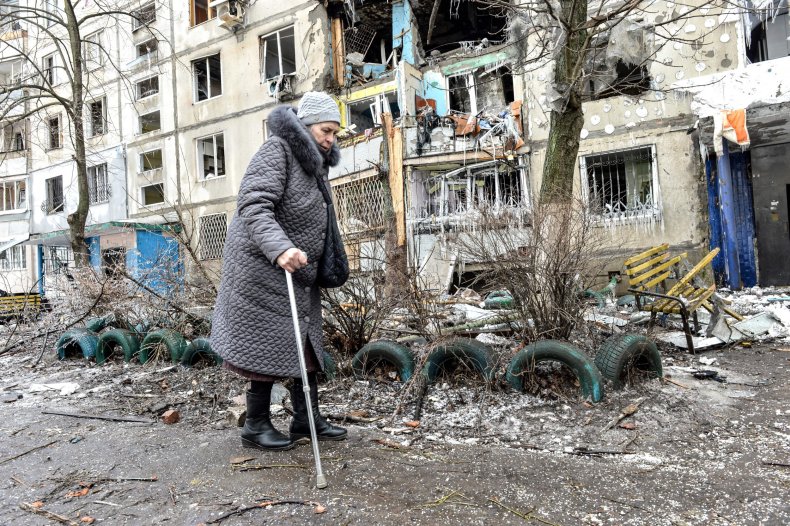 The site, humanrights.gov.ua, allows users to submit evidence by filling out a form. Those who submit are asked to provide information about alleged victims and abusers, as well as any related photos, videos or documents.
A "qualified team of lawyers" will vet the provided evidence, while those who submit to the site, in addition to any other alleged witnesses, are put "under reliable protection."
The website was launched only hours after Zelensky accused Russia of committing an "atrocity" by bombing a maternity hospital in Mariupol. The Ukrainian president shared a video to Twitter purportedly showing the aftermath of the bombing, while accusing other countries of "ignoring terror."
"Direct strike of Russian troops at the maternity hospital. People, children are under the wreckage. Atrocity!" Zelensky tweeted. "How much longer will the world be an accomplice ignoring terror? Close the sky right now! Stop the killings! You have power but you seem to be losing humanity."
The reported bombing was only one of many alleged incidents of Russian forces striking civilian targets like hospitals and residential buildings in Ukraine. War crimes expert Michael Newton, a Vanderbilt University law professor, told Newsweek that Russia was "absolutely clearly" targeting civilians and trying to "terrorize people."
In addition to proceedings in the UN and European criminal courts, the separate International Criminal Court has launched and investigation into possible war crimes and crimes against humanity committed by Russia.
The UN has verified at least 516 civilian deaths in Ukraine but believes the true number to be "much higher." In Mariupol alone, Ukrainian officials have claimed that over 1,200 civilians have been killed in the two weeks since the Russian assault began. Over 2 million people have fled Ukraine.
On Monday, a White House National Security Council spokesperson told Reuters that the U.S. was collecting evidence of "possible war crimes, human rights abuses, and violations of international humanitarian law" by Russia.
In the active UN court case, Ukraine accuses Russia of falsely claiming that it committed genocide in the oblasts of Luhansk and Donetsk as a pretext for launching a full-scale military invasion that Moscow claimed was a "demilitarisation and denazification" campaign.
Russian President Vladimir Putin declared the oblasts independent "people's republics" shortly before the invasion was launched. In 2021, Russia filed a lawsuit in the European Court of Human Rights that accused Ukraine of war crimes against Russian-speaking populations in the regions.
Alexander Hinton, director of the Center for the Study of Genocide and Human Rights at Rutgers University, told Al Jazeera that Russia had presented no "credible evidence" to back up its claim of genocide.
Newsweek reached out to the embassies of Ukraine and Russia in Washington, D.C., for comment.