Ukrainian officials on Saturday called on the Red Cross to help handle the bodies of fallen Russian soldiers that are littered around the country.
In a tweet, the Ukrainian Ambassador to the United Nations, Sergiy Kyslytsya, said that the country had reached out to the International Committee of the Red Cross (ICRC) for aid in the "repatriation of thousands of bodies of Russian soldiers," the Times of Israel reported. The ambassador's tweet also included a chart that reiterated Ukraine's claim that around 3,500 Russian soldiers have been killed during the invasion, so far.
"Don't let Putin hide [the] scale of tragedy," the ambassador's tweet read.
As part of his appeal, Kyslytsya said that the families of the Russians killed in Ukraine deserve the chance "to bury them with dignity."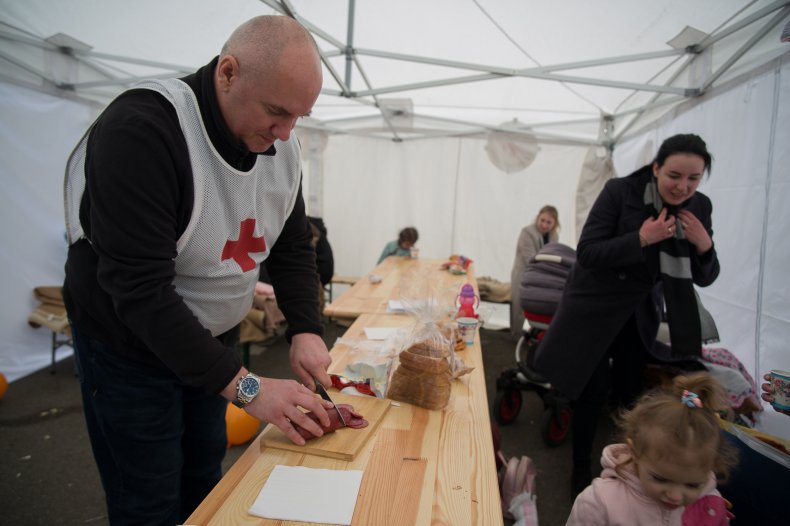 Responding to the Times of Israel, Laetitia Courtois, the Red Cross' permanent observer to the United Nations, said, "the ICRC can act as a neutral intermediary" in the process of returning bodies to Russia, as well as other humanitarian issues related to the conflict in Ukraine. Some examples given were helping sort out missing persons, reuniting families, and helping to advocate for the safe treatment of detainees, which are all "within [the ICRC's] possibilities."
She also said that the situation in Ukraine "is a primary concern and a limitation for our teams on the ground." In reference to the country's claims about the number of dead Russian soldiers, she added that the ICRC "cannot confirm numbers or other details."
In the chart tweeted out by Kyslytsya, the Ukrainian Defense Ministry made further claims about the losses suffered by the Russians. On the ground, Ukraine claims to have destroyed 536 armored vehicles, 102 tanks, and 15 pieces of artillery. In the air, they claim to have downed 14 fighter jets and eight helicopters.
During a TV interview on Sunday, British Foreign Secretary Liz Truss called Russian President Vladimir Putin's decision to invade Ukraine a "strategic mistake" and further claimed that the conflict could be the "beginning of the end" for the Russian leader.
"We said before this invasion took place that Vladimir Putin would be making a massive strategic mistake," she said. "First of all, because the Ukrainians would fight. We're seeing them fight, we're seeing the incredibly brave leadership of President Zelenskyy, but also because they will be hit by severe Western sanctions."
Truss added that the conflict could stretch on for "a number of years" and become "very, very bloody" on account of the strength of Russia's military.
"But we know that the Ukrainians are brave," she continued. "That they're determined to stand up for their sovereignty and territorial integrity, and they're determined to fight."