Ukraine Shares Video of Devastated Russian Unit That Failed to Cross River
Ukrainian military officials shared video of what they say shows the bleak aftermath of a Russian military unit's botched attempt to cross the Seversky Donets river in eastern Ukraine.
The aerial footage shows a destroyed pontoon bridge over the river as the sound of howling wind plays in the background.
The video goes on to show tanks submerged in the water and countless charred military vehicles littering the desolate landscape.
The footage ends showing fields pockmarked by shell blasts.
Zenger News obtained the footage from the 30th Independent Mechanized Brigade 'Konstanty Ostrogski' - a formation of the Ukrainian Ground Forces - on Tuesday.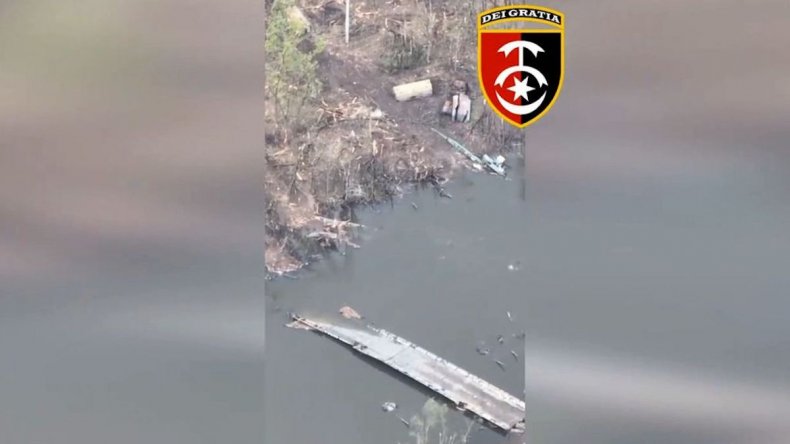 The 30th Mechanized Brigade (30 OMBr) said (in Ukrainian): "The occupiers tried several times to cross the Seversky Donets River near the village of Bilohorivka, but thanks to the professional work of 30 OMBr soldiers together with other law enforcement agencies of the Armed Forces, all enemy plans were thwarted.
"Burn, enemies, in hell! Your every attempt to seize Ukrainian land will end in this way!"
Bilohorivka is located in Luhansk Oblast, most of which is currently under the control of the pro-Russian Luhansk People's Republic and Russia itself.
The Siversky Donets river splits the oblast approximately in half.
Russia invaded Ukraine on February 24 in what the Kremlin is calling a "special military operation" to "protect Donbass." Thursday marks the 85th day of the invasion.
The General Staff of the Armed Forces of Ukraine (AFU) reported that between February 24 and May 19, Russia had lost about 28,500 troops.
The AFU General Staff also said Russia had lost 1,254 tanks, 3,063 armored fighting vehicles, 595 artillery systems, 199 multiple launch rocket systems, 93 anti-aircraft systems, 203 aircraft, 167 helicopters, 2,157 motor vehicles and fuel tankers, 13 vessels, 455 unmanned aerial vehicles, 43 pieces of special equipment and 103 cruise missiles over the same period.
The update comes after Moscow claimed a strategic victory through the fall of the port city of Mariupol.
The Kremlin says more than 900 Ukrainian fighters from the Azovstal metallurgical plant have been taken to a former prison colony in a Russian-controlled part of Donetsk.
But Ukrainian President Volodymyr Zelenskyy has called Russia's invasion of Ukraine an "absolute failure" and said Russian leaders were afraid to acknowledge "that catastrophic mistakes were made at the highest military and state level."
Elsewhere, G7 partners are set to meet in Germany on Thursday to find a way to fix Ukraine's devastated finances.
On the ground, Ukrainian forces have retaken villages around the northeastern city of Kharkiv, but Russian forces have advanced slowly in the east of the country.
This story was provided to Newsweek by Zenger News.