Ukraine Snake Island Soldiers Tell Russia 'Go F*** Yourself' Before Being Killed in Audio
Audio of a group of Ukrainian border guards on Snake Island refusing to surrender and telling a Russian warship to "go f*** yourself" has gone viral.
All 13 Ukrainian defenders, posted on the island in southern Ukraine, were killed by Russian military forces shortly after Russian President Vladimir Putin announced a "special military operation" in Ukraine on Thursday, Ukrainian officials confirmed.
Russian armed forces had demanded that they surrender and were livestreaming when the incident unfolded.
"This is a Russian military ship," the Russians said twice. "I suggest you lay down your weapons and surrender to avoid bloodshed and needless casualties. Otherwise, we will open fire on you. Do you copy?"
"This is it," one Ukrainian soldier said. "Should I tell him to go f*** himself?"
"Russian military ship , go f*** yourself," one of the soldiers responded, before the audio cut.
The 13 soldiers killed in the incident will each be awarded the Hero of Ukraine medal posthumously, according to Ukrainian President President Volodymyr Zelenskyy.
"All the border guard guards died heroically defending our Snake Island. They didn't give in," he said on Thursday evening, Ukrainian outlet Pravda reported. "Each of them will be be awarded the Hero of Ukraine medal posthumously."
Zelenskyy added: "May the memory of those who gave their lives for Ukraine live forever."
The small island is also known as Zmiinyi Island, is located some 30 miles (48 kilometers) off the southern tip of the Ukrainian mainland. It is of strategic importance due to its location near Romanian territory in the northwestern Black Sea.
The location was chosen by Zelenskyy in August 2021 for a press event in the lead-up to the Crimea Platform summit in Ukraine's capital Kyiv, according to the Atlantic Council.
"This island, like the rest of our territory, is Ukrainian land, and we will defend it with all our might," Zelenskyy said of the tiny island in a August 2021 interview.
In a televised address to the nation on Thursday, Zelenskyy said 137 civilians and military personnel had been killed so far since Russia launched a full-scale invasion of Ukraine.
"They're killing people and turning peaceful cities into military targets. It's foul and will never be forgiven," he said. "Let those who gave their lives for Ukraine be remembered forever."
Ukraine's armed forces were "brilliantly defending the country against one of the most powerful nations in the world," Zelenskyy added.
Meanwhile, Ukrainian Defense Minister Hanna Malyar has said that at least 800 Russian personnel had been killed so far.
Seven Russian aircraft units, six helicopters, more than 30 tanks and 130 armored vehicles have been taken down, said the minister of defense.
For live updates on Ukraine-Russia, follow Newsweek's live blog.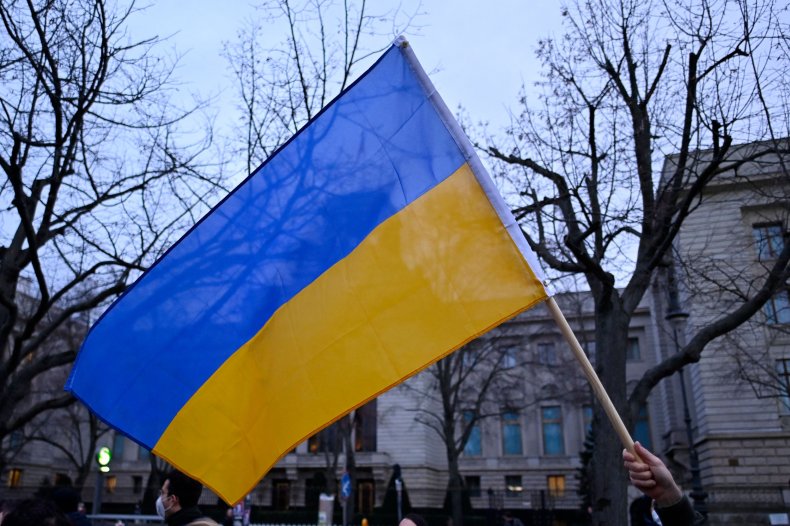 Update 2/25/22, 3:30 a.m. ET: This article has been updated with additional information.