With Ukraine Tensions High, Russia Blames U.S. Armed 'Interferences' for Kazakhstan Crisis
Russia's top envoy in the United States has cast blame on Washington's foreign policy for helping to provoke the crisis in Kazakhstan, where he said Moscow has sought to quickly bring stability as part of an allied military intervention at a time of mounting tensions with Ukraine.
Russian ambassador to the U.S. Anatoly Antonov told Newsweek that "there is serious concern over further spread of radical religious ideology in Central Asia." He also diagnosed the root issue as stemming from two decades of destabilizing U.S. military intervention across Western and Central Asia.
"It comes from the destabilization in the Middle East and Afghanistan caused, in turn, by the Western military interferences under the pretext of defending human rights and democracy," Antonov said.
The U.S. "war on terror" declared after the 9/11 attacks in 2001, the 2003 invasion of Iraq and regime change efforts in Libya and Syria initiated in 2011 have fomented further conflict across the region, giving birth to the term "forever wars" used by both President Joe Biden and Donald Trump to denote open-ended conflicts in which the U.S. has become mired. Both leaders moved to draw down U.S. military activities abroad while continuing to conduct extraterritorial operations in multiple countries.
In August, Biden completed a total U.S. military exit from the two-decade war in Afghanistan, where the Taliban quickly regained control. Months after the withdrawal, however, nearby Kazakhstan has erupted in the most serious unrest since the country's independence from the Soviet Union in 1990.
President Kassym-Jomart Tokayev, who came to power after longtime leader Nursultan Nazarbayev stepped down in 2019, has faced nationwide demonstrations that have led to the destruction of state institutions and deadly clashes after a hike in fuel prices over the weekend sparked outrage in the energy-rich country.
The turmoil led to the resignation of Tokayev's Cabinet and a nationwide state of emergency followed by an appeal to the allied Russia-led Collective Security Treaty Organization (CSTO) for assistance on what he has described as "terrorist gangs" that have "received extensive training abroad."
The CSTO, which also consists of Armenia, Belarus, Kyrgyzstan and Tajikistan, has answered this call for help by deploying peacekeeping forces to quell Kazakhstan's turbulence, according to Article 4 of the post-Soviet bloc's mutual defense pact. The unprecedented intervention has raised concerns in the U.S., but Antonov has sought to dispel any wariness regarding the move.
"As for Washington's role, we hope that no one will question the right of Kazakhstan to apply to Article 4 of the Collective Security Treaty Organization's charter. It was exercised to ensure law and order in the allied republic," Antonov said. "Russia views the externally provoked violent developments in the friendly country as aimed to disrupt its security and integrity. We will assist efforts to restore normal life in Kazakhstan."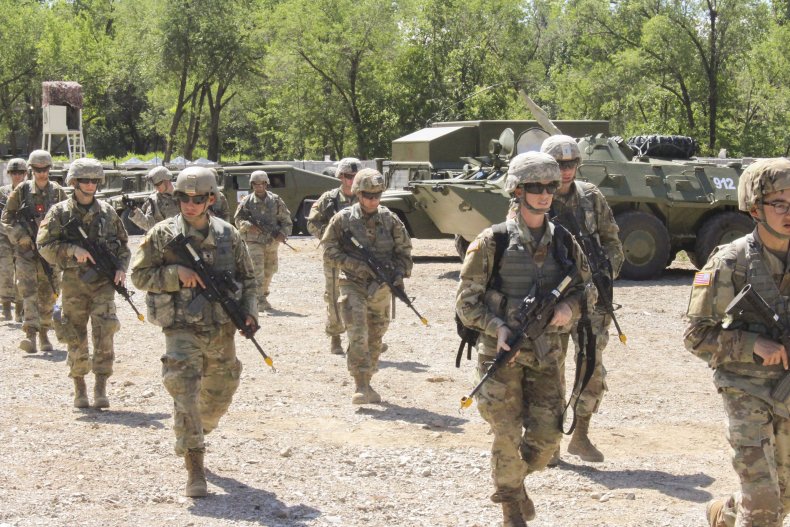 Russian airborne troops and other allied units have poured into Kazakhstan as turmoil continues in the neighboring country. Reports have emerged of demonstrators looting police gear and gun battles erupting in the most populous city of Almaty, despite the launch of what Kazakh officials termed an "anti-terror operation" to end the mayhem.
On Friday, Tokayev announced he had ordered his forces to "shoot to kill without warning" as the violence persists in Kazakhstan.
The U.S. has so far called for calm, with Secretary of State Antony Blinken speaking by phone with his Kazakh counterpart Mukhtar Tileuberdi on Thursday to express Washington's position on the situation.
"The Secretary reiterated the United States' full support for Kazakhstan's constitutional institutions and media freedom and advocated for a peaceful, rights-respecting resolution to the crisis," State Department spokesperson Ned Price said in a statement.
But Blinken also mentioned another issue playing out simultaneously thousands of miles away on Russia's border with Ukraine, where Washington has accused Moscow of accumulating forces in preparation for potential military action.
"The Secretary also raised the priority of promoting stability in Europe, including support for Ukraine's sovereignty and territorial integrity in response to Russian aggression," Price said.
Ukraine, another former republic of the Soviet Union, underwent its own mass uprising in 2014 that saw a pro-West government take power. A rival separatist insurgency aligned with Russia broke out in the eastern Donbas region as Russia moved to annex the Crimean Peninsula in a move that has been disputed internationally, including by Ukraine and the U.S. The conflict continues to this day but has drawn new attention in recent months as the Kremlin warned against Kyiv's bid to join NATO.
Like the CSTO, NATO has a collective security agreement that says any aggression against one member constitutes an attack on the collective group, meaning any Russian moves could bring an all-out conflict. Russian President Vladimir Putin has argued that Ukraine's admission to NATO and the potential deployment of further Western troops and military equipment would be an unacceptable incursion of the alliance near Russia's borders after the coalition has already crept eastward over the years to include other parts of the former Soviet Union and its allies.
"NATO's expansion eastwards is against the common and collectively agreed principle of indivisible security in Europe," Antonov said. "The transatlantic bloc itself is a rudiment of the Cold War."
Since first taking office 20 years ago, Putin has also accused Washington of stirring up "color revolutions" aimed at dismantling Moscow's sphere of influence in Eurasia.
The current standoff over Ukraine led Biden to hold back-to-back conversations over the past month with Putin and Ukrainian President Volodymyr Zelensky. Next week, U.S. officials will attend a bilateral round of talks with Moscow and a meeting of Russia and NATO representatives aimed at de-escalating the simmering situation in Eastern Europe.
On Friday, Blinken briefed reporters on recent consultations with NATO allies as part of a "coordinated response to Russia's military buildup along the Ukraine border and its increasingly sharp threats and inflammatory rhetoric.
Citing NATO Secretary-General Jens Stoltenberg, Blinken said that "Russia's aggressive actions are a threat to peace and security in Europe." He said the alliance was "prepared to respond forcefully to further Russian aggression, but a diplomatic solution is still possible and preferable if Russia chooses it.
"That's what we with our allies and partners will continue to pursue intently next week at the strategic stability dialogue between the United States and Russia and at the meetings of the NATO-Russia Council and the OSCE, the Organization for Security and Cooperation in Europe," Blinken said.
But as Washington and Moscow prepare for the gathering, the sudden outbreak of turmoil in the usually stable, energy-rich state of Kazakhstan has drawn the attention of both powers, as well as experts who have closely followed the situation.
"The situation in Kazakhstan came as a surprise to many observers," Georgi Asatryan, an expert for the Russian International Affairs Council who serves as an associate professor at Moscow State University and the Plekhanov Russian University of Economics, told Newsweek. "It seemed that Kazakhstan was an established, relatively rich and stable republic with an authoritarian form of government peculiar to the Central Asian region.
"However, as the practice has shown, autocracies of this type are stable at first glance only," he added. "Still, in reality, they are subject to internal contradictions, inter-clan conflicts, socioeconomic problems and excessive corruption."
Unlike in Ukraine, where the aims of the West and Russia are largely opposed, Asatryan argued that a return to normalcy in Kazakhstan was in the interest of all top stakeholders.
"The stabilization of Kazakhstan, it seems to me, is beneficial to all major players, including Russia, the United States and China," he said. "There are a lot of Western and Chinese investments in this country. In addition, Russia is a formal ally of Kazakhstan in various integration formats."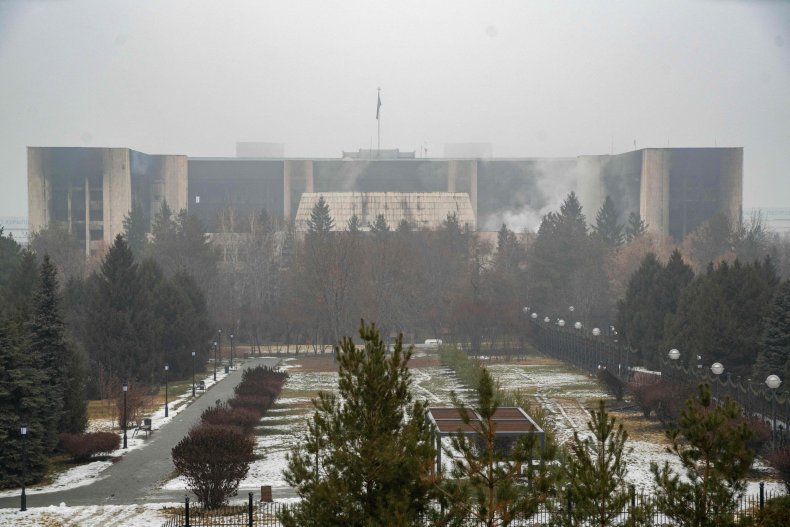 And while the U.S. has neither welcomed nor condemned the CSTO's intervention on behalf of Tokayev, the Biden administration has already taken a skeptical tone.
"When it comes to the CSTO, we have questions about the nature of the request, why it came about," Blinken said Friday. "We're seeking to learn more about it. It would seem to me that the Kazakh authorities and government certainly have the capacity to deal appropriately with protests, to do so in a way that respects the rights of protesters while maintaining law and order. So it's not clear why they feel the need for any outside assistance, so we're trying to learn more about it."
He continued, "We certainly call on those peacekeeping forces and law enforcement to adhere to international human rights standards to support a peaceful resolution. And again, we hope the government itself can quickly address the problems, which are fundamentally economic and political in nature. That's what these protests are all about."
As for the concurrent crises in Ukraine and Kazakhstan, Blinken said he "would not conflate these situations" as "there are very particular drivers of what's happening in Kazakhstan right now, as I said, that go to economic and political matters. And what's happening in there is different from what's happening on Ukraine's borders."
At the same time, he did provide a common denominator: "I think one lesson in recent history is that once Russians are in your house, it's sometimes very difficult to get them to leave."
On Thursday, the Russian Foreign Ministry issued a statement shared with Newsweek explaining the reasoning behind its decision to back the joint CSTO response.
"Reaffirming its commitment to allied obligations within the CSTO, the Russian Federation supported the adoption of urgent measures amidst the rapidly deteriorating internal political situation and surge of violence in Kazakhstan," the ministry said Thursday. "We view the recent developments in this friendly country as externally provoked attempts at disrupting the security and integrity of the state through violent means, including trained and organised armed groups."
Moscow also hinted it may pursue further measures alongside fellow members of the CSTO, which also counts Collective Rapid Reaction Forces and Collective Rapid Deployment Forces among its armed assets.
"The Russian Federation will continue its close consultations with Kazakhstan and other allies in the CSTO to analyse and develop, if necessary, further effective measures, primarily for assisting the counter-terrorist operation by Kazakhstan's law enforcement agencies, ensuring the safety of all civilians in the country without exception, and securing all critical infrastructure facilities and their operations and bringing them back under the control of the Kazakh authorities," the ministry said.
"We seek the rapid restoration of normal life in the Republic," it added.