Ukraine Tries to Ease Fears of Russian Invasion as 130,000 Troops Amass at Border
Ukrainian officials are trying to ease fears about a possible invasion, saying there is not an imminent threat of war as Russia has amassed a large number of troops at the border before.
Ukrainian President Volodymyr Zelenskyy said the situation with Russia is "under control. The government has insisted the possibility of an invasion is not close and there is "no reason to panic," the New York Post reported.
Ukrainian Defense Minister Oleksii Reznikov said Friday that Russia has about 130,000 troops near the border. However, the size is similar to when Moscow conducted military exercises last spring. They ultimately pulled back once the drills were complete, the Associated Press reported.
"We haven't observed any events or actions of military character that significantly differ from what was going on last spring," besides the deployment to Belarus, Reznikov said, according to AP.
Russia has repeatedly denied intentions to invade, calling Western concerns about the possible invasions "hysteria," the Post reported.
Russian Foreign Minister Sergey Lavrov said Friday that the country does not want to go to war but won't allow their interests to be "rudely attacked" or ignored, NBC News reported.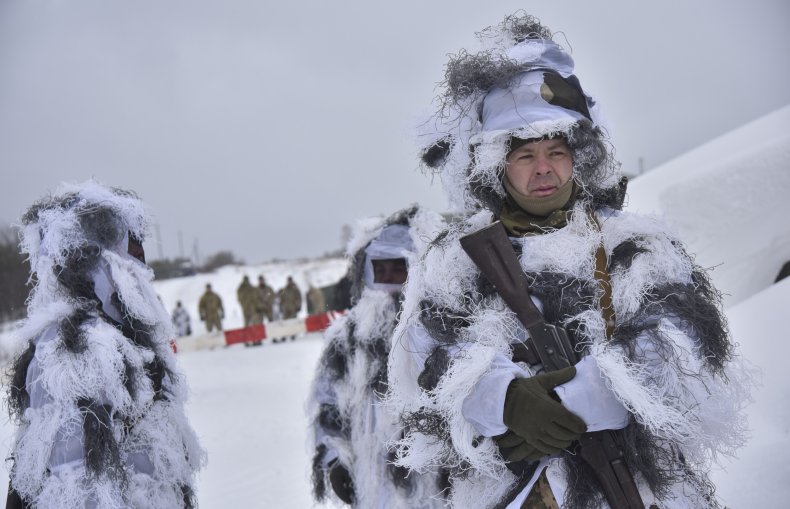 "If it depends on the Russian Federation, then there will be no war," Lavrov said during interviews with Russian radio stations, NBC News reported. "But I do not rule out that someone would like to provoke military action [around Ukraine]."
Zelenskyy spoke with U.S. President Joe Biden on Thursday about the situation with Russia. A senior Ukrainian official told CNN the call "did not go well." The official said Zelenskyy asked Biden to "calm down the messaging" regarding the possibility of war.
According to the Ukrainian official, Biden warned that the possibility of Russia invading Ukraine was virtually certain for February because when the ground freezes, military vehicles can pass easier, CNN reported.
CNN said Zelenskyy, who is trying to prevent panic at home, wants Biden to tone down his rhetoric. Zelenskyy previously responded to a U.S. warning of an imminent invasion by telling citizens to "take a deep breath and stay calm."
Despite the rocky call, Zelenskyy posted on Twitter, thanking Biden for the ongoing military assistance. He said they "discussed diplomatic efforts on de-escalation and agreed on joining actions for the future." He added there were possibilities for financial support to Ukraine.