Ukraine Trolls Russia With Meme About Living Next to It as Tensions Flare
Ukraine's official Twitter account trolled Russia this week as tensions continue to mount between the two nations.
Ukraine posted a meme Tuesday implying that being neighbors with the Russians was a headache amid concerns about a possible invasion.
The post amassed 60,000 retweets and more than 287,000 likes as of this writing, with many users struck by the fact that the meme was posted from the country's official account.
"This will be in history textbooks one day," one user quipped. Another person commented, "If this is not the greatest geo-political tweet of all time...."
Tensions have built between the two nations over the past several months as Russia builds up a military presence along the border with thousands of troops and equipment.
President Joe Biden said Wednesday that the United States will not unilaterally send troops to Ukraine if Russia invades the Eastern European nation, citing a treaty technicality: Ukraine is not a NATO member.
"That is not on the table," Biden told reporters outside the White House.
The administration has pledged to provide Ukraine with "defense capability" if an invasion occurs and vowed to slap severe economic sanctions on Russia.
Biden and his national security adviser, Jake Sullivan, have declined to provide specifics on exactly what those measures would be, but the administration has pledged to take more drastic measures than the U.S. took in 2014 after Russia invaded and annexed Ukraine's Crimean Peninsula.
Biden told reporters Wednesday that the sanctions would be "like none [Vladimir Putin's] ever seen."
Biden spoke to the Russian president on Tuesday, warning him against further escalation and reiterating the United States' "support for Ukraine's sovereignty and territorial integrity." The president is set to speak with Ukraine President Volodymyr Zelensky later this week.
Sullivan said Ukraine has "come forward with constructive ideas for how to move the diplomacy forward."
"We believe that that is good and positive. And I believe that President Biden and President Zelensky will discuss that diplomatic pathway when they speak on Thursday," he said.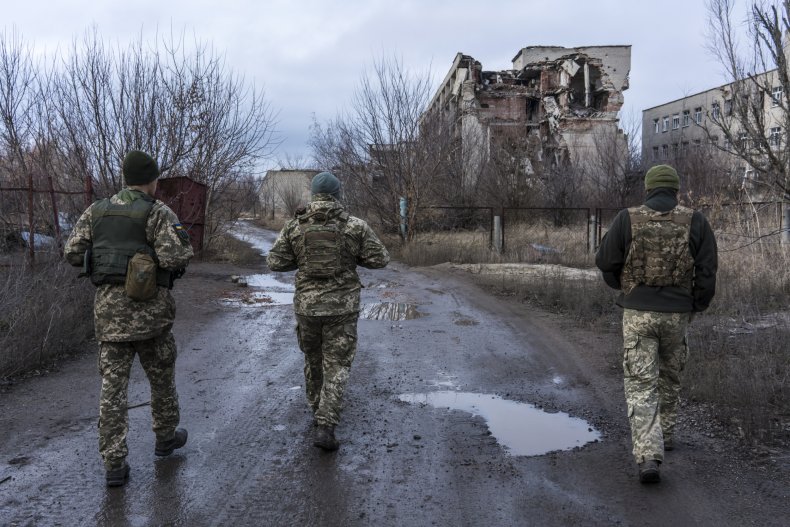 Last month, Zelensky accused Russian individuals of plotting a coup against him.
Earlier this week, Reuters reported that Zelensky was confident in the strength of his military forces to stave off a Russian attack.
"The servicemen of the Armed Forces of Ukraine continue to fulfill their most important mission - to defend the freedom and sovereignty of the state from the Russian aggressor," Zelensky said in a statement.
Ahead of his call with Biden, Zelensky spoke to Secretary of State Antony Blinken to coordinate their positions on key issues, according to a statement from the Ukraine president's office.
Newsweek reached out to Russia's Ministry of Foreign Affairs for a response to Ukraine's Twitter post but didn't hear back before publication.