Ukraine's Effectiveness '12 out of 10' as Russian Morale Hit: Pentagon
A Pentagon official has praised Ukrainian troops in their fight against Russia saying that they have done things "we might not have thought were possible."
The unnamed Department of Defense official said that despite Russian forces being bigger than Ukraine's, the morale of Vladimir Putin's troops as well as their "ability to sustain themselves" had been hit hard.
On a scale of zero to 10, the official put the effectiveness of Ukraine's armed forces at a 12 "just based on how impressive they've been to us in so many different ways," according to a readout of the briefing.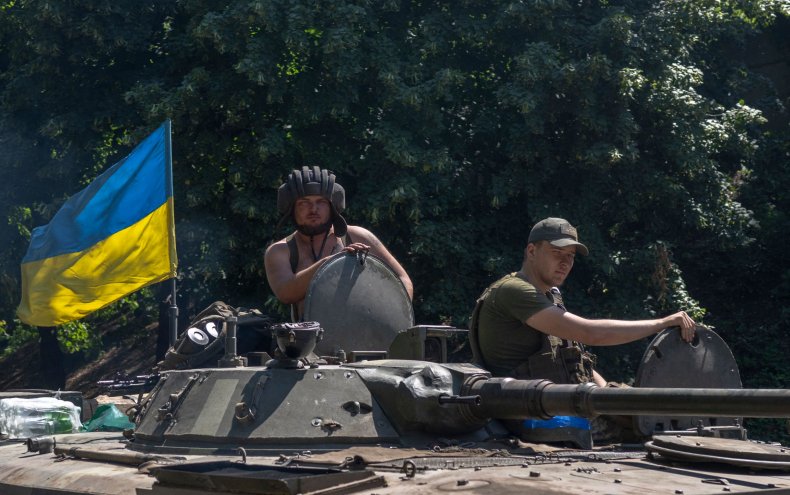 Explosions at an airbase in Russian-occupied Crimea on Tuesday had caused significant damage to Russian aircraft and munitions, the official said, although the U.S. does not know what caused the blasts.
On Friday, CNN cited experts and satellite images in reporting that at least seven Russian warplanes were destroyed in the blasts, in what could be Russia's biggest loss of military aircraft in a single day since World War II. Among the destroyed aircraft were Su-24 bombers and Su-30 multirole fighter jets, the outlet said.
The Pentagon official said on Friday that during the war, there had been large civilian casualties due to "the indiscriminate bombing that the [Russian forces] conduct."
However, Russian forces have been impacted by "the Ukrainians' ability to get after [Russian] command and control, ammunition, sustainment and logistics locations" and that the Ukrainians "have found ways to do things that we might not have thought were possible."
The official also said that in the city of Kherson, which is the scene of a counter-offensive by Kyiv, Ukraine's forces continue to press hard against the Russians, who have been impeded by Kyiv's strikes on the Antonovsky railway and road bridges over the Dnipro River.
A separate assessment by the British Ministry of Defence on Saturday said that Russia has been trying to repair the rail and road bridges near Kherson but "they will remain a key vulnerability."
This is because the ground resupply of thousands of Russian troops on the west bank of the Dnipro River is now reliant on just two pontoon ferry crossing points.
"With their supply chain constrained, the size of any stockpiles Russia has managed to establish on the west bank is likely to be a key factor in the force's endurance," the British defense officials in its daily assessment which usually highlights Ukrainian gains and Russian losses.
Newsweek has reached out to the Russian Defense Ministry for comment.