Ukraine Troops Finishing 'Mastery' of NASAMS, Awaiting Delivery: Official
Ukrainian troops are almost finished with their "mastery" of National Advanced Surface-to-Air Missile Systems (NASAMS) and are awaiting a delivery of the military equipment amid their ongoing war against Russia.
"SOON WE ARE EXPECTING THE DELIVERY OF FIRST NASAMS AIR DEFENCE SYSTEMS. OUR SOLDIERS ARE FINISHING THE MASTERY OF THE EQUIPMENT," Ukrainian Minister of Defense Oleksii Reznikov said in a Facebook post on Monday. "Moreover, thousands of our soldiers have undergone training, and tens of thousands are preparing for training in partner countries."
The announcement comes as Ukraine has continued to receive military assistance from the U.S. and other NATO nations as they continue their counteroffensive against Russian troops.
According to Raytheon Missiles & Defense, which develops the NASAMS in partnership with Kongsberg, the military defense equipment "is a highly adaptable medium-range air defense solution."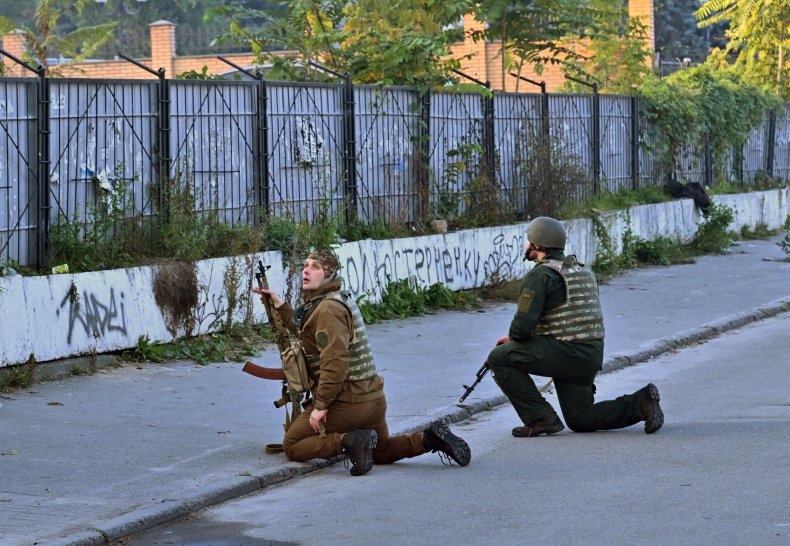 "NASAMS provides air defenders with a tailorable, state-of-the-art defense system that can maximize their ability to identify, engage and destroy current and evolving enemy aircraft, unmanned aerial vehicle and emerging cruise missile threats," Raytheon said. "NASAMS is owned by 12 countries and has been integrated into the U.S. National Capital Region's air defense system since 2005. In addition to the U.S., Norway, Finland, Spain, the Netherlands, Oman, Lithuania, Indonesia, Australia, Qatar, Hungary and one undisclosed country have chosen to depend on NASAMS for homeland defense and the defense of critical assets."
Earlier this month, Reznikov announced on Twitter that Ukrainian troops were expecting the delivery of NASAMS from the U.S., as well as some other military equipment such as HIMARS or High Mobility Artillery Rocket Systems.
"NASAMS are coming. This is only the beginning. And we need more. No doubt that russia is a terrorist state.There is a moral imperative to protect the sky over [Ukraine] in order to save our people," Reznikov said in a tweet on October 11.
While speaking with Newsweek earlier this month, an Arms Control Association research associate, Gabriela Iveliz Rosa Hernández said, "Ukraine has long sought air-defense systems to shield itself from Russian missile strikes...In theory, Ukraine could use much more advanced systems, such as the Patriot system or the Iron Dome to intercept rockets."
Ukrainian President Volodymyr Zelensky also previously praised the U.S. for agreeing to send the NASAMS saying, "I want to thank President Biden for a positive decision that has been already made. And to the U.S. Congress, we received NASAMS. It's the air defense systems."
Newsweek reached out to the U.S. State Department and Russian Foreign Ministry for comment.