Ukraine Troops Liberate City Bordering Kyiv From Russians, Mayor Says
Ukrainian forces have reportedly retaken Irpin, a suburban city near the nation's capital of Kyiv, the city's mayor said in a Facebook video Monday.
"Our Irpin has been released from Moscow filth!!! Glory to Ukraine! Glory to her defenders! Eternal memory to the fallen heroes!" Irpin Mayor Oleksandr Markushyn wrote in a translated caption for the video.
Markushyn also informed CNN of the purported reclaiming of the city, though the claim has not been independently verified. Newsweek has reached out to Ukraine's Foreign Ministry for confirmation and comment but did not hear back by publication time.
If the reports are true, freeing Irpin from Russian forces would be the latest victory for Ukraine in a conflict that has now resulted in nearly 3,000 civilian casualties. Ukrainian resistance has prevented Russia from successfully overtaking Kyiv in the weeks since the Russia-Ukraine war began, but the Ukrainian government said Monday that Russian forces had ratcheted up their attacks near the Ukrainian capital.
Markushyn told CNN that Irpin was freed "last night," likely meaning Sunday night local time, and now Ukrainian forces need to "clear the town totally."
"There are wounded Russian soldiers. They are offering to surrender or they will be destroyed," he said.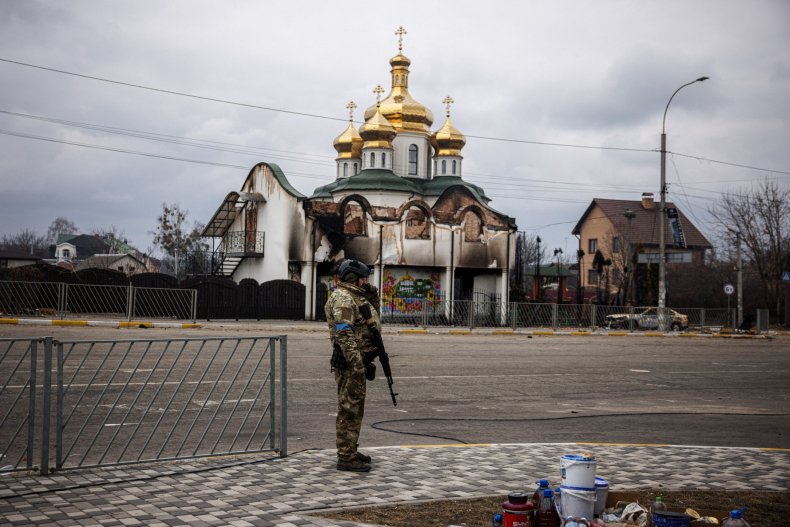 Markushyn added that Irpin is a "staging area for an attack" and that Ukrainian forces will next look to free the Ukrainian cities of Bucha, Vorzel and Hostomel.
Irpin has seen significant damage despite the reported victory on Sunday. The city, which is just about a 20-minute drive from Kyiv, is one of the most important battlegrounds for Russian forces who have their sights set on the capital.
That fighting has left Irpin in ruins, the BBC reported over the weekend.
Still, the failure of Russian forces to successfully capture key areas like Kyiv and the successful reclaiming of cities like Irpin has left some experts wondering whether the world overestimated Russia's military might in the months leading up to the invasion.
Tracey German, a professor in conflict and security at King's College London, told Newsweek late last week that the Russian invasion has not gone the way she believes Russian president Vladimir Putin and other Russian leaders would have pictured it.
Britain's Ministry of Defense said in an intelligence assessment update on Friday that Ukrainian counterattacks and the fall back of some Russian forces had allowed Ukraine to reclaim towns and defensive positions up to about 21 miles east of Kyiv.
"There was an expectation [...] that the military modernization process that began in 2008, combined with operational experience (particularly in Syria), would mean that the Russian military was far more capable," German said. "However, the evidence suggests problems remain in areas such as logistics, troop morale and failure to gain air superiority."
Newsweek has reached out to Russia's Foreign Ministry for comment.
Update 03/28/22, 12 p.m. EDT: This story was updated with additional information and background.