Ukraine Troops Prefer Russians Withdraw 'in Body Bags': Kyiv Official
As Ukrainian officials expressed skepticism toward reports of an imminent Russian military withdrawal from Kyiv, the capital's deputy mayor told Newsweek that his country's troops preferred a harsher send-off after more than a month of deadly fighting between the two sides.
"If you ask soldiers if they believe any of this you'll hear quite a direct answer," Kostiantyn Usov, the deputy head of the Kyiv City State Administration, told Newsweek.
"Our military would also state that the only proper way for Russians to withdraw from Ukrainian soil is by being packed in body bags," he added. "Anything less than that is not what our generals are interested in."
He also warned that the apparent Russian pivot, of which reports have emerged amid negotiations between the two sides in Turkey, presented a potentially precarious situation for Ukrainian politicians. Russian President Vladimir Putin's "special military operation," now well into its fifth week, has produced an ardent response across a broad range of Ukrainian society that opposes giving up a single inch of the country's territory.
"As for politicians, well, it's thin ice. One wrong move, just one hint that negotiations are about selling out even the smallest part of Ukraine's sovereignty, and another Maidan would appear here," Usov warned, referring to the 2014 revolution that toppled pro-Russian President Viktor Yanukovych and brought to power a West-aligned government.
The operation has also not granted Russia the quick victory some had expected in the months-long leadup to the conflict that saw estimates of nearly 200,000 troops amassed along Ukraine's borders. In addition to Russia's border, the troop buildups occurred in neighboring Belarus and on the Crimean Peninsula, which was annexed by Russia during the 2014 uprising, when two Russia-backed separatist states also emerged in the eastern Donbas region.
Now, for the first time since the Russian invasion began on February 24, signs have emerged that Moscow may be setting its focus on these eastern breakaway republics as its largely-stalled forces turn back their advance on the Ukrainian capital.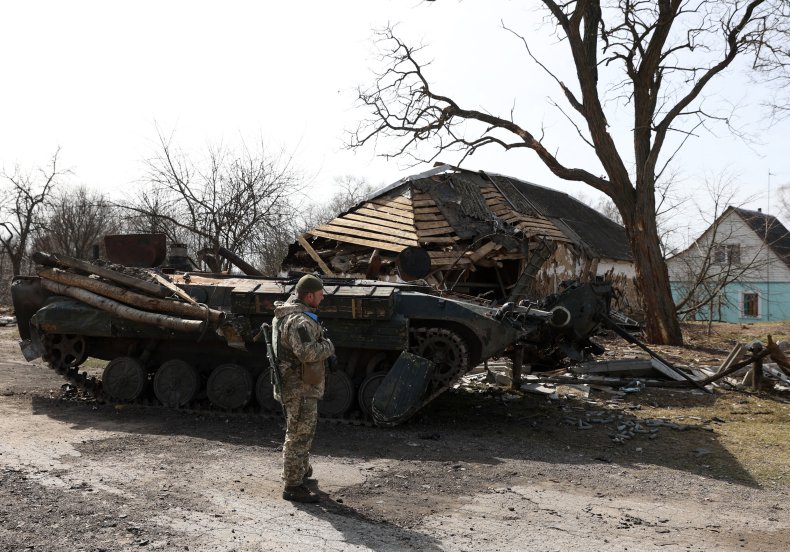 Russia's Ministry of Defense announced Tuesday that it had decided to drastically reduce hostilities around the capital and around Chernihiv to the northeast of the city. Deputy Defense Minister Alexander Fomin said the shift was intended to "increase mutual trust and create conditions for further negotiations."
This narrative was backed by Kremlin aide and Russian negotiator Vladimir Medinsky, who told reporters that the change in strategy was one of two de-escalatory steps alongside an offer to hold a meeting between Putin and his Ukrainian counterpart Volodymyr Zelensky, who has long sought such an encounter.
The Ukrainian side, according to Medinsky, provided a "clearly phrased proposal" that included a rejection of weapons of mass destruction and foreign military bases, with indications that Kyiv would also not seek a military solution in its bid to seize back Crimea.
Medinsky also emphasized in remarks to the state-run RT outlet that Russia's de-escalation "is not a ceasefire."
Also speaking to reporters following the latest round of talks, Ukrainian Deputy Foreign Minister Oleksandr Chaly said his country was exploring options to declare itself a non-nuclear and non-bloc state, forgoing its bid to join the U.S.-led NATO Western military alliance, in exchange for security guarantees.
Such guarantees could be provided by members of the U.N. Security Council as well as Canada, Germany, Italy, Israel, Poland and Turkey, according to Ukrainian negotiator and head of the ruling Servant of the People party David Arakhamia.
Zelensky adviser Mykhailo Podolyak said the issue of Crimea was a separate file that could be solved in the format of 15-year bilateral negotiations with Russia. The status of the Donbas, however, would be consigned to yet another track, one addressed directly in a future meeting between Putin and Zelensky.
A Ukrainian intelligence official, who spoke with Newsweek on the condition of anonymity, said Russian forces north of Kyiv did, in fact, appear to be withdrawing. However, the official warned the move might be a feint intended to allow the invading forces to regroup.
The official was dismissive of the military capability of Russian forces around the capital, which in recent days have faced fierce and successful Ukrainian counterattacks.
"They do not know how to fight," the official said. "They can only fire missiles and cannons from afar."
During a press briefing Tuesday, Pentagon Press Secretary John Kirby also expressed suspicion about Russia's apparent shift, which he noted was still in its "early stages" and saw only a "very, very small numbers" of troops move away from the capital so far.
"We ought not be fooling — and nobody should be fooling ourselves — by the Kremlin's now-recent claim that it will suddenly reduce military attacks near Kyiv or any reports that it's going to withdraw all of its forces," Kirby told reporters.
"We believe this is a repositioning, not a real withdrawal, and that we all should be prepared to watch for a major offensive against other areas of Ukraine," he added. "It does not mean the threat to Kyiv is over."
And Kirby noted that "the Russians still have a significant majority of their assembled combat power, to include logistics and sustainment capability, in Ukraine." This includes around the capital as well as "the vast majority of the forces they have assembled around Kyiv are still there."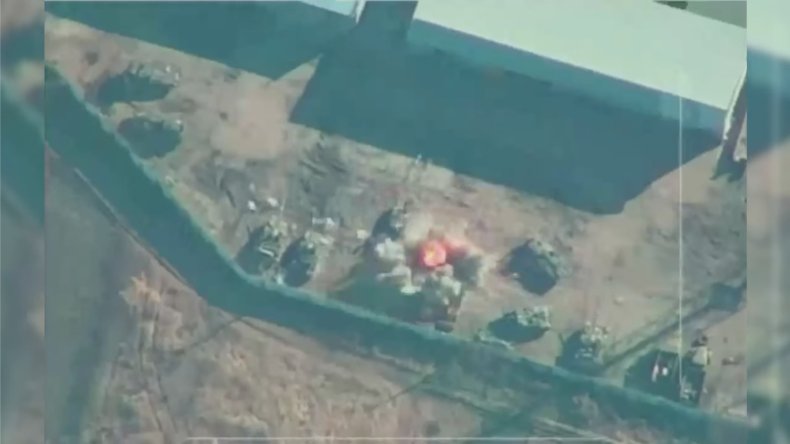 The Donbas region that now appears to be at the center of Moscow's designs was the initial entry point into Ukraine of Russian troops deemed "peacemakers" in late February, as Putin offered recognition to the self-proclaimed Donetsk and Luhansk People's Republics.
Shortly after the invasion began, Russian troops quickly became bogged down around major Ukrainian cities. Advancing units in the north and east were reportedly hampered by Ukrainian resistance and logistical issues. In the south, Russian formations found more success advancing from the Crimean Peninsula, but ran into heavy resistance along and beyond the Dnipro river.
Russian forces advanced on Kyiv from the northwest and east, crossing into Ukraine from Belarus. Heavy fighting devastated Kyiv suburbs including Gostomel, Irpin and Bucha. Russian forces made it to within nine miles of the capital's city center, according to the Pentagon.
Logistical problems reportedly forced Russian troops to transition to what the Pentagon has described as a "defensive posture." Moscow's attempts to resupply them — most notably via a 40-mile long convoy stretching from the Belarus border — have been deemed unsuccessful by Ukrainian and U.S. officials. Ukrainian defenders armed with Western-produced anti-tank and anti-aircraft weapons inflicted serious casualties using asymmetric tactics.
As the situation deteriorated, advanced Russian units found themselves at risk of encirclement by the counterattacking Ukrainians. On Tuesday, the Ukrainian military said it had retaken the important Kyiv suburb of Irpin, though the settlement was almost entirely destroyed in the fighting.
Russian Defense Minister Sergei Shoigu had already claimed that "the main tasks of the first stage" of the operation had been "completed," as "the combat potential of the Ukrainian armed forces has been significantly reduced." That achievement, he argued, would allow Moscow to prioritize efforts toward the "main focus" of the operation, which was "the liberation of Donbass."
Russian and separatists forces have so far failed to make significant headway on the eastern front. From the south, however, Russian troops advancing from Crimea were able to capture Melitopol and the port city of Berdyansk while surrounding and bombarding the port city of Mariupol in a bid to secure a Black Sea-adjacent land corridor from Donbas to Crimea.
The United States has also expressed a degree of skepticism toward early signs of Russia's pullback from the offensive against Kyiv.
"We'll see," U.S. President Joe Biden said Tuesday in response to a reporter's question regarding signs of Russia's strategy shift. "I don't read anything into it until I see what their actions are. We'll see if they follow through on what they're suggesting."
The U.S. leader said he and allied leaders of France, Germany and the United Kingdom had reached a "consensus," in which they will "just see what" Russian officials "have to offer; we'll find out what they do."
"But in the meantime, we're going to continue to keep strong the sanctions," he added. "We're going to continue to provide the Ukrainian military with their capacity to defend themselves. And we're going to continue to keep a close eye on what's going on."