A Timeline of the Trump-Ukraine Controversy
It's been a busy month as more and more details about events concerning President Donald Trump, Ukraine's President Volodymyr Zelensky and the whistleblower have come to light.
Here's an abridged version of the main events so far:
April 21: Zelensky, an actor who had played Ukraine's president on TV, was elected to the office and received his first call from Trump.
May 16: Ukraine's top prosecutor says there was no evidence of wrongdoing by Biden or his son, despite public comments from Trump's personal attorney Rudy Giuliani and later Trump.
May 20: Vice President Mike Pence did not attend Zelensky's inauguration as originally planned, reportedly under instructions from Trump. Other U.S. officials attended instead.
June 12: Trump told ABC News "I think I'd take" dirt on a political rival from a foreign government.
July 18: $391 million in military aid for Ukraine was frozen, on Trump's orders.
July 25: The phone call. Trump said he would like Zelensky to "do us a favor" and look into what he believes is the country's role in the FBI investigating 2016 election interference. He also said it "would be great" for Ukraine to find out more about Biden and his son.
July 26: U.S. Special Representative for Ukraine Negotiations Kurt Volker, who resigned last week, and U.S. Ambassador to the European Union Gordon Sondland traveled to Kyiv. According to the whistleblower they "reportedly provided advice to the Ukrainian leadership about how to 'navigate' the demands that the president had made of" Zelensky.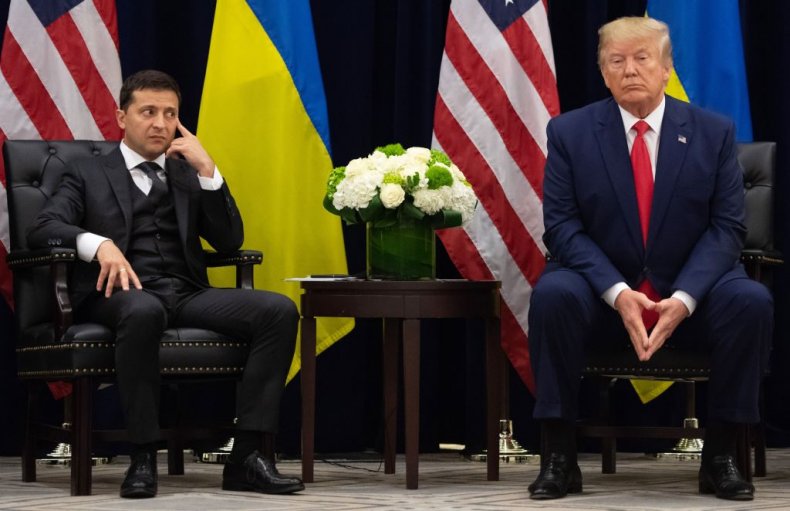 August 12: The whistleblower lodged a complaint with the inspector general for national intelligence which was sent to the acting director of national intelligence two weeks later, who then consulted with the White House and the Justice Department.
September 3: Justice Department says the complaint is not an "urgent concern."
September 9: The inspector general for national intelligence informed House Intelligence Committees that a whistleblower report was filed and that the acting director of national intelligence chose to not send it to Congress.
On the same day, Taylor tells Volker about it being "crazy" to withhold assistance for help with a political aid.
September 11: Ukraine aid released.
September 24: House Speaker Nancy Pelosi announced impeachment inquiry.
September 26: Unclassified whistleblower complaint released to the public.
October 3: Donald Trump tells reporters: "China should start an investigation into the Bidens because what happened in China is just about as bad as what happened with Ukraine."
October 4: Ukraine's prosecutor general announced there will be a review of a case linked to a firm Biden's son Hunter was associated with (to be clear, this is not an investigation of either Biden or dismissed claims of corruption)