Ukraine Under Threat From Far-Right Extremism, Report Reveals
Ukraine has a growing problem with far-right extremists, a new report revealed Wednesday.
Far-right extremist groups have existed on the margins of society since Ukraine's independence from the Soviet Union in 1991. But a new report by Washington, D.C.-based think tank Freedom House suggests that these groups have recently become more active and are hurting the country's fledgling democracy. Far-right extremists still lack the popular support needed to be a meaningful force in organized politics, but law enforcement officials in Ukraine are allowing them to threaten civil society groups and operate with impunity, according to the report.
"In the last few months, extremist groups have become increasingly active. The most disturbing element of their recent show of force is that so far it has gone fully unpunished by the authorities," according to the report, written by Kiev-based historian and political scientist Vyacheslav Likhachev. "Their activities challenge the legitimacy of the state, undermine its democratic institutions, and discredit the country's law enforcement agencies."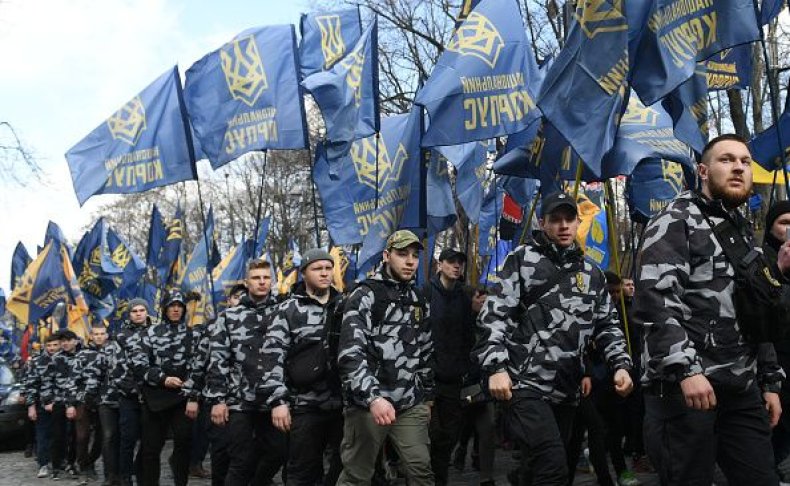 Russian propaganda often tries to portray these groups as more influential than they actually are. Information out of Russia often suggests that far-right groups in Ukraine run the government and were responsible for the pro-democracy Maidan movement, which erupted in 2014 and led to the ouster of the pro-Russian former President Viktor Yanukovych.
"Russia's overarching narrative about Ukraine is that the post-Maidan government is fascist. [It's] an extremely resonant narrative in the former Soviet Union, particularly in Putin's Russia, which draws on the Soviet victory against Nazi Germany as a galvanizing factor to fuel propaganda at home," Nina Jankowicz, a Global Fellow at the Wilson Center's Kennan Institute and an expert on Russian disinformation, told Newsweek.
"Far-right groups in Ukraine do exist, as they do in many states in the West, but they do not control the government as Russia asserts. However, Russia still uses their appearances and activities as 'proof' that post-Maidan Ukraine is a failed fascist state," Jankowicz continued.
In reality, some of the far-right groups that operate in Ukraine are supported ideologically by Moscow. One example is the National Squad, a nationalist paramilitary group that has pledged to "restore order" in Ukraine. Members of the group have expressed opposition to Ukraine's adherence to the European Union or the North Atlantic Treaty Organization (NATO), a policy position in line with what Russia wants for the region.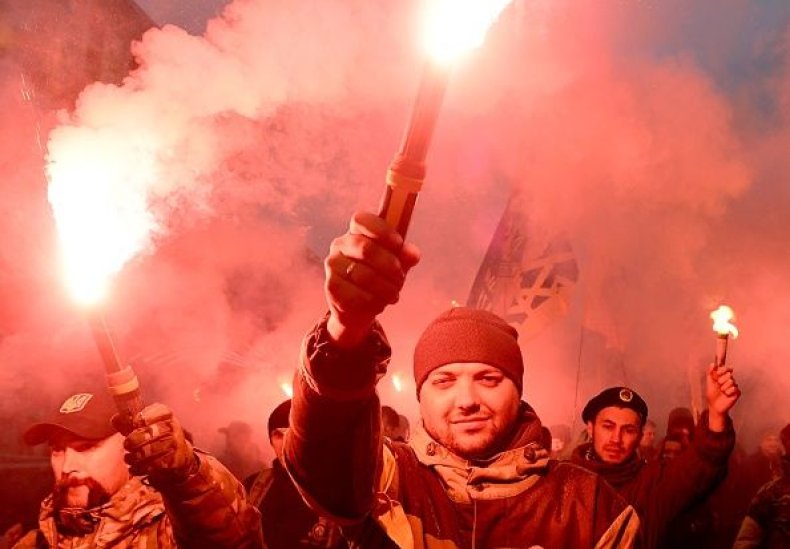 Others include groups like the Azov, the Right Sector, Tradition and Order and the Revolutionary Right Forces, among others, which are estimated to have a membership ranging anywhere from dozens to hundreds of people. Some of these groups express vocal opposition to Moscow, but they target left-wing or pro-LGBT rights groups in the same fashion Russian far-right groups do.
"The only way we have to measure the size and particular impact of the groups is by their public actions, in particular, which groups are most active in using violence or threats of violence to intimidate and shut certain parts of society out of public life. We hear about violence and threats most often by C14, groups associated with the National Corps, Azov, Right Sector, and Karpatska Sich," Matthew Schaaf, a project director for Freedom House in Ukraine, told Newsweek, naming some of the other far-right groups active in the country.
"Overall, we see a breakdown in the law enforcement and protection system on a number or levels, from the very beginning, with a lack of political recognition that the problem of violence is real and demands the authorities' attention, to the work of officials to prevent violence, to the absence of effective responses and investigations by the police when violence occurs, to a judicial system unable to hold those responsible for violence accountable," Schaaf continued.
Writing for Freedom House, Likhachev described how members of these groups have used the patriotism inspired by the 2014 Maidan revolution to promote and legitimize the use of radical and nationalist symbolism and messaging. This threat should be taken seriously, he argued.
"Far-right radicals and extremists at present can claim neither significant parliamentary representation nor any plausible path to power in Ukraine. However, their street activities are having a serious impact on everyday life and societal development in the country," Likhachev wrote. "Particularly worrying is their use of violence in an attempt to restrict the expression of views they consider unacceptable in Ukraine...This danger should be soberly assessed."