Ukraine is looking to distance itself from being involved in yet another domestic political scandal in the United States ahead of a charged presidential election, one in which both candidates have accused the other of illicit behavior involving the Eastern European country.
"Ukraine remains strictly committed to the policy of non-interference in internal affairs of other countries," the Ukrainian Foreign Ministry told Newsweek. "Also, our foreign policy does not synchronize with electoral cycles in other countries, including in the U.S."
The comments come as Ukraine finds itself in the center of a series of headlines having little to do with its bilateral relationship with the U.S., something the country seeks to build on in order to counter Russia, and instead linking it to allegations of corruption on both sides of the ballot.
Among the most high-profile national news stories to drop in the leadup to the 2020 election has been The New York Post's revelation of an apparent trove of emails purporting to show how Hunter Biden, son of former vice president and current Democratic presidential candidate Joe Biden, allegedly attempted to wield his father's influence to shape U.S. policy while a member of the board of directors of Ukrainian energy company Burisma.
An April 2015 email by Burisma adviser Vadym Pozharskyi thanked Hunter Biden "for inviting me to DC and giving an opportunity to meet your father and spent [sic] some time together."
Pozharskyi called the alleged meeting of which Biden's team has said they have no record "an honor and pleasure."
The correspondence—along with compromising footage—were provided by President Donald Trump's personal lawyer, former New York City mayor Rudy Giuliani, who claimed to have obtained them from a laptop left behind at a repair shop in Delaware.
Citing unnamed sources, TIME magazine reported Wednesday that the computer's contents had circulated in Ukraine last year, a time when Giuliani was reportedly actively looking to uncover disparaging information about Trump's projected opponent.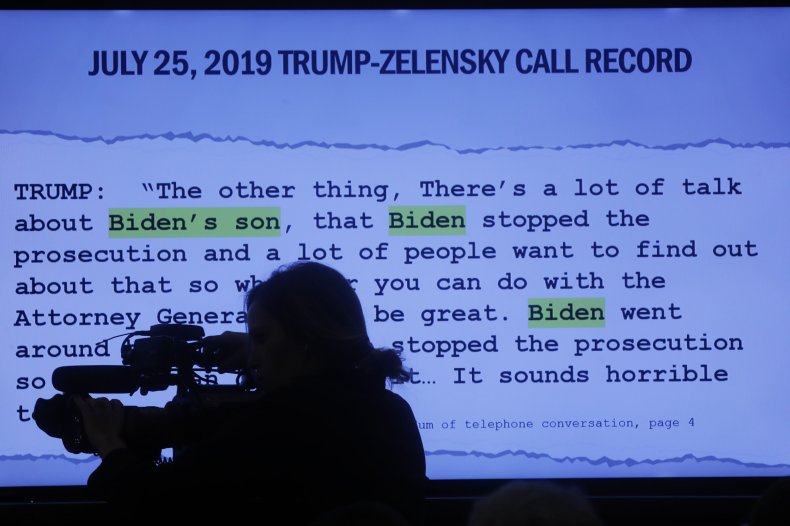 Biden told Thursday's final presidential debate that "nothing was unethical" about his family's business at Burisma, something he has claimed he never discussed with his son at the time. He countered Trump's accusations by saying it was the president who had something to hide when it came to Ukraine.
Giuliani's dealings with Ukraine were the center of another political scandal last year, one that led to Trump's impeachment in the House of Representatives.
Lawmakers determined that, based on a whistleblower's tip regarding a July phone call between Trump and Ukrainian President Volodymyr Zelenskiy, the U.S. leader sought to tie providing support in Kyiv's fight against a pro-Russia separatist insurgency to Zelenskiy opening an investigation into the Biden family.
Trump was pushing Ukraine to probe the Biden family's relationship with Burisma and allegations that the previous Ukrainian administration interfered in the 2016 election in favor of Trump's opponent, former Secretary of State Hillary Clinton, who worked alongside Joe Biden under former President Barack Obama.
"The guy who got in trouble in Ukraine was this guy trying to bribe the Ukrainian government to say something negative about me," Biden said in the last presidential debate, referring to Trump, "which they would not do and did not do because it never ever, ever happened. My son has not made money in terms of this thing."
Trump, who also stands accused by Biden and other Democrats of colluding with Russia to influence that election, has denied any wrongdoing involving Moscow or Kyiv. With both men bearing Ukrainian baggage, Kyiv today says it has no preference as to which candidate wins the U.S. election.
"The upcoming U.S. elections are important first and foremost for the American people, who will be electing their leader for the next four years," the Ukrainian Foreign Ministry told Newsweek. "For our part, we highly value the bipartisan support of Ukraine in the U.S., and hope it grows even stronger."
With war still ongoing in the eastern region of Donbass, Ukraine seeks even greater backing from the man who emerges victorious in the national vote.
"Regardless of the outcome of the upcoming elections, we are looking forward to further strengthening our ties and expanding mutually beneficial cooperation with the U.S. based on shared political values, our similar views on a destructive role Russia plays in the contemporary world, valuable assistance provided to us by our American partners," the ministry told Newsweek.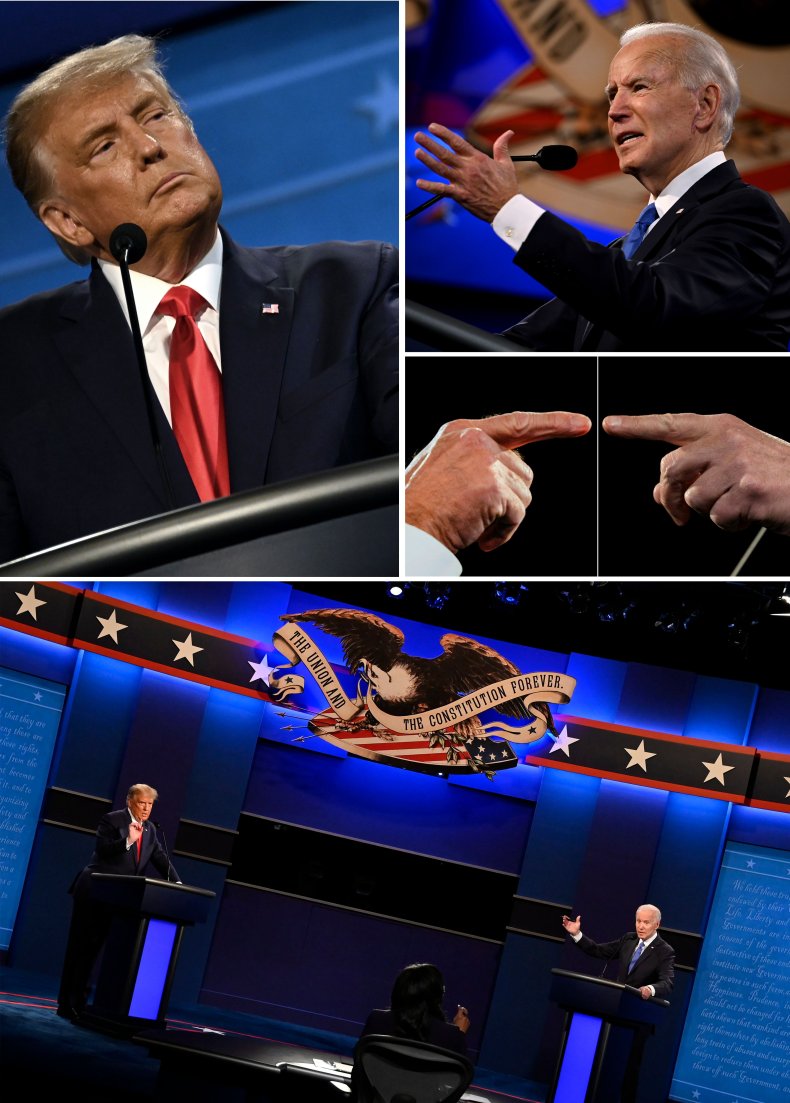 Both Kyiv and Washington blame Moscow for the conflict in Ukraine, where Russia stands accused of directly supporting the eastern rebels.
The conflict erupted amid widespread political unrest in 2014 as a mass uprising overthrew a government with friendly ties to the Kremlin. Russian troops were sent to secure military facilities in the Crimean Peninsula, which was ultimately annexed in a controversial referendum, and two eastern states declared secession, sparking a conflict that has killed more than 10,000 people.
The Obama administration provided Ukraine with extensive security assistance, including various military equipment after the conflict broke out, but it was under Trump that lethal aid was greenlit. The president has used this point to defend his record in support of Ukraine and against Russia.
"While he was selling pillows and sheets, I sold tank busters to Ukraine," Trump said during Thursday's debate. "There has been nobody tougher on Russia than Donald Trump."
Regardless of whether Trump or Biden wins, Ukraine sees the continuation and expansion of U.S. backing as crucial to its survival.
"We appreciate the support provided by the U.S. to Ukraine and see it as a crucial element of international effort to counter the ongoing Russian aggression," the ministry said. "It is also an important demonstration of Trans-Atlantic unity in support of Ukraine. Every practical step in political, security or economical dimension of our bilateral relations, which strengthens Ukraine's capabilities to fend off Russia's aggression, does indeed save thousands of lives."
Similar language was recently used by U.S. Air Force Colonel Brittany Stewart, who serves as the Pentagon's defense attaché in Kyiv. In a video message delivered on October 14 to commemorate national Defender of Ukraine Day, she praised Ukrainians who "continue to take selfless efforts to defend Ukraine's Euro-Atlantic course and its borders amid ongoing Russian aggression."
The message angered Moscow, which summoned the U.S. defense attaché there in protest.
The Russian Defense Ministry argued the message was "based on false allegations, is of provocative nature and pushes the Ukrainian side towards a forceful solution to the internal conflict in Donbass," something the ministry warned belied the Pentagon's public calls for a peaceful end to the war.
But Ukraine said it had it's own plan to resolve the dispute.
"We have a clear vision how to achieve peace – withdrawal of all Russian troops, de-occupation with subsequent reintegration of the Donbas and Crimea," the Ukrainian Foreign Ministry told Newsweek. "Over the last year, Ukraine has demonstrated its constructive approach to finding a peaceful resolution of the Russian-Ukrainian armed conflict."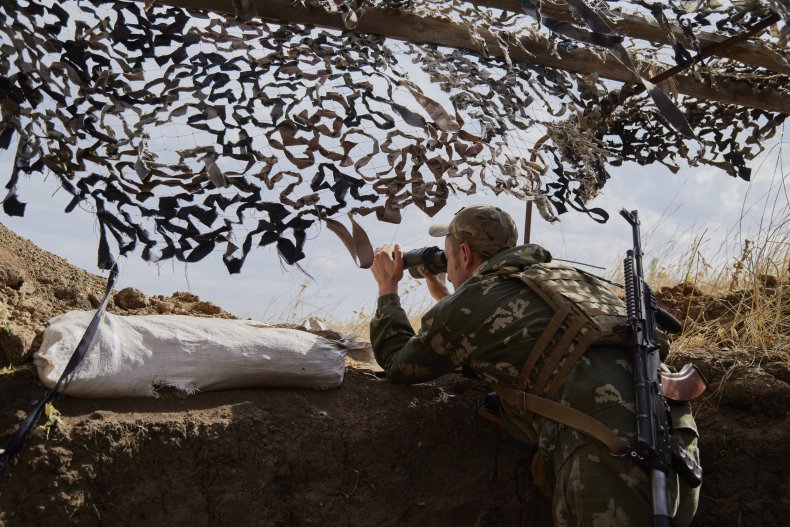 Kyiv said it was Moscow that prolonging the violence by attempting to obscure a larger role in the conflict.
"Unfortunately, we are yet to see the same level of constructiveness from the Russian Federation as the other party to conflict," the Ministry said. "For us it is clear – as long as Moscow denies its real role, the prospects of achieving peaceful resolution will remain elusive. All attempts of the Kremlin to distance itself from the role of the party to the conflict are untenable."
In an interview Sunday with CBS News' 60 Minutes, Biden called Russia "the biggest threat to America right now in terms of breaking up our security and our alliances."
While Russia once again has been accused of attempting to influence the election, Kremlin spokesperson Dmitry Peskov denied any involvement or interest in the matter in comments sent to Newsweek by Moscow's embassy in Washington.
The conflict in Ukraine led to a deterioration of ties between Moscow and the West, where members of the U.S.-led NATO military alliance shored up Eastern European defenses in response. Russia too has reinforced its borders, warning against outside plots disguised as additional "color revolutions" attempting to dismantle the former Soviet sphere of influence.
Speaking Thursday at the Valdai Discussion Club, Russian President Vladimir Putin issued a warning to those who sought to reduce his country's influence on the world stage.
"I would like to tell those who are still waiting for Russia's strength to gradually wane," Putin said, "the only thing we are worried about is catching a cold at your funeral."