Former Italian Prime Minister Silvio Berlusconi has called on European leaders to convince Ukraine to accept Vladimir Putin's demands, as Volodymyr Zelensky has ruled out ceding any of its territories to Russia.
Berlusconi, 85, confirmed his opposition to sending weapons to Ukraine and said he wanted the country to accept a ceasefire with Russia during the convention for his Forza Italia party in Naples this weekend.
According to the publication Corriere Della Sera, Berlusconi said: "I say that sending weapons mean being co-belligerents, we too are at war.
"Let's try to end this war quickly. If we were to send weapons, it would be better not to advertise them so much."
He later continued: "I believe that united Europe must make a peace proposal, trying to get the Ukrainians to accept Putin's demands."
Twelve days into the full-scale invasion, Kremlin spokesman Dmitry Peskov said Moscow demanded Ukraine cease military action, enshrine neutrality, acknowledge Crimea as Russian land, and recognise separatist republics Donetsk and Lugansk as independent.
Berlusconi had developed a controversial friendship with Putin during his years as prime minister, most of which spanned the 2000s.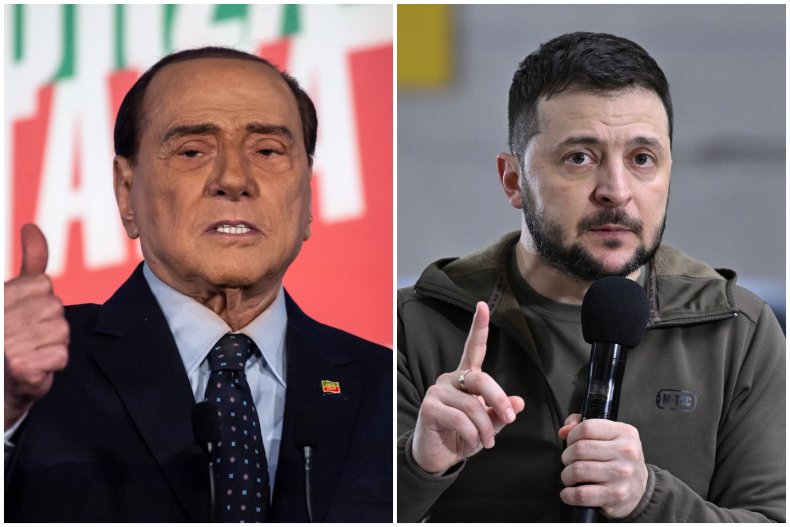 Their friendship appeared to end following Russia's invasion of Ukraine earlier this year.
According to the Independent, Berlusconi said earlier this year: "I cannot and do not want to hide the fact that I am deeply disappointed and saddened by the behavior of Vladimir Putin. I met him 20 years ago he'd always seemed a man of democracy and peace."
Zelensky Rules Out Ceasefire
But Ukraine's President Zelensky has ruled out any ceasefire or peace deal with Russia that involved ceding any of its territories over concerns it would give Putin time to refocus his campaign in the country.
In a Saturday address, Zelensky said the war would only end through diplomacy and that Russia's occupation of Ukraine's land would come to an end.
Zelensky's adviser Mykhailo Podolyak confirmed the position in an interview with Reuters, in which he added: "The war will not stop (after concessions. It will just be on pause for some time. They'll start a new offensive, even more, bloody and large-scale."
Newsweek has contacted Zelensky's office for comment.
Russia's failed plans for a swift end to its war with Ukraine have faced several setbacks which have prompted Moscow to reconsider its goals in order to declare victory.
The war has entered a new phase, with Russian troops looking to consolidate their gains in eastern Ukraine, which give the country a landbridge to Crimea which was annexed in 2014.
Meanwhile, Ukraine's leaders maintain their defiance and have refused to accept any loss to its territory.
Ukrainian forces have been successful in pushing back Russian forces in parts of the country, although Moscow now has a grip on eastern parts of the country.
Update 5/23/22, 10:36 a.m. ET: This article has been updated to include Russia's demands as told by Kremlin spokesman Dmitry Peskov.