Ukraine War Updates: What Happened This Week?
In his nightly address on Saturday, Ukrainian President Volodymyr Zelensky said: "The situation is getting tougher."
And as the first anniversary of Russia's invasion approaches later this month, Kyiv welcomed European leaders to the Ukrainian capital and received new military support from Washington this week.
Newsweek has broken down five key developments of the Ukraine war over the last seven days.
U.S. Announces New Aid Package
On Friday, the Department of Defense confirmed another tranche of aid destined for Ukraine. Calling the announcement "a significant new package of security assistance" for Kyiv, the measures included air defense systems, more armored vehicles and anti-tank missiles.
Pentagon Press Secretary, Brigadier General Pat Ryder, confirmed to reporters that the U.S. would provide Ground-Launched Small Diameter Bombs (GLSDB) to Ukrainian forces.
"This gives them a longer-range capability—long-range fires capability that will enable them, again, to conduct operations in defense of their country and to take back their sovereign territory in Russian-occupied areas," he said during a media conference.
But it will be up to Ukraine's armed forces how they use the GLSDBs, he added.
"I'm not going to talk about or speculate about potential future operations, but again, all along, we've been working with them to provide them with capabilities that will enable them to be effective on the battlefield," Ryder continued.
The announcement coincided with a visit by European Commission and European Council presidents, Charles Michel and Ursula von der Leyen, to Kyiv.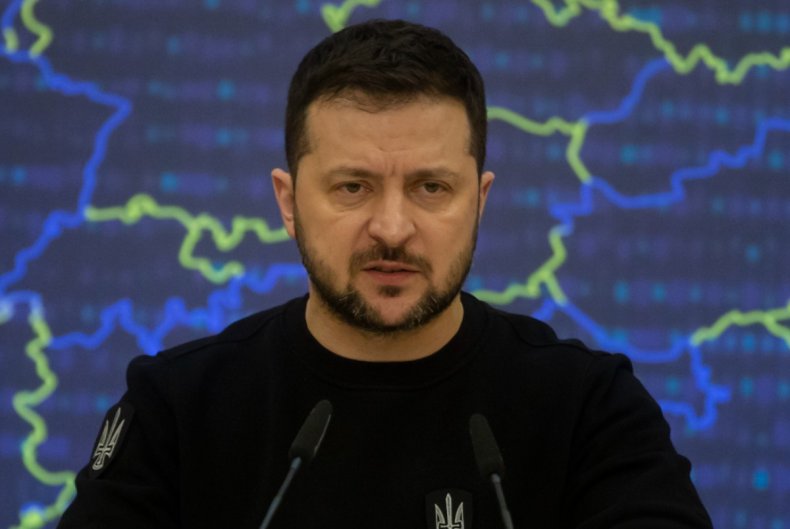 No Fighter Jets For Ukraine
However, earlier in the week, the U.S. and the U.K. rejected Kyiv's pleas for upgraded jets, particularly F-16 fighter aircraft.
On Monday, President Joe Biden said the U.S. would not send F-16 Fighting Falcon jets to Ukraine. A spokesperson for U.K. Prime Minister Rishi Sunak also said it was "not practical" to commit the U.K.'s Typhoon and F-35 jets to Kyiv.
But French President Emmanuel Macron said on January 30 that although "nothing is excluded in principle" in terms of military aid, the sending of fighter jets would need to avoid "escalation."
Andriy Yermak, Head of the Office of the President of Ukraine, said at the start of the week he had received "positive signals from Poland," but Polish Prime Minister Mateusz Morawiecki said Warsaw would coordinate all actions around Ukraine with its "NATO partners."
Fighting For 'Every Stairwell' in Bakhmut
The city of Bakhmut, long the target of Russian bombardment, is seeing "fighting for every street, every house, every stairwell" in its northern parts, according to Wagner Group head Yevgeny Prigozhin.
The mercenary chief dismissed reports that had been circulating among Russian military bloggers that Moscow's forces had claimed control of the Donbas city in a statement posted to Telegram on Sunday.
"It's nice that the media want the armed forces [of Ukraine] to retreat," Prigozhin said, "but this does not happen either in the northern quarters, or in the south, or in the east."
On Sunday, the British defense ministry said Russian forces had been making progress in encircling Bakhmut over the last week. Writing in its daily intelligence update, the ministry called the city "increasingly isolated," and previously identified Russian goals of encircling Bakhmut.
On Saturday, Zelensky said the situation around Bakhmut was "very difficult," having called the city Ukraine's "fortress" the previous night.
Crimea To Be Taken By Ukraine 'By Summer'
Ukraine's intelligence chief, Kyrylo Budanov, said on January 31 that Crimea should be brought back under Kyiv's control by the middle of 2023. The peninsula was annexed by Moscow in 2014, and is the base for Russia's Black Sea fleet at Sevastopol.
Speaking to The Washington Post, the major general said Ukraine's forces "must do everything to ensure that Crimea returns home by summer."
Zelensky has said several times that Ukraine will look to recapture the peninsula. Back in August 2022, Zelensky said that "Crimea is Ukrainian and we will never give it up." He also vowed in October that Ukraine's armed forces "will definitely liberate Crimea," with a similar message frequently cropping up for Ukraine's leadership.
On Saturday, former Russian President Dmitry Medvedev, said that any attempt by Kyiv to retake Crimea would be met with "retaliation strikes."
In an interview excerpt published on Telegram, Medvedev said "there will be no negotiations in this case, there will only be retaliation strikes."
"The whole of Ukraine, which remained under the rule of Kyiv, will burn," he added.
Biden and Putin Deny Ukraine Territory Offer Claim
Both Russia and the U.S. have denied a report on Thursday that claimed Biden offered Russian President Vladimir Putin a fifth of Ukraine's territory to end the ongoing war.
Swiss-German newspaper Neue Zürcher Zeitung reported that CIA Director, William Burns, had offered Putin 20 percent of Ukraine's territory to end the war. The Washington Post had previously reported that Burns had made a secret trip to Kyiv in January.
Kremlin spokesman Dmitry Peskov called the proposal, and the idea of Burns travelling to Moscow in January, a "canard," according to Russian state media.
Sean Savett, the deputy spokesperson at the White House's National Security Council, told Newsweek the report was not accurate.