Ukraine War Updates: Blinken Says 20 Million Tons of Grain Stalled in Odessa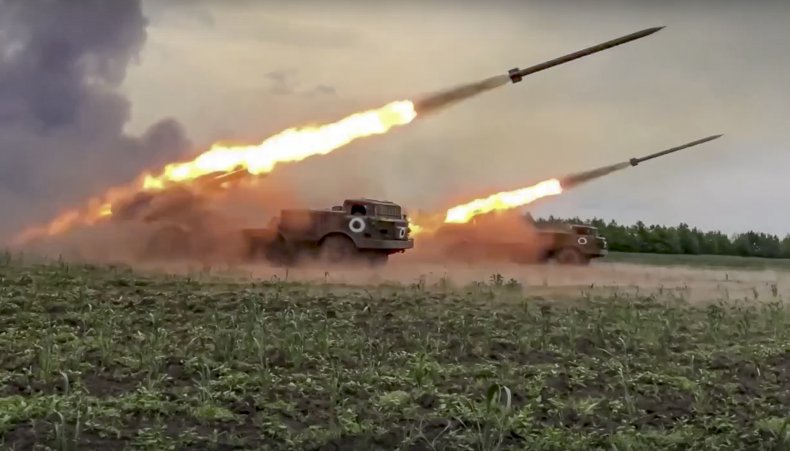 Live Updates Have Ended
Blinken Says 20M Tons of Grain Stalled in Odessa
U.S. Secretary of State Antony Blinken said pre-existing conditions, like COVID-19 and climate, in addition to the conflict in Ukraine, have created a "perfect storm" for a global food insecurity crisis.
Blinken said there were already about 160 million people facing food insecurity around the world. An additional 40 million people has joined that group as a result of Russia's invasion into Ukraine.
As Russia continues to attack one of the world's "breadbaskets," its ships are forming a blockade in the ports around Odessa.
There are between 20 and 25 million tons of grain in silos that can't be moved to ships, Blinken said. This is in addition to the ships in Odessa ports that are "full of grain" that cannot move due to Russian forces.
Prices are also going up for the food that is available.
Blinken said the United Nations is working to "find a way forward" to allow these ships out as well as finding other possible routes to get grain and wheat out of Ukraine.
U.N. Secretary-General Antonio Guterres said the global food, energy and financial crises due to the Ukraine war is "pummeling the most vulnerable people, countries and economies."
He added that Russia risks "what's left of its reputation" in the global market as this blockade continues.
"[Russia] seeks relationships with countries around the world, including many countries that are now the victim of Russian aggression because of growing food insecurity," he said.
Blinken also clarified that Western sanctions against Russia are not impeding global food delivery. He said the sanctions have an exemption for food, including for services that ensure food can move.
NATO Chief 'Confident' Finland, Sweden Will Join Alliance
U.S. Secretary of State Antony Blinken said Sweden and Finland joining NATO would be a victory for democracy, as their citizens "demanded it."
He said that "anyone who wonders the difference between democracy and authoritarian states like Russia," need only look at Russia, Finland and Sweden.
"One would lie to its people to wage a war, two would listen to their people to prevent war," Blinken said.
NATO Secretary-General Jens Stoltenberg said he is in contact with Finland, Sweden and Turkey. Delegations from those countries will convene in Brussels soon.
He said he is "confident" the alliance will overcome the concerns from Turkey and move forward with these two applications. Stoltenberg added that all allies can agree that NATO enlargement has been a "great success" in spreading freedom and democracy across Europe.
"President Putin wanted less NATO," Stoltenberg said. "He is getting more NATO; more troops and more NATO members."
Blinken said the U.S. will continue to support these efforts to address concerns of allies and proceed with Finland and Sweden's applications.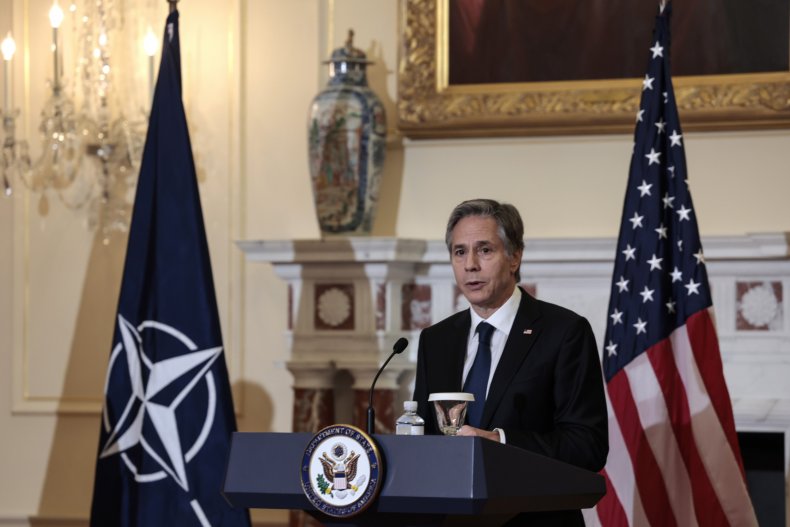 NATO Chief Says War Timeline is 'Hard to Predict'
NATO Secretary-General Jens Stoltenberg said Russia's current aggression in Ukraine was "predicted" before it began.
"No military invasion has been more predictable than this one," he said during a press conference Wednesday.
Stoltenberg credited the United States for sharing intelligence with NATO allies and other partners in the weeks leading up to Russia's invasion in February.
He said allies continue to be in constant consultation during the invasion, adding that Russian President Vladimir Putin "made a mistake" in underestimating the unity of NATO.
Stoltenberg added that the timeline of the war in Ukraine will be "hard to predict."
"Wars are unpredictable," he said. "We were able to predict the invasion, but how this war will evolve, it's very hard to predict."
He added that almost all wars "end at some stage at the negotiating table."
What Ukraine and Russia bring to the negotiation table depends on the situation on the battlefield, Stoltenberg said. This is why it is paramount that NATO allies support Ukraine's right to self-defense.
U.S. Secretary of State Antony Blinken said this conflict is a "moving picture" that may continue for "many months."
"We can't predict how this is going to play out, when this is going to play out," Blinken said. "As best we can assess right now, we are still looking at many months of conflict."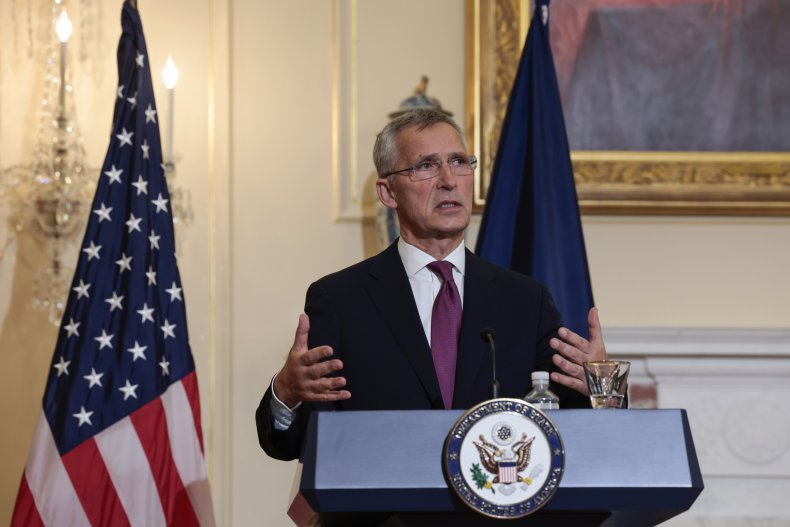 U.S. Announces New $700M Military Aid Package
President Joe Biden directed the drawdown of $700 million in weapons and equipment from the Department of Defense inventories.
These weapons are tailored to meet Ukraine's "critical needs," including rocket artillery, Under Secretary of Defense for Policy Colin Kahl said in a press briefing Wednesday afternoon.
This package includes High Mobility Artillery Rocket Systems (HIMARS) and guided munitions with a range of up to 70 km, counter artillery radars, air surveillance radars, Javelins, anti-armor weapons, helicopters and tactical vehicles.
These weapons will help Ukrainian forces repel Russians in the east. The HIMARS were pre-positioned in Europe in anticipation for delivery to Ukraine, Kahl said.
Kahl also said Ukraine assured the U.S. that it will only use this equipment for defensive purposes, reiterating comments made by Secretary of State Antony Blinken earlier today.
This is the 11th drawdown of equipment from DOD for Ukraine since last August.
Watch: Pentagon Press Briefing on New U.S. Assistance to Ukraine
The U.S. Department of Defense will announce new details of the latest U.S. assistance package for Ukraine in a press conference soon.
Under Secretary of Defense for Policy Colin Kahl will hold the briefing, scheduled to begin at 1:15 p.m. ET. Watch live on the U.S. Department of Defense website.
Over 6.8 Million Refugees Fled Ukraine, U.N. Says
More than 6.8 million people have fled Ukraine since the Russian invasion started on February 24, according to the United Nations High Commissioner for Refugees (UNHCR).
As of May 29, an estimated 6,801,987 refugees left Ukraine in what the UNHCR described last week as "the largest human displacement crisis in the world today." About one in three Ukrainians have been forced to leave their homes since the war began.
The UNHCR reported 2,229,500 Ukrainians have also re-entered the country since late February but noted those moves in and out of the region did "not necessarily indicate sustainable returns" due to the ongoing fighting.
Of the more than 6.8 million people who have fled Ukraine, more than 3.6 million have entered Poland. Throughout the war, Poland has received the greatest number of Ukrainian refugees. In mid-April, UNHCR estimated that about 2.7 million refugees had entered Poland at that time.
By late May, Romania had reported the second-largest influx at 989,357 refugees, with nearly as many—about 971,417 people—also going into Russia. Hungary reported receiving nearly 683,000 refugees by the end of May, and the Republic of Moldova and Slovakia each reported receiving between 460,000 and 480,000 Ukrainian refugees.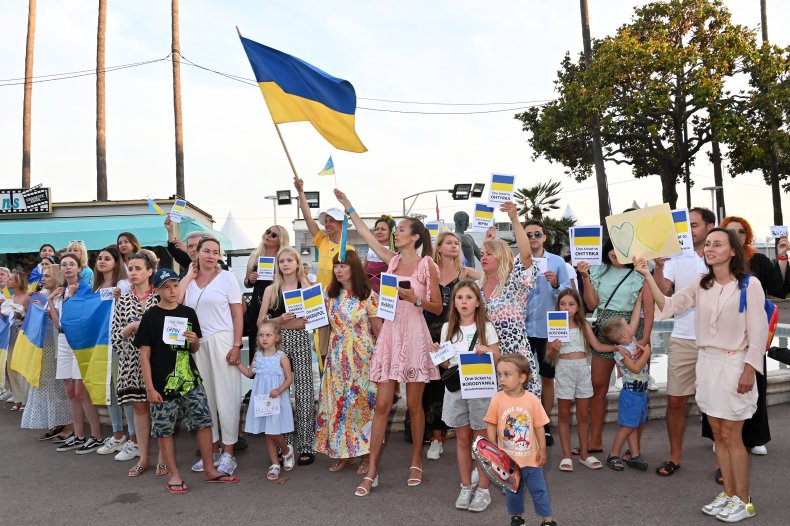 Denmark Blocked From Sending Swiss Military Vehicles
Switzerland has again rejected another country's request to provide Ukraine with Swiss-made military equipment, according to reports from Swiss media outlet SRF and Reuters.
Countries that possess Swiss-made military equipment and want to send it elsewhere for use must first ask for Switzerland's permission because of the nation's neutrality policies, according to Reuters. The news agency reported in March that Switzerland said it could not transport weapons to Poland, one of Ukraine's neighbors. In late April, Switzerland also said Germany could not move its Swiss-made weapons into Ukraine.
The latest country to approach Switzerland with a request about Swiss-made military equipment was Denmark, which wanted to send military vehicles made by Switzerland into Ukraine. News of the rejected request came as Ukraine approached the 100th day since Russia's invasion began.
Ukraine Promised Not to Attack Russian Land, Blinken Says
U.S. Secretary of State Antony Blinken met with NATO Secretary-General Jens Stoltenberg in Washington D.C. Wednesday to discuss the upcoming NATO summit in Madrid, Spain.
Blinken said NATO will adapt a new strategic concept to meet current and future challenges, strengthen the alliance and deal with the "new security landscape" in Europe amid Russia's invasion into Ukraine.
While Russian President Vladimir Putin thought the war would divide NATO, Blinken said the aggression has "united us." He said NATO allies are committed to support Ukraine as its defends its sovereignty and independence.
President Joe Biden announced in a New York Times op-ed that the U.S. will provide Ukraine with "more advanced rocket systems and munitions that will enable them to more precisely strike key targets on the battlefield in Ukraine."
These weapons include Javelin anti-tank missiles, Stinger antiaircraft missiles, powerful artillery and precision rocket systems, radars, unmanned aerial vehicles, Mi-17 helicopters and ammunition.
Blinken said the U.S. will continue to supply Ukraine with the weapons they need to win this war.
"Ukraine has in hand what it needs to defend itself," he said.
He said the only "escalation" is coming from Russia itself, adding that the Kremlin can stop this war any time it wants.
The U.S. has been clear with Putin from the beginning about what they would do if Russia continued its aggression, Blinken said, adding that "we've done exactly what we said we'd do."
He also said the Ukrainians have given assurances that they will not use these long-range weapons systems against targets on Russian territory.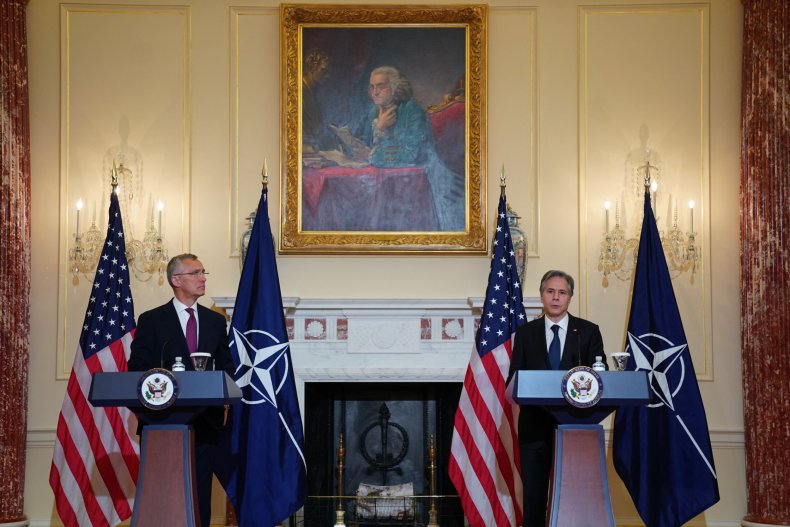 Over 9,000 Civilian Casualties, U.N. Reports
The first 98 days of Russia's invasion into Ukraine have resulted in 9,094 civilian casualties, the Office of the U.N. High Commissioner for Human Rights (OHCHR) reported Wednesday.
The office said 4,149 civilians have been killed since the war began on February 24, and 4,945 civilians have been injured.
Most of the deaths and injuries "were caused by the use of explosive weapons with a wide impact area, including shelling from heavy artillery and multiple launch rocket systems, and missile and air strikes," according to the OHCHR.
The civilian casualty update comes as the war enters June and approaches its 100th day. On Wednesday, the Ukraine Prosecutor General's Office also released an update on the number of children who have been killed or injured over the course of the war. According to juvenile prosecutors, 243 children have been killed and 446 have been injured.
UNICEF released a statement about the impact the Ukraine war has had on children and acknowledged Wednesday as the International Day for the Protection of Children in the region. UNICEF Executive Director Catherine Russell also noted the approaching 100-day mark of the war.
"Without an urgent ceasefire and negotiated peace, children will continue to suffer – and fallout from the war will impact vulnerable children around the world," Russell said.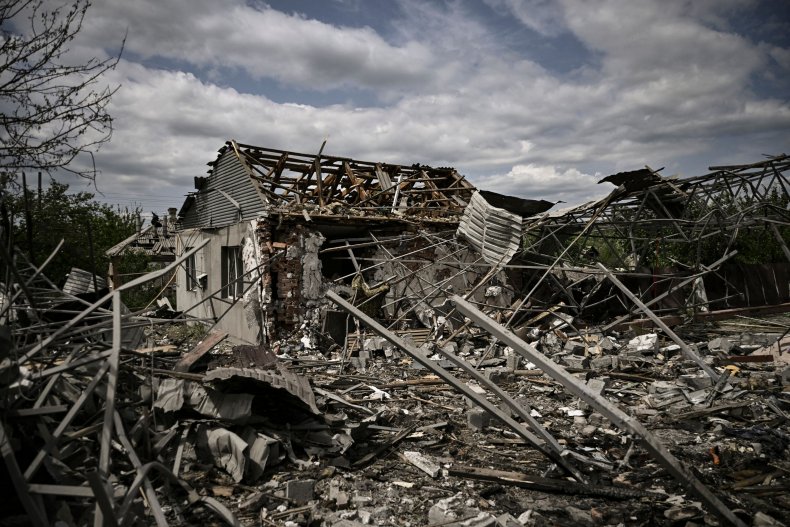 Russia Strikes Ukraine Infrastructure with Long-Range Missiles
Russian forces are continuing to concentrate in the Donbas region of Ukraine, according to the United Kingdom Defence Ministry.
"Russian ground operations remain tightly focused, with the weight of fire power concentrated within a small sector of Luhansk Oblast," the U.K. Defence Ministry reports. "Over 30-31 May, fighting intensified in the streets of Sieverodonetsk, with Russian forces pushing closer to the town center."
Half of that town is likely now occupied by Russian forces, which included Chechen fighters.
Outside of the Donbas, Russia is continuing to strike Ukraine infrastructure with long-range missiles. One target is the strategically important bridge that links Ukraine with Romanian and with Ukraine's port in the Danube.
Watch: U.S. State Department, NATO Press Briefing
U.S. Secretary of State Antony Blinken and NATO Secretary General Jens Stoltenberg are providing an update on the situation in Ukraine in a joint press conference now underway.
Watch live on the State Department's YouTube channel or below:
Putin Reportedly Fired Generals Amid Failures in Ukraine
Russia President Vladimir Putin reportedly fired several generals amid military failures in Ukraine.
According to Moscow-based media group RBC, Putin issued a decree Monday that dismissed five generals at the Russian Ministry of the Internal Affairs dismissed from their posts in what one unnamed official said was part of a personnel rotation.
This report comes as the Russian invasion in Ukraine approaches its 100th day. Russia has centered its fight in the Donbas region.