Ukraine is one step closer to European Union membership as European Commission President Ursula von der Leyen announced Ukraine was given candidate status Friday.
A third American has been reported missing in Ukraine. The U.S. State Department said Thursday that Americans were fighting alongside Ukraine forces.
An United Nations official called Mariupol a "shattered and depleted city." At least 1,348 people have been killed in Mariupol. The UN reports over 10,000 total civilian casualties in Ukraine since the war began.
President Joe Biden continues to blame Russian President Vladimir Putin for the rise in gas prices. He said Russia's war is driving gas prices and causing other "urgent global issues."
Putin blasted the West and said Russia's economy is "resilient" against sanctions.
U.K. Prime Minister Boris Johnson made a surprise visit to Kyiv Friday to meet with Ukrainian President Volodymyr Zelensky. Johnson offered to train 10,000 Ukrainian soldiers.
Live Updates Have Ended.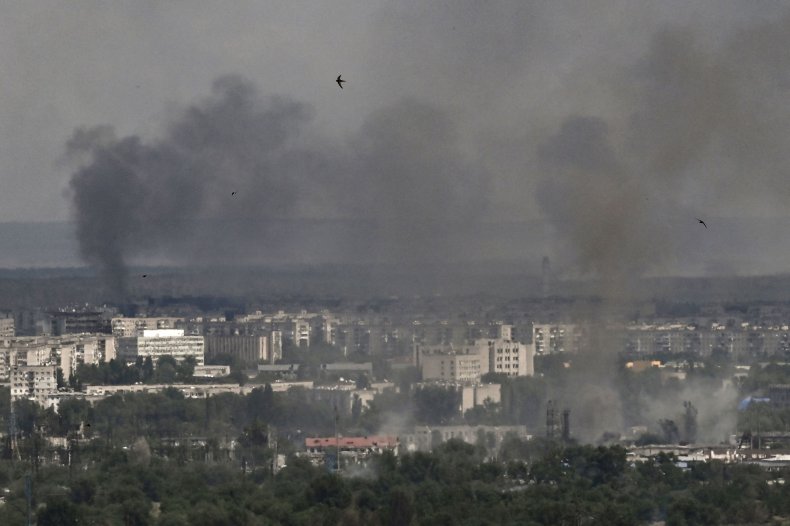 NATO Creating Assistance Package for Ukraine
North Atlantic Treaty Organization (NATO) Secretary General Jens Stoltenberg said the organization is working on an assistance package for Ukraine as the country's war with Russia continues.
The ongoing fallout of Russia's invasion of Ukraine in late February was one of the main topics of discussion at this week's meeting of NATO Defense Ministers ahead of a summit scheduled to take place in Madrid later this month. As this week's meeting wrapped up, Stoltenberg said there hasn't been a threat to global security as serious as the one currently posed by the war since the 1991 fall of the Soviet Union.
"We must set out NATO's response for the longer term," Stoltenberg said of the upcoming summit during a Thursday press conference. Once NATO leaders reconvene, "we will take decisions to make NATO even stronger and more agile in a world that is more dangerous and more competitive," Stoltenberg said, adding that he believes the summit will be "transformative."
In addition to discussing ways to strengthen NATO's defense tactics, Stoltenberg said its leaders will "decide on a new NATO strategic concept, setting out our position on Russia" and on other "emerging challenges," which he said will include China.
At this week's meeting, Stoltenberg said NATO defense ministers met with Ukraine's defense minister to learn more about how the war is currently impacting the country.
"We addressed the imperative need for our continued support, as Russia conducts a relentless war of attrition against Ukraine," Stoltenberg said.
NATO countries have already given Ukraine "unprecedented support" over the last few months, Stoltenberg said. At this week's meeting, NATO Defense Ministers also explored "plans to support Ukraine for the long haul," according to a U.S. Department of Defense press release about the meeting.
"We are putting together a NATO comprehensive assistance package for Ukraine, helping Ukraine improve interoperability with NATO, transitioning from Soviet-era to modern NATO equipment, and further strengthening security institutions," Stoltenberg said Thursday.
He went on to describe recent Russian aggression as "a game-changer."
"NATO must maintain credible deterrence and strong defense," Stoltenberg said.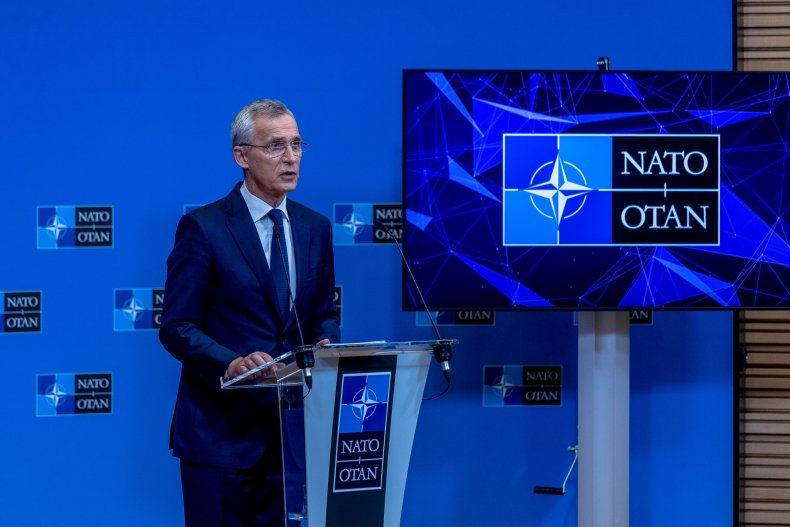 Over 5 Million People Have Fled Ukraine
Over five million people have fled from Ukraine across Europe, according to the United Nations Refugee Agency.
There have been 5,137,933 individual refugees who left Ukraine for other European nations.
About 3,407,000 refugees from Ukraine are registered for Temporary Protection or similar national protection programs in Europe.
There have been 7,703,857 border crossings from Ukraine since the invasion began on Feb. 24, 2022.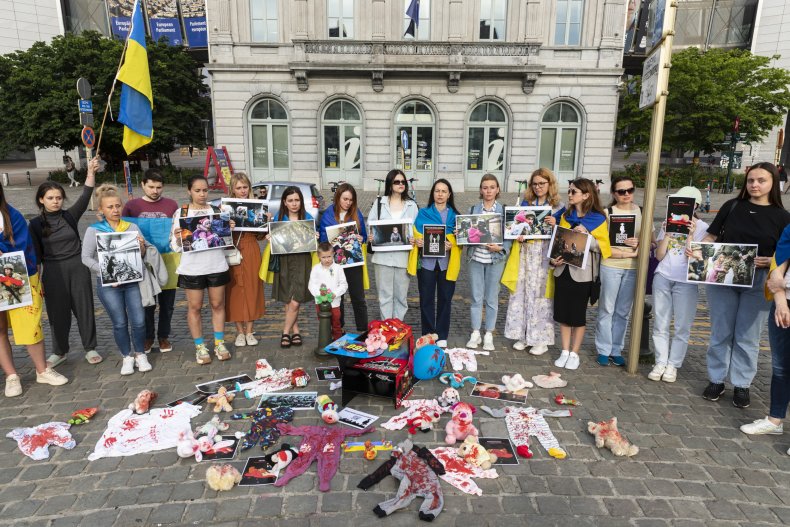 Minsk Continues Military Drills Near Ukraine
Minsk, Belarus' capital city, is continuing to conduct military drills near the country's border with Ukraine, The Kyiv Independent reported on Friday.
Belarus first announced last fall that it would be conducting drills in collaboration with Russia, its close ally, according to Reuters. The news came as concern was rising in Ukraine, in the U.S. and in allied countries about reports of Russia amassing military forces near Ukraine's border.
U.S. Secretary of State Antony Blinken voiced continuing concerns about the countries' military drills just days before Russia's invasion of Ukraine began on February 24.
Earlier this month, Belarus' defense ministry said it was beginning training in preparation for combat, which The Kyiv Independent reported would be carried out in a "wartime settling."
A political analyst told the Ukrainian paper that these kinds of trainings are not uncommon and happen every one or two years. Even so, the analyst noted that openly addressing the drills may have been a way of "sending signals" to Ukraine as its war with Russia continues.
Russians Will Soon Need Visas to Enter Ukraine
Ukraine has ended the visa-free agreement with Russia, a move that Ukraine Prime Minister Denys Shmyhal indicates Ukraine is "breaking final ties with Russia."
"We are finally severing all ties with Russia," Shmyhal said in a statement. "In order to counteract unprecedented threats to national security, sovereignty and territorial integrity of our state, the Government today, on the commission of the President of Ukraine, decided to terminate the agreement with Russia on visa-free travel."
This means Russians will not be able to enter Ukraine without visas.
Ukrianian President Volodymyr Zelensky said this policy is needed to counter "unprecedented threats" to national security, sovereignty and territorial integrity.
This decision will help identify Russians threatening Ukraine's national security and will strengthen checks on those entering the country, according to Ukraine Foreign Ministry Spokesperson Oleg Nikolenko.
This decision will go into effect on July 1.
Johnson Offers to Train 10,000 Ukrainian Soldiers
United Kingdom Prime Minister Boris Johnson offered to provide battlefield training for Ukrainian servicemembers.
Johnson offered this major training program during his visit with Ukraine President Volodymyr Zelensky in Kyiv Friday.
He said the program, which could potentially train up to 10,000 soldiers every 120 days, "could change the equation of this war."
"As Ukrainian soldiers fire UK missiles in defence of your nation's sovereignty, they do so also in defence of the very freedoms we take for granted," Johnson said in a statement. "That is why I have offered President Zelenskyy a major new military training programme that could change the equation of this war –harnessing that most powerful of forces, the Ukrainian determination to win."
The program would train and drill the Ukrainian Armed forces using British Army expertise, allowing them to "accelerate their deployment, rebuild their forces, and scale-up their resistance as they continue to defend their nation's sovereignty against Russian invaders," according to a press release from Johnson's office.
Each solider would spend three weeks on training, learning frontline battle skills, basic medical training, cyber-security and counter-explosive tactics.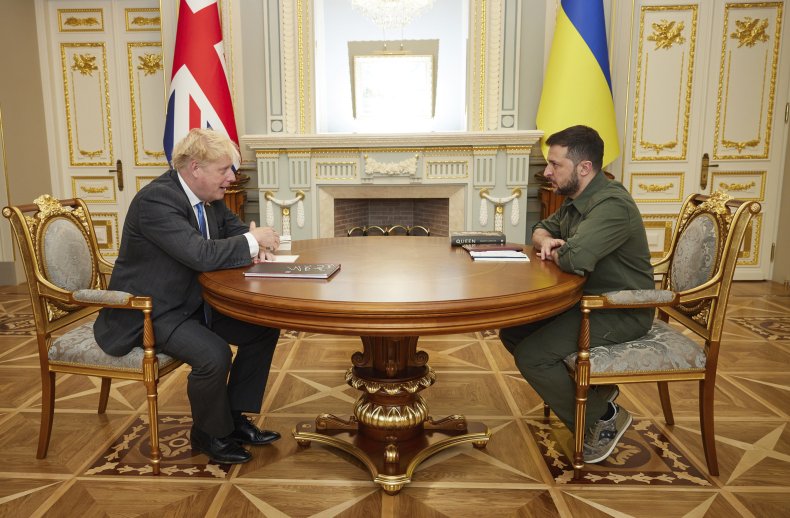 Boris Johnson Meets With Volodymyr Zelenskyy
U.K. Prime Minister Boris Johnson on Friday marked his second visit to Ukraine's capital city since Russia's invasion of Ukraine began in late February.
Speaking on behalf of his country, Johnson told Ukrainian President Volodymyr Zelenskyy that "we are with you" and said the U.K. will continue applying economic pressure on Russian President Vladimir Putin as the war rages on.
A video Johnson posted on social media showed video clips of the two leaders shaking hands, addressing the media in front of the British and Ukrainian flags, and walking together around Kyiv. Johnson also posted a photo of himself standing with Zelenskyy accompanied by a caption that read in part, "it is good to be in Kyiv again."
During his joint media appearance with Zelenskyy, Johnson recalled the earlier trip he took to Kyiv during the war and noted that "life is coming back to the streets" even as a "barbaric assault continues on entirely innocent people" a short distance away.
"So, Volodymyr, we're here once again to underline that we are with you, to give you the strategic endurance that you will need," Johnson said. "And we are going to continue to help intensify the sanctions on Putin's regime."
"I am very grateful to you for such attention to our nation, to all our people, to our state. And for Britain's leadership and unprecedented support for Ukraine," Zelenskyy said during their shared media appearance.
A press release from Zelenskyy's office said the Ukrainian President's discussion with Johnson was "as substantive as possible."
U.N. Calls Mariupol 'Shattered and Depleted'
The "tragedy" within the "shattered and depleted" city of Mariupol amid Russia's ongoing war with Ukraine is "far from over," according to Michelle Bachelet, the U.N. High Commissioner for Human Rights.
Speaking at the Human Rights Council's 50th session, Bachelet provided an update on what she described as the "grave human rights and humanitarian situation" in the Ukrainian city.
From the time Russia began its invasion of Ukraine in late February through the day Russian forces assumed control over most of the city in late April, Mariupol "was likely the deadliest place in Ukraine," Bachelet said. Russia's siege left lasting impacts on the city, she added, with more than 350,000 people forced to leave and about nine in 10 of the residential buildings in Mariupol believed to have been either destroyed or damaged.
Bachelet said the bulk of information her office has on the war's impacts on Mariupol is from people who left the city, since the commissioner's office is unable to gain direct access to areas under Russian control.
On Friday, the U.N. released a civilian casualty update that said more than 4,500 civilians in Ukraine had been killed since the start of the war. Bachelet said at least 1,348 of those deaths were in Mariupol, though she noted the "actual death toll" was "likely thousands higher."
"The current situation is dire," Bachelet said. "The shelling has now faded. But a shattered and depleted city is left, with its remaining residents struggling daily with limited access to basic utilities and social services, such as medical care."
Bachelet went on to note that people from Mariupol are unable to go in and out of the city at-will. She emphasized the importance of Russia following through with "all of its obligations under applicable international law as the occupying Power in Mariupol" moving forward and called for "complete and unimpeded access" for her office so U.N. officials can assess the war's full humanitarian impact on the city.
"The tragedy of Mariupol is far from over, and the full picture of the devastation caused is not yet clear," Bachelet said.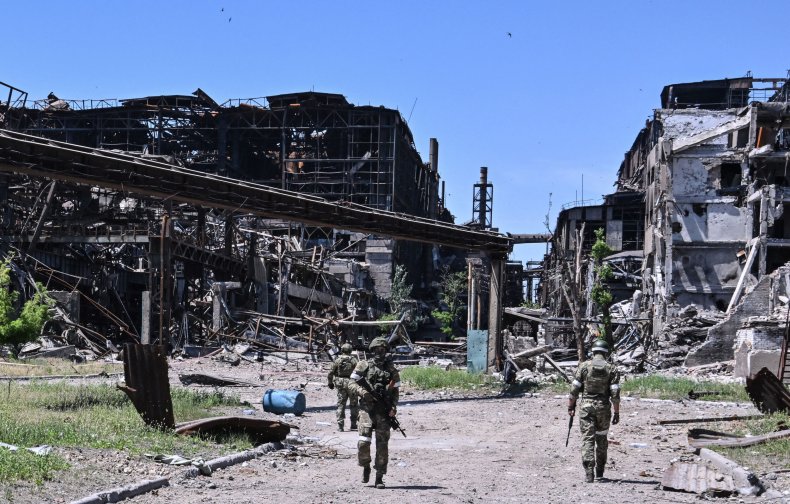 Putin Blasts Western Sanctions, Blames US for Rising Prices
Russian President Vladimir Putin condemned the West and the sanctions put on his country for its invasion of Ukraine in an address Friday.
In a keynote speech at the plenary session of the St. Petersburg International Economic Forum, Putin said that "allies in the West are trying to counteract the course of history" and were thinking "in terms of the last century."
Putin said Russia's economy was resilient to the "insane and thoughtless" sanctions imposed on the Kremlin.
He also accused "our partners in the West" of trying to undermine international foundations "in the name of their geopolitical illusions."
The United States "declared themselves God's own representatives on Earth" with "no responsibilities, only interests" after the Cold War, Putin said.
Putin also said Russia was not to blame for rising global gas or food prices and blamed the U.S. for driving up food prices by printing money and "snapping up" food on global markets.
"Famine in the poorest countries will be on the conscience of the U.S. administration and the Eurocrats," he said, adding that Russia is ready to export more grain to balance the world food markets.
Additionally, Putin vowed to accomplish his operation in Ukraine.
He said Russia's "special operation" in Ukraine is "the decision of a sovereign country based on the right to defend its security" and said "all the tasks of the special operation will be met."
"It was difficult, but forced and necessary," he said. "And it was based on the U.N. charter to defend our security."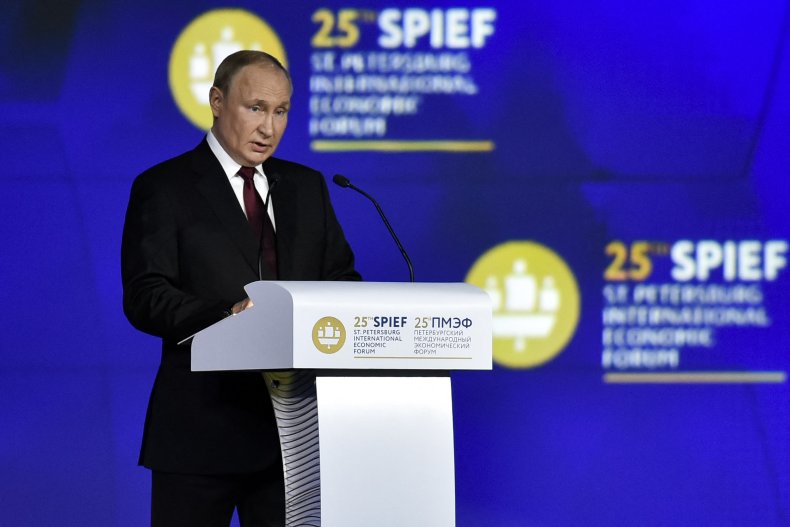 U.N. Reports Over 10,000 Civilian Casualties
More than 10,000 civilians have been injured or killed in Ukraine since Russia's invasion of the country began on February 24, the U.N.'s Office of the High Commissioner for Human Rights (OHCHR) said Friday.
The U.N. reported 10,094 civilian casualties in total on Friday, with 4,509 of those individuals killed and the 5,585 others injured. Of the civilians who had been killed, the U.N. said 1,747 were men, 1,166 were women and 1,302 were adults whose sex had not yet been determined.
The Prosecutor General's Office of Ukraine reported 322 children have died and another 581 children have been injured. Juvenile prosecutors released the latest numbers on June 16.
The OHCHR has said officials have reason to believe the number of civilian casualties is "considerably higher" than the U.N.'s official estimate because "the receipt of information from some locations where intense hostilities have been going on has been delayed and many reports are still pending corroboration."
Oligarchs, Business Elites Look to Flee Russia
Russian forces are continuing their attempt to regain momentum on the Popasna axis in the Luhansk region of Ukraine, the U.K. Ministry of Defence said Friday.
Russia has also bolstered its authoritarian power at home. The Duma is set to introduce a 20-year prison sentence for Russian who fight against the Russia Federation, the ministry reports.
Speaking out against the invasion of Ukraine is also being criminalized. U.K. intelligence suggests many people in Russia are demonstrating their opposition to the so-called "special military operation,' both actively and passively.
There is strong skepticism about the war amongst Russia's business elite and oligarch community, according to U.K. intelligence. The ministry reports that 15,000 Russian millionaires are likely already attempting to leave the country, based on migration applications.
They are likely motivated by both personal opposition to the invasion and an intent to escape the financial impact of the sanctions imposed on Russia.
"Should this exodus continue, it will likely exacerbate the war's long-term damage to Russia's economy," the ministry reports.
'Russia's War is Driving' Gas Prices, Biden Says
Russia's war with Ukraine is fueling the rising cost of living around the world, especially when it comes to gas prices, President Joe Biden said Friday.
During a remote address at the Major Economies Forum on Energy and Climate, Biden outlined several of the "urgent global issues impacting all of our nations," all of which he said "demand our immediate attention and our close cooperation."
Russia's "brutal and unprovoked" war with Ukraine "has fueled a global energy crisis and has sharpened the need to achieve long-term reliable energy security and stability," Biden said.
"With Russia's war driving up inflation, worldwide, threatening vulnerable countries with severe food shortages, we have to work together to mitigate the immediate fallout of this crisis," he said.
Biden said he is "using every lever available" to him to mitigate rising prices in the U.S. while working with America's allies to "stabilize global energy markets" through moves like emergency oil releases from energy reserves.
As the President shifted his focus to gas prices, he again referenced Russia's war with Ukraine.
"Russia's war is driving up prices of gas," Biden said. "Everybody knows that." The rise in gas prices is "hurting people in all our countries," he added.
Looking ahead, Biden said he and other world leaders can alleviate some of that pressure by embracing the use of zero-emission vehicles. The U.S. is on track to do so, he added, in part through its goal of making half of passenger vehicles sold in the U.S. by 2030 zero emission.
"I urge all of you to join us in a similar goal," Biden said.
Biden Briefed on Missing Americans in Ukraine
President Joe Biden has been briefed on the reports of three missing Americans in Ukraine.
Before leaving for Rehoboth Beach for the weekend, Biden told the press gaggle that he has been briefed and he does not know where they are.
"I want to be clear: Americans should not be going to Ukraine," he said. "I'll say it again, Americans should not be going to Ukraine."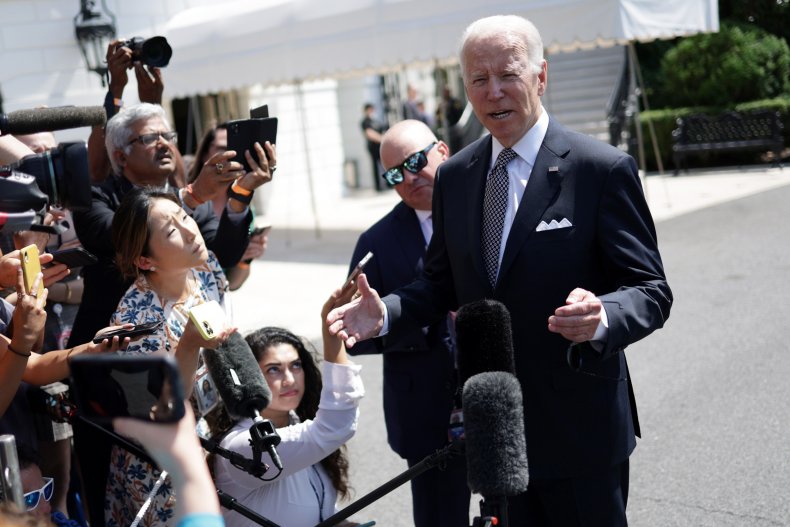 Third American Reported Missing in Ukraine
A third Americans has been reported missing in Ukraine.
U.S. Marine veteran Grady Kurpasi is reportedly missing, his wife told CNN. This comes after reports of two other missing Americans.
Alexander John-Robert Drueke, a 39-year-old Iraq War veteran and Andy Tai Ngoc Huynh, a 27-year-old Marine were reported missing. Their families said the two men went to fight alongside Ukrainian forces in Kharkiv, Ukraine.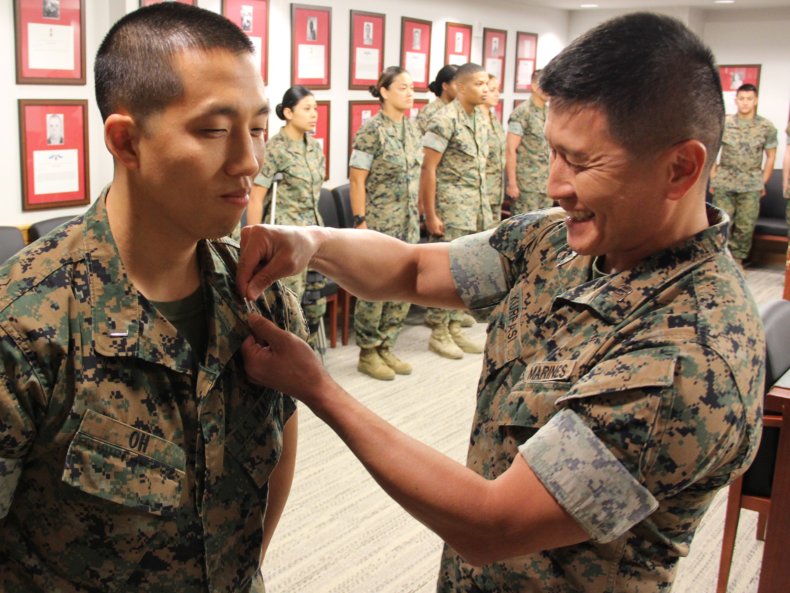 The U.S. State Department is aware of these reports, but said it cannot confirm their whereabouts amid fears that they were captured by Russian forces. State Department Spokesperson Ned Price said the Department is in contact with the families.
The Russian Foreign Ministry said the U.S. has not yet contacted Moscow regarding the reports.
White House Spokesperson John Kirby said Wednesday that he could not confirm that Drueke and Huynh are missing, but added that "if it's true, we'll do everything we can to get them safely back home."
Kirby urged Americans against volunteering to fight in Ukraine.
"It is a war zone," Kirby said. "It is combat. And if you feel passionate about supporting Ukraine, there's any number of other ways to do that that are safer and just as effective."
E.U. Recommends Ukraine for 'Candidate Status'
Ukraine is one step closer to gaining membership into the European Union.
European Commission President Ursula von der Leyen recommended the that Ukraine be granted "candidate status" on Friday.
"Ukraine has clearly demonstrated the country's aspiration and the country's determination to live up to the European values and standards," she said.
Von der Leyen added that Ukraine was on its way to membership status even before the invasion. She said Ukraine has already implemented roughly 70 percent of the E.U. rules, standards and norms.
"Ukrainians are ready to die for the European perspective," she said. "We want them to live with us the European dream."
Further work still needs to be done, von der Leyen said, on this merits-based process.