Ukraine War Updates: Russia Strikes Sumy Region 187 Times in 1 Day, Report
Senators Urge U.S. to Send Tanks to Ukraine
U.S. Senators are pushing the Pentagon to send M1 Abrams tanks to Ukraine.
In a press briefing after a trip to Ukraine, a bipartisan group of Senators urged the Biden administration to send tanks as soon as possible.
Republican Senator Lindsey Graham of South Carolina said the issue of tanks has become "center stage" in the world.
"We're convinced that the Ukrainians need heavy tanks, that the best tank for the fight is the German Leopard tank that American tanks can be helpful in this regard. If we send some Abrams tanks, it will open the floodgates to more tanks coming from allies," he said.
Graham said it is "impossible" to dislodge Russians from Ukraine without tanks.
The goal, he said, is to give Ukraine the weapons they need to beat Russians on the battlefield, not to send in U.S. troops or start World War III.
"I am more optimistic today than any time in recent memory about military assistance going into Ukraine in the form of tanks," he said.
Graham hopes Germany will send their Leopard tanks to Ukraine, saying this is a "moment for Germany to shine" and to "be a force of good."
"The sooner you can make this decision, the better off for the world," he said, adding that the day Germany send tanks and allows allies to send their tanks "is a day closer to liberating Ukraine and ending this nightmare."
He is urging the U.S. to lead by example ,and follow the precedent set by the United Kingdom, as it send 14 Challenger tanks to Ukraine.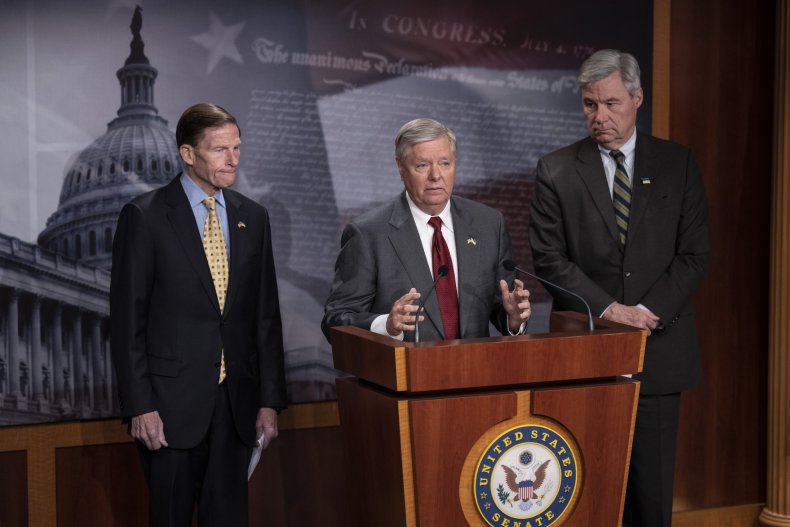 Democratic Senator Richard Blumenthal of Connecticut said the time to send tanks is now.
"I want to thank President Biden for saying that Ukraine will get everything it needs to win I wish he had added 'everything it needs to win now,'" he said. "There is an urgency to now, time is not on our side."
He said the Russians are coming and their onslaught will begin in weeks, not months, according to both Ukrainian and U.S. intelligence.
"The Ukrainians can win if they have the tools that are necessary, beginning with tanks," he said.
He said the Leopard tanks are important because they are already in Europe, making transport, training and fueling easy.
"If it takes sending three, five, 10 Abrams tanks there, let's do it," he said. "The Pentagon ought to come forward with those tanks if that's what is necessary for the Germans to give permission to our allies to provide the Leopard 2 tanks and for the Germans to provide those tanks themselves."
Both Senators also expressed the need to send Ukraine more long-range missiles, HIMARS, Patriot systems and civilian infrastructure support like generators.
Graham said long-range missiles long are needed to counter the Russian offensive building in the east.
"We're not asking for a blank check, we're asking for a big check with oversight and scrutiny," Blumenthal said.