Ukraine War Updates: Zaporizhzhia Residents Hear Explosions in Suburbs
Shelling continued across Ukraine as today marks one year since Russia's invasion began.
In a speech marking the anniversary, Ukrainian President Volodymyr Zelensky said Ukraine "surprised," "inspired" and "united" the world in its fight, adding the country "will do everything to gain victory this year."
Major landmarks, including the Eiffel Tower in Paris and the Empire State Building in New York City, lit up in blue and yellow in support of the Ukrainian people.
Many world leaders reiterated calls for a swift end to the war. U.S. President Joe Biden was among those who introduced new sanctions against Russia on Friday and pledged more aid for Ukraine.
More than 8,000 civilians have been killed in Ukraine since the war began, and another 13,200 civilians have been injured, the U.N. reports, warning actual figures are "considerably higher."
Several NATO allies have agreed to send tanks to Ukraine in support of the war effort. Polish Prime Minister Mateusz Morawiecki visited Kyiv to deliver the first set of Leopard tanks his country has pledged.

A person walks past destroyed Russian military vehicles displayed in an open-air exhibition in Kyiv on February 24, 2023, on the first anniversary of the Russian invasion of Ukraine.

AFP via Getty Images/GENYA SAVILOV

Live updates have ended.
Zaporizhzhia Residents Hear Explosions in Suburbs
Some Ukrainians in Zaporizhzhia heard explosions on Friday that the city's acting mayor, Anatolii Kurtiev, attributed to Russian attacks.
Kurtiev posted air alert messages on his Telegram channel throughout the day, warning residents about the risk of Russian shelling as Ukraine marked the one-year anniversary of Russia's invasion.
Russia "attacked the suburbs" of Zaporizhzhia, Kurtiev said Friday evening, but "everything is calm in the city itself, no arrivals have been recorded." He urged residents to remain "calm and alert and do not ignore air danger alerts."
It was not immediately known what damage was caused or if there were any related injuries. No strikes were officially reported in Zaporizhzhia, according to The Kyiv Independent.
Earlier Friday, Kurtiev addressed concerns heading into the war's one-year anniversary about widespread Russian attacks.
"They wanted us to be afraid. For us to worry. So that we panic," he wrote on Telegram. "But no. It didn't work out. And it won't work. We are not afraid, because we know that we are under the reliable protection of the Armed Forces of Ukraine."
Ukrainian Girl Paints Picture of Hope
U.S. Secretary of State Antony Blinken shared a picture of hope amid tragedy for a young Ukrainian girl at the United Nations Friday.
Last spring, 10-year-old Veronika's entire family was killed when Russian forces shelled her family's home in Vuhledar, Blinken said. Responders found her in the rubble with shrapnel in her skull and her left thumb ripped off.
"The attack left her right hand mostly paralyzed and she can't see out of her left eye," Blinken said.
He then shared a picture the young girl painted, where she is wearing a dress and holding a bouquet of flowers next to a building.
"When asked who lived there, she said it was a place for all the people she knew who had been killed in the war could be safe," Blinken said.
"We have the power and the responsibility to create that world, today and for generations to come. We cannot – will not – let one country destroy it."
About 15,000 Without Power in Kharkiv, Kherson
Some 15,000 customers remain without power in the Kharkiv and Kherson oblasts due to shelling, Ukraine's Ministry of Energy reported late Friday.
Crews are still working to repair damaged equipment hit in the attack at Kherson's thermal power station on Thursday. Meanwhile, keeping the heat on for residents in the liberated portions of Kherson continues to be a "challenge," according to the Kyiv Independent.
Russia has repeatedly targeted energy infrastructure across Ukraine, causing blackouts during the cold winter months.
Sweden, Canada, Germany Pledge to Send More Tanks
Sweden, Canada and Germany said Friday they will soon send additional tanks to Ukraine as a display of support as the ongoing war with Russia continues.
As Ukraine marked the one-year anniversary of Russia's invasion on Friday, Swedish Prime Minister Ulf Kristersson said his country "is joining the 'Leopard family,'" referring to the Leopard 2 tanks other nations are sending to Ukraine. Sweden will send as many as 10 Leopard 2 tanks, according to Reuters.
Germany previously pledged to send Ukraine 14 Leopard2 A6 tanks, but Germany's Ministry of Defense said Friday his country will instead send 18.
Canada previously said it would send Ukraine four Leopard 2 tanks. Canadian Prime Minister Justin Trudeau announced Friday that his country will double that pledge, bringing the total number of Leopard 2 tank donations from Canada to eight.
Ukraine received its first wave of tanks from Poland on Friday. While visiting Kyiv, Polish Prime Minister Mateusz Morawiecki told Ukrainian President Volodymyr Zelensky that Ukraine will receive some of Poland's PT-91 tanks "in a few days," according to the Ukrainian state news agency Ukrinform. An additional 60 tanks from Poland are also on the way, Morawiecki said.
Morawiecki told Zelensky Poland is also preparing to train Ukrainian troops on how to operate F-16 fighter jets. Three other countries in Europe are also prepared to begin F-16 fighter jet training, Zelensky told local media outlets.
Belarus Conducts 'Combat Readiness Measures'
Troops with the Belarus Ministry of Defense's missile units were deployed Friday "as part of combat readiness measures," Belarusian defense officials said.
A video posted on Telegram showed military vehicles traveling toward a "designated area" that defense officials did not publicly identify. The defense ministry told the Belarusian Telegraph Agency (BelTA), a state-owned news agency, that a missile unit will "march" to the area, where troops will then practice firing positions and prepare necessary military equipment for "combat employment."
Belarus has been an ally to Russia since Russian troops invaded Ukraine one year ago. Belarus has allowed Russian troops to use Belarusian territory, but Belarus has not been directly involved in the fighting.
On Thursday, Belarus President Alexander Lukashenko said the people of his country "don't want any war." Belarus has "absolutely no intentions to attack Ukraine," Lukashenko said during an interview with Chinese state media on Thursday.
"But God forbid aggression against the Belarusian state is committed from the territory of Ukraine," he added. "In this case we will be forced to respond."
Landmarks Lit in Blue, Yellow to Support Ukraine
Cities around the world are demonstrating their support for Ukraine on the one-year anniversary of Russia's invasion by lighting popular landmarks in blue and yellow, the colors of Ukraine's flag.
Several photos circulated Friday on social media showing the Eiffel Tower lit in blue and yellow in Paris.
Across the country in Bourdeaux, the local mayor shared a video on Twitter of the bells at Pey Berland Tower ringing to commemorate the anniversary.
In New York City, the Empire State building was also lit in blue and yellow on Thursday, and was expected to display the colors again Friday evening.
Photos taken in Copenhagen, Denmark showed large blocks of blue and yellow light illuminating Christiansborg Castle.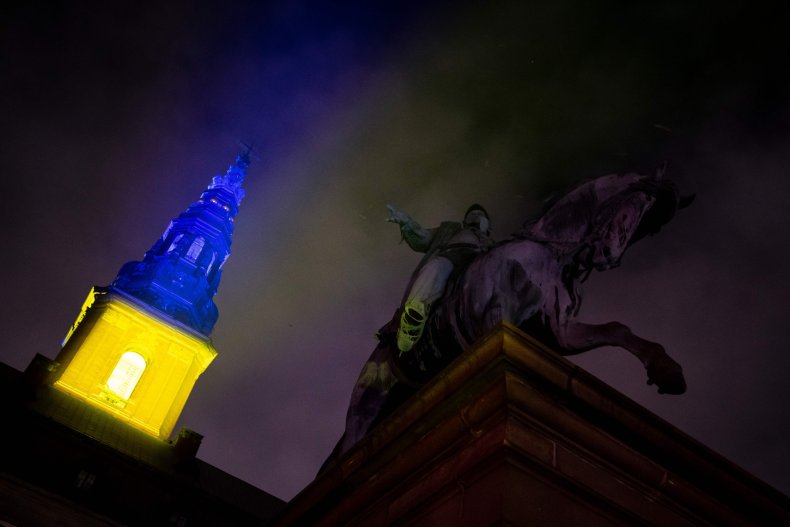 The Sydney Opera House also displayed large blocks of color in support of Ukraine.
The Blackpool Tower in England was seen outlined in blue and yellow lights on Friday evening.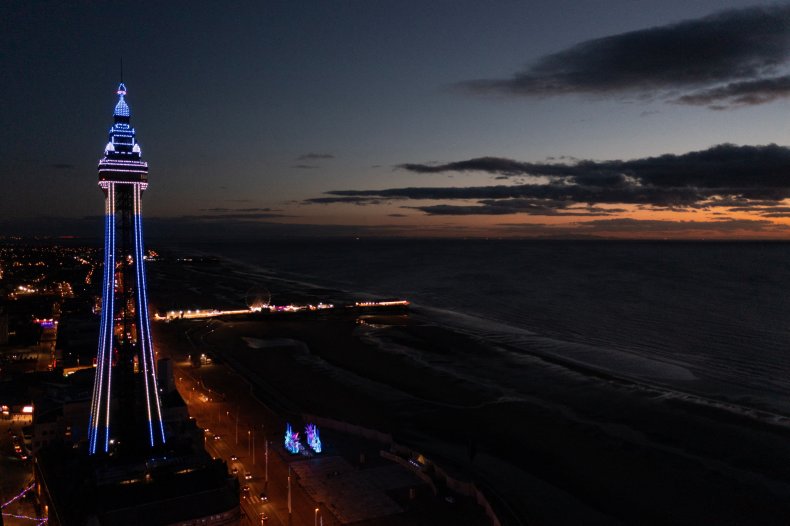 Many cities also saw people gathering in protest of the war. In Germany, some activists positioned a destroyed Russian tank near Russia's embassy in Berlin, according to local media outlets. Protesters gathered nearby at Brandenburg Gate, which was illuminated in Ukraine's blue and yellow.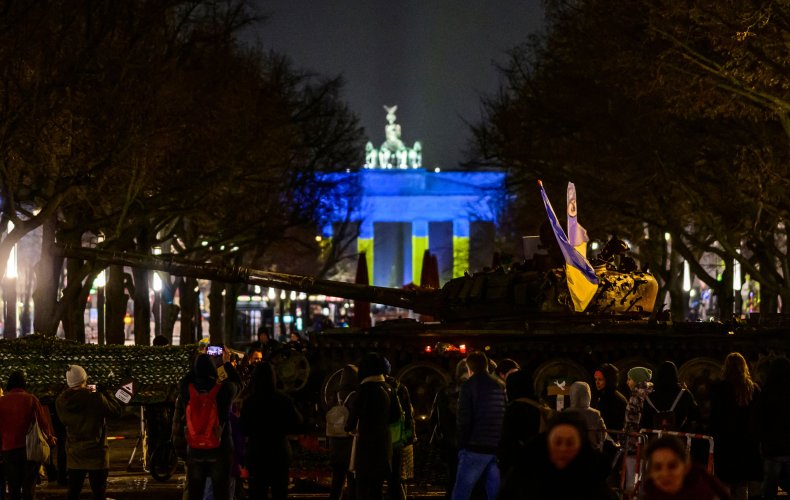 Calls Grow to Rescue Thousands of Abducted Ukrainian Children
Ukrainian officials continue calling on the international community for support to rescue thousands of children who they say have been abducted and taken to Russia.
Ukraine's presidential advisor for children's rights and rehabilitation Daria Herasymchuk discussed the ongoing crisis at the United Nations Friday, saying more than 16,000 such Ukrainian children have been identified. However, "hundreds of thousands" are believed to have been forced from their homes. She added 461 children have been killed and more than 900 others injured by Russian forces since the invasion began one year ago.
"We must do everything in our power to save Ukrainian children, because tomorrow this can happen to any child from any country in the world!" she said. "And today, each of you can and should decide what you can personally do to help Ukrainian children, and thus children of the world."
Ukraine's Minister of Foreign Affairs Dmytro Kuleba reiterated the sentiment during the UN Security Council meeting.
"Russia is now implementing in Ukraine probably the largest state-sponsored kidnapping of children in modern history," he said.
Zelensky Wants to Meet With China's Xi Jinping
Ukrainian President Volodymyr Zelensky said Friday he intends to meet with China's president, Xi Jinping, to discuss the war and other issues of interest to both leaders.
"I plan to meet with Xi Jinping, and I believe that it will benefit our countries and the security of the world," Zelensky said during a Friday press conference.
"We have a large turnover of goods with China. The issue is not only about war," Zelensky said, according to the Ukrainian state news agency Ukrinform. "The issue is that we are countries that are interested in in order to preserve economic relations."
Zelensky urged China to back Ukraine's efforts to push Russian troops off Ukrainian land "because this is respect for sovereignty and territorial integrity," which Zelensky said China has a history of supporting.
China's unclear stance on the war has raised concerns among the countries that support Ukraine. Earlier this month, U.S. Secretary of State Antony Blinken said U.S. intelligence indicates China may be considering providing Russia with military support. On Thursday, China abstained from a United Nations General Assembly vote on a resolution condemning Russia for its invasion of Ukraine.
China has most recently called for a cease-fire in the war. China's suggestion came as part of a peace plan its foreign ministry released Friday as Ukraine marked one year since the start of Russia's invasion.
Zelensky Plans to Retake Crimea
Ukrainian President Volodymyr Zelensky said on Friday that Ukraine's military wants "to bring all territories back" from under Russian control, including Crimea.
Speaking with reporters during a press conference on the one-year anniversary of Russia's invasion, Zelensky was asked about Crimea, which Russia has occupied since 2014. Zelensky did not outline an exact timeline for when Ukrainian troops will try to bring Crimea back under Ukrainian control, but one top Ukrainian official suggested last month that Ukraine wants to retake Crimea "by summer."
Zelensky said on Friday that Ukraine is "preparing" for the "military steps" involved.
"We are ready mentally. We are preparing technically: with weapons, reinforcements, the formation of brigades, in particular the assault brigades, of different categories and nature," state news agency Ukrinform quoted Zelensky as saying.
"We have to be ready. Then, there will be corresponding fair de-occupation steps and, God willing, they will be successful," he said, adding that all Ukrainians want "to bring all territories back."
Zelensky has repeatedly said over the course of the war that he plans to retake Crimea. Last summer, he said the war "began with Crimea, and it will end with Crimea," a sentiment he attributed to Crimean activist Nariman Dzhelyal. Ukrainian officials said earlier this month they are getting "assault brigades" ready to recapture Crimea and other Russian-occupied territories. The day before the one-year anniversary of the Russia-Ukraine war, two Crimean radio stations were reportedly hacked so listeners could hear a message from a Ukrainian official, who vowed Ukraine "is taking back all of its occupied territories."
Russia Likely Focused on Degrading Ukraine's Military: UK Intel
Russia has likely changed its approach in its ongoing war in Ukraine "again," focusing on degrading the Ukrainian military instead of claiming "substantial" new territory, the latest British intelligence finds.
After 12 long months of fighting, the U.K. Ministry of Defense believes Russia is most likely pursuing a long-term operation.
"Since 2014 Russia's strategic goal in Ukraine has highly likely been consistent: to control its neighbour," the ministry wrote in a Friday intelligence update.
"Over 2014-2021, it pursued this objective through subversion, by fomenting an undeclared war in the Donbas, and by annexing Crimea. On 24 February 2022, Russia pivoted to a new approach and launched a full-scale invasion which attempted to seize the whole country and depose its government. By April 2022, Russia realised this had failed, and focused on expanding and formalising its rule over the Donbas and the south. It has made slow and extremely costly progress."
"In recent weeks, Russia has likely changed its approach again," the update continued. "Its campaign now likely primarily seeks to degrade the Ukrainian military, rather than being focused on seizing substantial new territory. The Russian leadership is likely pursuing a long-term operation where they bank that Russia's advantages in population and resources will eventually exhaust Ukraine."
The ministry's latest map below shows areas of Ukraine currently under Russian control, shaded in pink. The area includes the Donbas, stretching down the eastern portion of the country to the south, to Crimea.
Russia's UN Ambassador Interrupts Minute of Silence
Russia's ambassador to the United Nations (U.N.) interrupted a minute of silence requested by Ukrainian Minister of Foreign Affairs Dmytro Kuleba during a Friday U.N. Security Council meeting.
Kuleba made his request while speaking before the U.N. Security Council as his country marked the one-year anniversary of Russia's invasion. "On this tragic day, when we mourn lives and destinies broken by Russia, I kindly ask everyone to observe a minute of silence in memory of the victims of the aggression."
Meeting attendees stood to observe the moment of silence, but it was quickly interrupted by a request from Russian representative Vasily Nebenzya to address the council.
"We are getting up on our feet to honor the memory of all victims of what has happened in Ukraine, starting in 2014," Nebenzya then said. "All of those who perished. All lives are priceless, and that is why we are rising to honor the memory of them all."
Nebenzya stood after his statement and urged other attendees seated near him to do the same. Several hesitated, but the council members eventually stood up again to go back to observing the minute of silence.
Poland's First Set of Leopard Tanks Arrives
The first wave of Leopard 2 tanks Poland pledged to give Ukraine arrived on the Russia-Ukraine war's one-year anniversary.
"Today, I want to symbolically hand over to you, Volodymyr, the first four Leopard 2A4 tanks, and soon we will hand over the next ones," Poland's prime minister, Mateusz Morawiecki, told Ukrainian President Volodymyr Zelensky on Friday.
Morawiecki traveled to Ukraine's capital city to meet with Zelensky as the tanks arrived. Zelensky thanked Poland for providing the tanks, adding that they "are strengthening our defense." He referred to Poland as "one of the founders" of Ukraine's tank coalition.
Morawiecki was photographed standing beside the tanks with Ukraine's prime minister, Denys Shmyhal, who wrote on Twitter that Ukraine is "waiting for the expansion of the tank coalition."
Poland is one of several nations that pledged to send tanks in support of Ukraine against the ongoing Russian invasion. Poland initially said it would send Ukraine 14 German-made Leopard 2 tanks but expanded its pledge in late January to include 60 additional tanks, according to Reuters.
G7 Leaders Vow to Increase 'Costs to Russia'
G7 leaders released a joint statement condemning Russia's ongoing war in Ukraine and vowing to increase "the costs to Russia and those supporting its war effort" Friday.
The leaders of the G7 met virtually with Ukrainian President Volodymyr Zelensky and reiterated "our unwavering support for Ukraine for as long as it takes."
"We condemn Russia's illegal, unjustifiable, and unprovoked war, disregard for the Charter of the United Nations (UN) and indifference to the impacts that its war is having on people worldwide," the G7 said in a statement released after their meeting. The G7 called on Russia to "immediately" withdraw troops from Ukraine, writing that Russia has the ability to "end this war."
The statement called Russia's actions "an attack on the fundamental principles of sovereignty of nations, territorial integrity of states and respect for human rights" and a "disregard for the Charter of the United Nations." The G7 said they will not recognize Ukrainian territory annexed by Russian President Vladimir Putin and warned any nuclear activity, which Putin has threated in recent months, "would be met with severe consequences."
Sanctions imposed on Russia will continue and expand, the statement said. The G7 will also take "appropriate steps to limit Russia's energy revenue and future extractive capabilities" and will do so "in a way that mitigates spillover effects for energy security, in particular for the most vulnerable and affected countries."
In the U.S., President Joe Biden's administration announced a new set of sanctions Friday aimed at Russia's metals and mining sectors. The U.S. Department of the Treasury called the move "one of its most significant sanctions actions to date."
Following the G7 meeting, Biden said Ukraine "is stronger than ever, with the G7 as its anchor" and reiterated G7 leaders' "commitment to impose unprecedented costs on Putin."
New $2B US Aid Package Includes Drones, Ammo
The U.S. announced a new military aid package for Ukraine Friday, on the one-year anniversary of Russia's invasion.
The new aid package, valued at $2 billion, is meant to "reaffirm the steadfast support of the United States for Ukraine's brave defenders and strengthen Ukraine's air defenses," according to the U.S. Department of Defense. President Joe Biden's administration authorized the aid package under the Ukraine Security Assistance Initiative.
The new aid includes drones to help "strengthen Ukraine's air defenses and help protect its people," the White House said. Ammunition for High Mobility Artillery Rocket Systems (HIMARS), artillery rounds, electronic warfare detection equipment, mine clearing equipment and tools to support secure communication channels are also included.
The aid package follows another U.S. security assistance package authorized through the Presidential Drawdown Authorities, which Biden's administration announced earlier this week. The U.S. has provided more than $32 billion in support for Ukraine over the last year.
U.S. Secretary of Defense Lloyd Austin spoke with Ukrainian Minister of Defense Oleksii Reznikov on Friday "to reiterate the unwavering U.S. commitment to supporting Ukraine" and discuss the new $2 billion aid package. Austin said in a Friday statement that the people of Ukraine "have shown bravery, skill, and fortitude."
"Today and every day, we stand by the courageous Ukrainians fighting to defend their country, and we mourn with those who have lost loved ones in Moscow's monstrous and unnecessary war," Austin said.
Reznikov thanked Austin and Biden for the new aid package in a post on Twitter.
"We are grateful to the United States for standing with Ukraine," he wrote.