Ukraine War: Russia Expert Warns of Putin Pressuring Belarus to Add Troops
Belarusian troops could be on the verge of deploying into Ukraine, said one expert on Russia on Saturday.
The Belarusian military is scheduled to hold mobilization training exercises this month and in July in the Gomel region, which is located on the country's southern border with Ukraine and near the capital city of Kyiv. Speaking with the Express UK, Mark Voyger of the Transatlantic Defence and Security Program at the Center for European Analysis, explained how these plans have put many on edge over the possibility of Belarusian troops joining the fray in the Eastern European country.
"These drills will cause serious concern because, unfortunately, Russia and its allies have consistently been using military drills as a mask to cover their aggressive actions," Voyger, a former adviser to the U.S. Army, explained.
Russia previously used training exercises as a rationale for its troop buildups in the lead-up to its invasion of the country in late February. Roughly 150,000 soldiers were positioned along the Russian border with Ukraine before they were mobilized.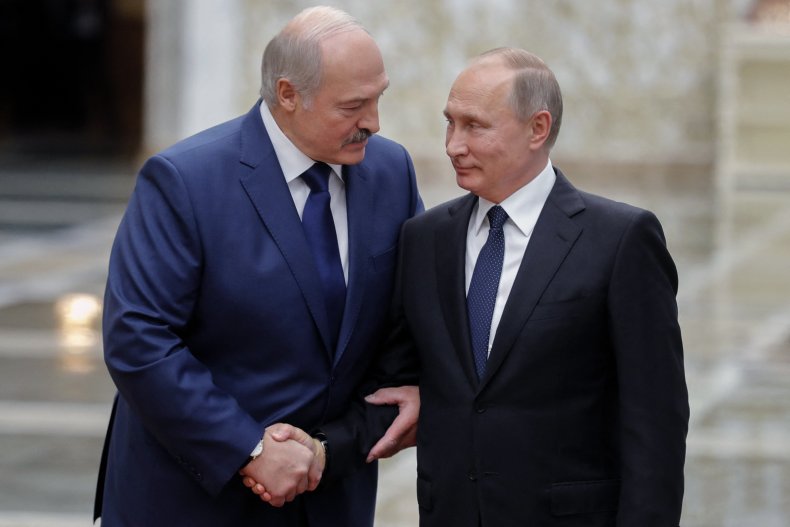 In 2014, Russia massed troops near another border with Ukraine, with the government assuring the North Atlantic Treaty Organization (NATO) that it was only trying to protect the Winter Olympics in Sochi. Later, however, the troops mobilized into the region of Crimea, eventually annexing the peninsula from the country.
So far, the Belarusian military has not directly participated in the invasion. However, Belarus has allowed Russian forces to operate on its land, acting as an entry point into Ukraine for Russian soldiers, and a point from which the military can launch missile strikes. Belarus has long been considered one of Russia's closest and most loyal allies on the global stage.
"The concern is that Putin has been trying to put pressure on [Belarusian President Alexander] Lukashenko and force him to take a more aggressive stance to launch more aggressive actions out of Belarus, involving Belarusian troops," Voyger continued. "So far, we've seen the Russian troops enter Belarus and then in February they attacked Ukraine from the North. But in this case, Russia is suffering from shortages of soldiers so any additional troops would add greatly to their potential, especially if they can strike again from the North, potentially using Belarusian troops."
Reports have recently suggested that the extended conflict in the region has strained Russian forces, with U.K. intelligence sources reporting that they are increasingly reliant on less-advanced unguided missiles as their stock of modern weapons depletes.
Late last month, an unnamed Pentagon official told reporters that the economic sanctions imposed against Russia by the rest of the world "are having a bite on the Russians' ability to replenish those stocks" and that the country has "burned through quite a bit of their precision-guided munitions."
Newsweek reached out to the Ukraine Foreign Ministry for comment.