Zelensky Visits Bucha, Finds It 'Difficult To Talk' Among Dead Civilians
Ukraine's President Volodymyr Zelensky said he found it "very difficult to talk" during a visit to Bucha, northwest of Kyiv, on Monday.
Civilian bodies were pictured over the weekend strewn across the streets among widespread devastation in Bucha, after occupying Russian forces fled the area.
More than 300 residents were killed, according to local mayor, Anatoliy Fedoruk, who told AFP that civilians were killed by Russian forces with a "bullet in the back of the neck." Evidence of mass graves has also been found.
Russia's defense ministry has denied the allegations.
"These are war crimes and will be recognised by the world as genocide," Zelensky, wearing body armour, said during his visit.
"It's very difficult to talk when you see what they've done here."
The Ukrainian leader added that such scenes made it harder for his country to negotiate with Russia.
"The longer the Russian Federation drags out the meeting process, the worse it is for them and for this situation and for this war," he said.
"We know of thousands of people killed and tortured, with severed limbs, raped women and murdered children."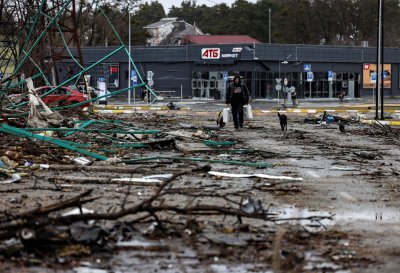 Zelensky, who took questions from reporters, said it was "very important" press were present, CNN reported.
"We want you to show the world what happened here. What the Russian military did. What the Russian Federation did in peaceful Ukraine. It was important for you to see that these were civilians," he said.
Zelensky told reporters that Ukraine was committed to find those responsible for the atrocities.
"We are going to put maximum pressure. We shall not pause for one minute to find all the criminals and I think this will benefit civilization," Zelenskyy said.
He warned that "if we don't find a civilized solution", Ukrainians "will find a non-civilized solution" to deal with the conflict.
Ukraine's top prosecutor Iryna Venediktova issued a statement on Monday about the damage wrought in Kyiv Oblast, where Bucha is located.
In it, Venediktova said the scenes provide "crucial evidence of brutal war crimes of the Russian Federation."
"The tortured Kyiv region is not a route for political tourism, but a crime scene," she said, urging Ukrainian and international courts to prosecute.
The United States, Germany and the U.K. are among those to have accused Russia of war crimes in Ukraine.
Newsweek has contacted the Russian foreign ministry for comment.
Russia has repeatedly denied targeting civilians since the full-scale invasion began on February 24; however, there have been multiple reports and accusations by international governments that Russia has targeted civilians.
In southern city Mariupol, the governor said on Monday that about 90 percent of the city has been destroyed following Russian traps and 130,000 residents remain trapped in the rubble. The Red Cross said it cannot reach the city to evacuate civilians.
Thousands of people have died since the war began, and millions have been upended from their homes, often fleeing to other European countries. The United Nations estimates more than 4.2 million people have fled Ukraine.