Ukraine Issues Warning Over Russia's 'Atypical Activity' in Black Sea
Ukraine has issued a warning over Russia's "atypical activity" in the Black Sea.
Speaking during a national broadcast on Thursday, Ukraine's Southern Command spokesperson Natalia Humeniuk said Russia has deployed 20 ships, including missile carriers, and a large number of units of auxiliary fleet ships in the Black Sea.
The Kyiv Independent said the Russian forces may be searching for the wreckage of a U.S. MQ-9 Reaper drone, which was intercepted by Russian jets and crashed into the Black Sea on Tuesday. Russian state media has said Moscow will try to recover the wreckage.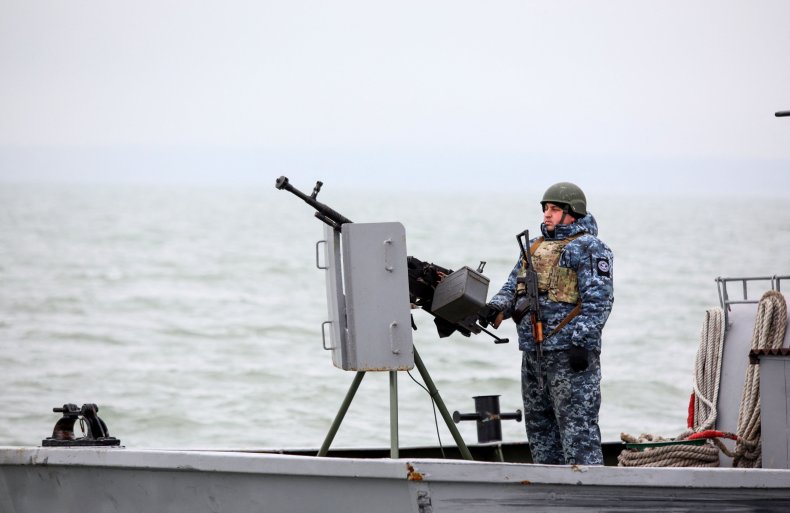 "We are carefully monitoring the naval group in the Black Sea and the actions of the enemy. Atypical activity and number of ship groups were recorded," Humeniuk said. "There are currently 20 units in the Black Sea, including four missile carriers, one of them is underwater; the total salvo is 28 missiles that can be equipped for launch."
Humeniuk said Russian forces are attempting to "cover the naval operations in the Black Sea as much as possible and are trying to hide their actions" from Ukraine.
Russia's naval forces have played only a limited part in the Ukraine conflict since Ukraine sank Russia's Black Sea flagship, the Moskva, with two Neptune missiles last April. After that, there were reports that Russia had moved its ships further from the Ukraine coast, out of range of Kyiv's anti-ship missiles. Fears early in the war of a Russian landing at Odesa, on Ukraine's Black Sea coast, were not borne out.
An obscure 1936 treaty made it difficult for Moscow to replace the Moskva with another ship from outside the Black Sea. NATO member Turkey, which controls access to the Black Sea through the Bosporus Strait, enforced the 1936 Montreux Convention which blocks Russia from reinforcing its Black Sea fleet from the outside in times of war.
Humeniuk's warning of heightened Russian naval activity comes after Volodymyr Saldo, who was appointed by the Kremlin to lead Ukraine's southern Kherson region after it was seized during President Vladimir Putin's war, said Monday that the Black Sea will become Russia's.
The Black Sea, which is bordered by two European Union countries—Bulgaria and Romania—as well as Ukraine, Georgia, Russia and Turkey, is of strategic and economic importance to both Moscow and Kyiv, largely because of the transit routes it provides.
"I want to clap when we will have the Black Sea too," Saldo, who Russia declared "head of the Kherson civic military administration" after gaining control of the territory in the first phase of its invasion, said.
He was addressing a crowd during a competition that, according to local media, was held for the Kherson, Zaporizhzhia, Donetsk and Luhansk regions—the four territories Putin proclaimed to have annexed in September last year.
Saldo added: "We have it, but it will be totally ours."
Tensions are rising after the U.S. MQ-9 Reaper drone crashed on Tuesday.
On Thursday, the U.S. released footage showing the exact moment of the collision.
Russia and the U.S. have blamed each other for the collision. Russia has said the drone had "deliberately and provocatively" approached Russian air space, while the Pentagon has said the aircraft dumped fuel on the drone, which was in international airspace conducting a routine surveillance mission.
Newsweek reached out to Russia's Defense Ministry via email for comment.
Do you have a tip on a world news story that Newsweek should be covering? Do you have a question about the Russia-Ukraine war? Let us know via worldnews@newsweek.com.