Ukraine Warns Russia It Will 'Suffer' if Troops Cross Border
Ukraine warned Russia on Thursday that it will "suffer" if troops try to cross the border, further signaling a tense standoff between the two nations as Russia continues to amass the largest concentration of forces in the region in years.
"If Russia crosses the red line, then it will have to suffer," Ukraine Foreign Minister Dmytro Kuleba said Thursday at a press conference with counterparts from Latvia, Lithuania and Estonia, Bloomberg reported.
"I hope that diplomatic efforts, including this visit, will help us to prevent that from happening. And, eventually, will help us to restore territorial integrity." he said.
Kuleba's statements come as tensions between Russia and Ukraine have reached their highest levels since 2014, when Russia annexed Ukraine's Crimea peninsula and large-scale fighting broke out in the country's east. That war has already cost nearly 14,000 lives.
The situation has escalated between the two nations after Russia started sending tens of thousands of troops and convoys of tanks to the Ukraine border. Russian troops now number 40,000 in Crimea, with another 40,000 in regions along the border, which equates to roughly 10 percent of the country's entire military force, NBC News reported.
On Tuesday, U.S. Secretary of State Antony Blinken said the move has raised serious concerns in both Ukraine and the West.
"We're now seeing the largest concentration of Russian forces on Ukraine's borders since 2014," Blinken said Tuesday. "That is a deep concern not only to Ukraine but to the United States and indeed to many of our allies and partners."
Later that day, President Joe Biden called on Russia to "de-escalate tensions" during a call with Russian President Vladimir Putin. He also "emphasized the United States' unwavering commitment to Ukraine's sovereignty and territorial integrity," according to reports.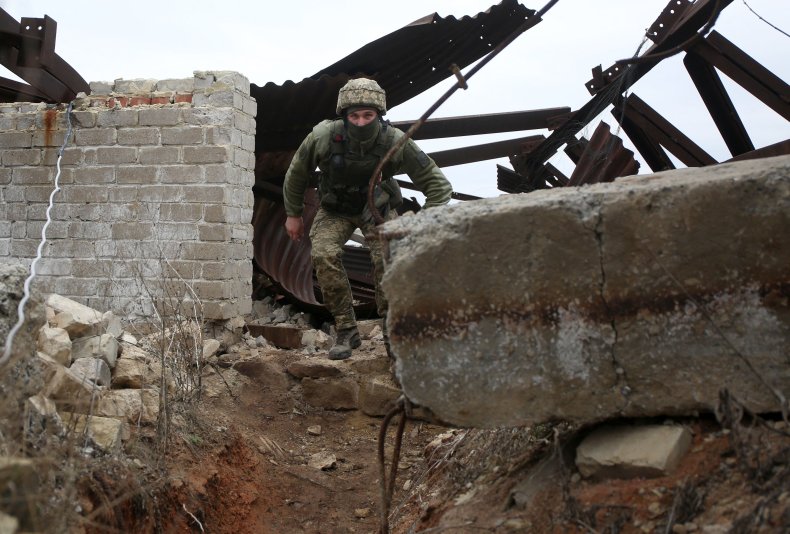 Kuleba said Thursday that diplomatic efforts to reduce tensions are taking place at all levels. NATO, the Group of Seven nations and the European Union have so far called for Russia to de-escalate in the region, Bloomberg reported.
Russia has since defended its forces' presence in the region, saying it is free to move troops internally along the border and insisting that they do not pose a threat.
"Russia has never been a threat to anyone and does not pose a threat," Putin's spokesman, Dmitry Peskov, said Monday, according to NBC News.
Amid the growing tensions, the U.S. announced tough new sanctions against Russia on Thursday, formally blaming the nation for the SolarWinds hack and for efforts to disrupt U.S. elections.
"The Biden administration has been clear that the United States desires a relationship with Russia that is stable and predictable," a White House statement said. "We do not think that we need to continue on a negative trajectory. However, we have also been clear—publicly and privately—that we will defend our national interests and impose costs for Russian Government actions that seek to harm us."
In addition, the U.S. has joined with European partners to sanction eight people and entities "associated with Russia's ongoing occupation and repression in Crimea."
"The Transatlantic community stands united in supporting Ukraine against unilateral Russian provocations along the Line of Contact in eastern Ukraine, in occupied Crimea, and along Ukraine's borders, as well as agreeing on the need for Russia to immediately cease its military buildup and inflammatory rhetoric," the White House said Thursday.
Newsweek contacted the White House for additional comment but did not hear back in time for publication.