Ukraine Warns of Russian Terrorist Attacks on Its Own Territory
A Ukrainian defense official recently warned of a Russian "terrorist" attack on its own territory, that will be used to accuse Ukraine.
In a Facebook post on Monday, Major General Kyrylo Budanov, who serves as the head of the intelligence department in the Ministry of Defense of Ukraine wrote, "Russian intelligence services are planning a series of terrorist attacks with mining and undermining residential buildings, hospitals and schools in Russian settlements."
"The failed implementation of the plan for mobilization in Russia forces Putin's regime to put into action dirty scenarios to emotionally shake Russian society and even more consolidate it against Ukrainians," the post said. "For this they plan explosions in Russia Asian residential houses or rocket bombings to accuse of this Armed Forces of Ukraine."
The comments by Budanov comes amid ongoing fighting between Russian and Ukrainian military forces. On Monday, a Ukrainian battalion accused Russian military forces of dropping chemicals on civilians in Mariupol.
"Russian occupation forces used a poisonous substance of unknown origin against Ukrainian military and civilians in the city of Mariupol, which was dropped from an enemy UAV," Ukraine's Azoz Regiment, a unit in the nation's National Guard, wrote on Telegram.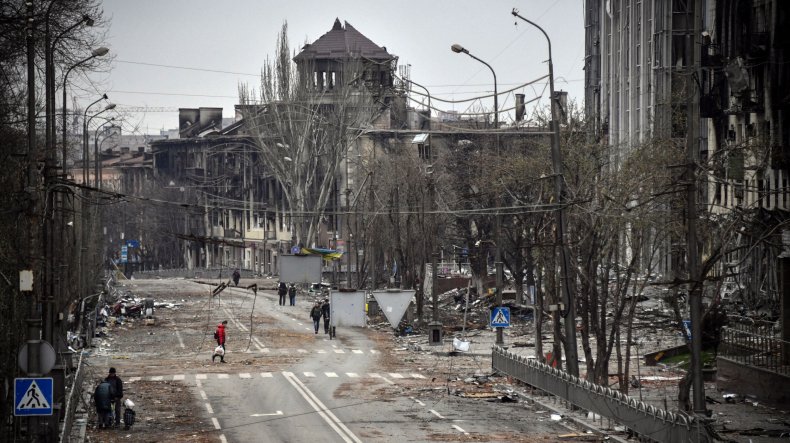 While Newsweek has been unable to independently verify these allegations, several officials in Ukraine, the U.S. and the UK have spoken about the claims of chemical weapons.
"Reports that Russian forces may have used chemical agents in an attack on the people of Mariupol. We are working urgently with partners to verify details," UK Foreign Secretary Liz Truss wrote in a tweet on Monday. "Any use of such weapons would be a callous escalation in this conflict and we will hold Putin and his regime to account."
The U.S. and NATO has yet to introduce a military response to Russia's invasion of Ukraine. However, earlier in March, U.S. President Joe Biden said that NATO "would respond" if Russian President Vladimir Putin used chemical weapons in Ukraine.
"We would respond if he uses it. The nature of the response would depend on the nature of the use," Biden said.
In addition to predicting that Russian troops will commit a "terrorist" attack on their own territory, Budanov wrote that "It is quite possible that these terrorist attacks will be served as a revenge of Ukrainians for Buchu and Kramatorsk and as an excuse for violence against Ukrainian civilians."
Over the past two weeks, Ukrainian officials have accused Russian military forces of deliberately attacking civilians in Bucha and other towns near the nation's capital of Kyiv. These accusations have been disputed by Russian officials.
Newsweek reached out to the Russian foreign ministry and the Ukrainian intelligence department for comment.