Ukraine Warns of 'Full-Scale War' As Russia Makes Sure Troops Ready Near Border
Ukrainian President Petro Poroshenko has warned that a conflict may be imminent as Russia began testing troops near its border with his country and a political crisis between the two continued to escalate.
Moscow and Kiev have been at major odds since Russia annexed the neighboring Crimean Peninsula from its former Soviet ally in an internationally contested referendum in 2014, the same year it was accused by Kiev and the U.S.-led NATO Western military alliance of backing an eastern separatist insurgency in Donbas. Russia's violent engagement of three Ukrainian vessels, which have been seized and their crews arrested, has further spurred tensions.
"I don't want anyone to think this is fun and games. Ukraine is under threat of full-scale war with Russia," Poroshenko said Tuesday in an interview with national television, according to Agence France-Presse.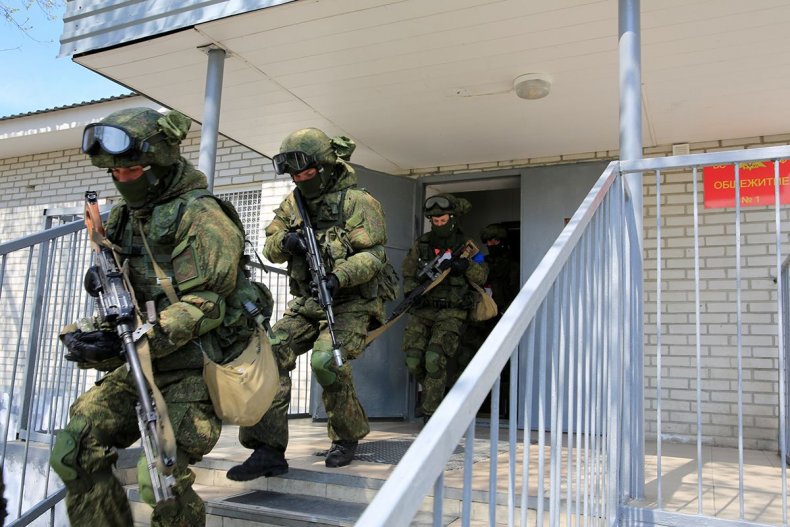 Poroshenko, who came to power after the ouster of his pro-Kremlin predecessor in 2014, claimed that the number of Russian forces near the border had "grown dramatically." The president had previously said on Monday that he had "serious grounds to believe Russia is ready to follow with a ground attack," citing "evidence collected by our intelligence." However, no specifics were presented.
Ukraine, joined by the United States and NATO, has rejected Russia's annexation of Crimea as well as its claims to the nearby Kerch Strait, a waterway located between the Black Sea and Sea of Azov. Russia's Black Sea Fleet, stationed in Crimea, accused Gyurza-M-class gunboats Berdyansk and Nikopol and the Yana Kapa tugboat of violating Moscow's territorial claims and opened fire on them, with one Russian warship ramming the Yana Kapa as well before detaining the vessels and their crew.
In a phone call Tuesday with German Chancellor Angela Merkel, Russian Presiden Vladimir Putin referred to the encounter as a "dangerous incident" and expressed "serious concern" in response to Kiev's decision to declare martial law. The Russian leader placed the armed forces on high alert, and argued that "the Ukrainian leadership is fully responsible for creating another conflict situation and the associated risks."
Poroshenko claimed that he personally reached out to Putin, "but did not receive an answer." Instead, he also contacted Merkel, hoping she would be able to negotiate the release of 24 detained Ukrainian sailors, half of whom would reportedly be placed under arrest for two months. Germany, the U.S. and the United Nations have all appealed for calm.
Also on Tuesday, the Russian Security Service released an account of the incident claiming that the Ukrainian ships had violated international maritime law. The Russian Defense Ministry announced that same day that it had "begun testing the readiness of formations and military units of the Southern Military District."
The Southern Military District includes Crimea, where the Black Sea Fleet is stationed, as well the Caspian Flotilla and troops deployed on the border with war-ravaged eastern Ukraine. The check reportedly included "more than 40 formations and military units."