More Ukrainians Now Expect to Take Back Donbas, Crimea From Russia: Poll
Support among Ukrainians for their president, Volodymyr Zelensky, has dipped slightly over two months, according to a new poll, which also shows that more Ukrainians now expect the Crimean and Donbas regions will be taken back from Russia.
The survey by the International Republican Institute (IRI), which is funded by the U.S. Agency for International Development, showed that while still hugely popular, Zelensky has had a small decrease in his domestic support.
The IRI poll, released Thursday, was conducted between June 27 and 28 and questioned 2,004 citizens throughout the country, except for the Russian-occupied Donbas region and Crimea. It had a margin of error of less than 2 percent.
It found that 91 percent of Ukrainians either strongly or somewhat approved of Zelensky's actions.
This was only slightly less than 94 percent who held either of those views in an IRI poll conducted between March 30 and April 2, which had the same margin of error.
The June figures also showed that only 7 percent of Ukrainians strongly or somewhat disapproved of Zelensky—2 percent higher than in April. The rest of the respondents said they did not know.
However, the proportion of respondents in June who "strongly approve" of Zelensky had gone down to 59 percent—a drop of 25 percentage points from April.
The poll also showed a spike over two months in the proportion of Ukrainians who believed that following the war, Ukraine would take back the eastern Donbas region as well as Crimea, which Russia annexed in 2014. Nearly two-thirds (64 percent) of respondents said that as a result of the war, Ukraine will maintain all territories within its internationally recognized borders as defined in 1991. This was an increase from 53 percent in April.
The Armed Forces of Ukraine enjoyed near-universal support, with around 98 percent strongly or somewhat approving of their actions in June, roughly the same as two months earlier.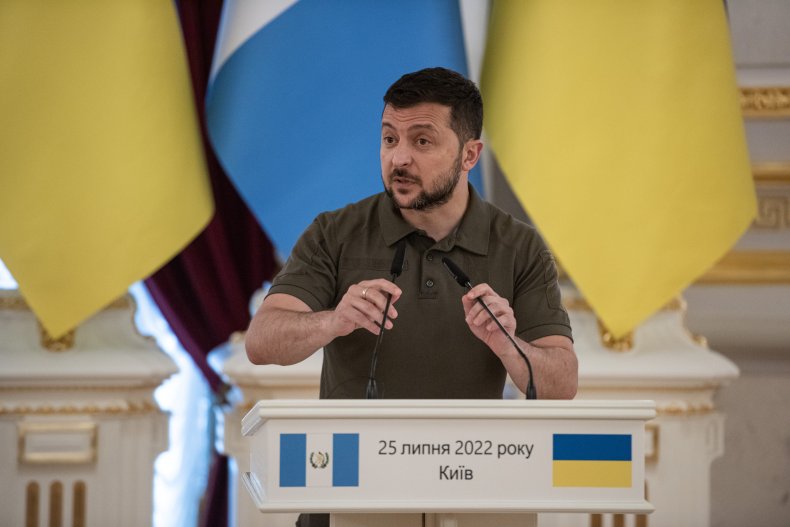 Nearly a third (29 percent) of respondents said they were prepared to accept, as a concession to ending the war, Ukraine declaring neutral status and not pursuing NATO membership. However, this was down from April's figure of 37 percent, who said they were prepared to allow these moves to end hostilities.
Newsweek has contacted the Ukrainian Foreign Ministry for comment.
In his nightly address Thursday, Zelensky addressed state, local and military officials and urged them to stop talking to the media about his country's military tactics against Russia.
His comments followed Western media reports citing unidentified officials claiming Ukrainian responsibility for blasts that wrecked a Crimean air base on Tuesday, which Kyiv has not officially confirmed.
"War is definitely not the time for vanity and loud statements," Zelensky said, adding that "the fewer details you divulge about our defense plans, the better it will be."