Trump's Phone Call With Ukraine's President Is a 'Diplomatic Disaster' for Kiev and Will Strengthen Russia, Says Think Tank: 'The Only Winner in This Story Is Putin'
Ukrainian politicians and foreign policy experts are weighing their country's options amid growing concerns that the Kremlin may benefit most from the controversy over the phone conversation between President Donald Trump and his Ukrainian counterpart.
The controversy involves whether Trump pressured Ukrainian President Volodymyr Zelensky during a July 25 call to investigate Joe Biden, the former vice president and a top Democratic presidential contender, while a U.S. military aid package was on the line. Ukrainian experts fear if Kiev takes a side, it could alienate Republicans or Democrats.
Ukraine has for years relied on bipartisan U.S. congressional support against Russian aggression, with Washington siding with Kiev when Moscow illegally annexed Crimea in 2014. Continued U.S. funding is key to tackling Russia-backed militias in the conflict-ridden Donbass region in eastern Ukraine.
Zelensky's domestic support within his country currently hovers around 70 percent, and his electorate is likely to accept his explanation about the call. However, how it goes down in Washington will be significant, experts warn.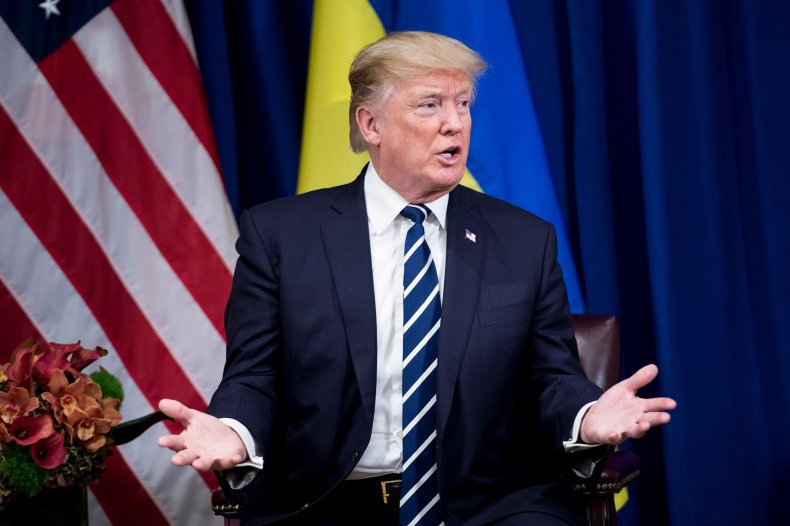 Alyona Getmanchuk, director of the Kiev-based New Europe Center, told Newsweek Zelensky is in a tight spot, as Ukraine finds itself caught in a domestic U.S. political battle.
"If Zelensky confirms there was a conversation and there was pressure, he would spoil his first contact and relations with Trump," she said. "If Zelensky says, 'There was a conversation, we discussed briefly investigations, but he didn't put pressure on me,' it would be seen as a move to defend the American president." That could be "problematic," Getmanchuk explained, because "our key task is to secure continuation of bipartisan support."
Some senior Democrats have revived talk of impeachment hearings against Trump over the claim by an intelligence community whistleblower that the president asked a foreign government to investigate a political opponent.
"I am already afraid that Ukraine has become a subject in internal politics and the presidential campaign and everything that Zelensky would say in New York when he plans to meet Trump could be used against him and against Ukraine," Getmanchuk said. Zelensky and Trump are scheduled to meet in person Wednesday on the sidelines of the United Nations General Assembly.
"It is a diplomatic disaster," she added. "It is clear that the only winner in this story is Putin."
The Anti-Corruption Action Center in Kiev has echoed this concern, and an unnamed senior European diplomat told The Washington Post that the conundrum "really couldn't get worse" for Kiev.
A former Ukrainian deputy foreign minister, Danylo Lubkivsky, told the paper, "This is not all about Ukraine. Don't impose some domestic issues, problems on Ukraine, while Ukraine fights against Russia's aggression and struggles for its independence and freedom."
Former Secretary of State John Kerry said the Republican Party is "running for cover" over the call that sparked the whistleblower complaint.
Trump has said he did "absolutely nothing wrong" in the call, which he said was "congratulatory" and focused on corruption.
Representative Jim Himes of Connecticut told CNN that the controversy could accelerate the march toward impeachment. "Extorting a foreign leader for the purposes of getting that leader to do your political work, to try to find dirt on your opponent, is extortion," he said Monday on New Day. "It is using the assets of the United States of America and the public trust for your own corrupt...ends, certainly political ends."
Himes said, "I can't tell you that the House will move into impeachment mode right away, but this really ups the ante."