Ukraine's 57th Brigade Destroys 2 Russian Tanks, Records Aftermath
This footage shows two Russian tank wrecks burning on an unpaved road after encountering members of Ukraine's 57th Motorized Brigade.
The 57th Motorized Brigade, named after Cossack Ataman Kostya Gordienko, a formation of the Ukrainian Ground Forces, said the attack took place on the 91st day of the invasion on May 25.
The Ukrainian brigade, which formed in autumn 2014, said they destroyed two Russian tanks in the easternmost Ukrainian region of Luhansk Oblast.
The brigade's statement said: "Day 91. In Luhansk region, fighters of the 57th Motorized Brigade destroyed two Russian tanks."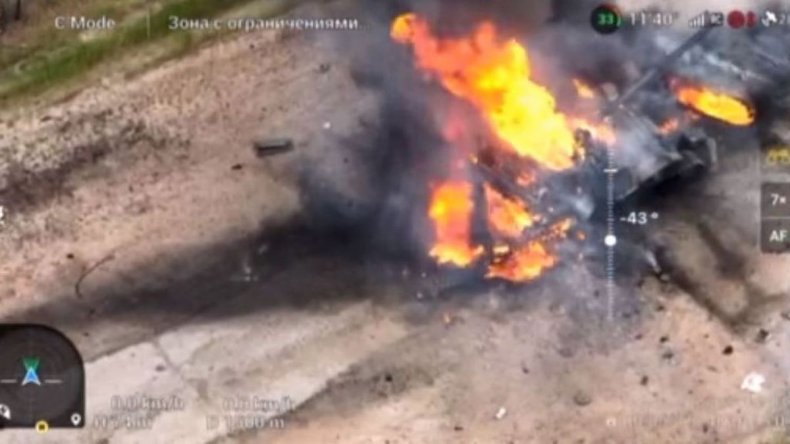 In other developments, Ukrainian officials said Russian forces have attacked over 40 towns in the eastern Donbas region.
They added that five civilians died, 12 were wounded and 47 civilian sites were destroyed or damaged in the latest attacks.
Russian President Vladimir Putin signed a decree Wednesday that makes it easier for Ukrainians in occupied areas to become citizens of Russia.
Russia has also done away with the upper age limit for contractual service in its military.
Ukraine has called Russia's offer to lift the blockade of its Black Sea ports in return for the lifting of some sanctions "blackmail."
The blockade has led to shortages of wheat and cooking oil across the world.
Ukrainian President Volodymyr Zelensky on Wednesday compared former U.S. Secretary of State Henry Kissinger to Nazi appeasers in 1938 after Kissinger suggested that Ukraine should let Russia keep Crimea, which it annexed in 2014 following a disputed referendum.
Russian troops invaded Ukraine on February 24 in what the Kremlin is still calling a "special military operation." May 26 marks the 92nd day of the campaign.
From February 24 to May 26, the total combat losses of Russian troops stand at around 29,600 personnel, according to the General Staff of the Armed Forces of Ukraine.
The Ukrainian military also claims that Russia has lost 1,315 tanks, 3,235 armored fighting vehicles, 617 artillery systems, 201 multiple launch rocket systems, 93 anti-aircraft systems, 206 warplanes, 170 helicopters, 2,225 motor vehicles and fuel tankers, 13 vessels, 502 unmanned aerial vehicles, 47 units of special equipment, and 114 cruise missiles.
Zelensky said Russian forces are trying to destroy "everything living" in the embattled Donbas region and he reiterated that his country remains disposed to exchange prisoners with Russia.
Last week, Zelensky called Russia's invasion of Ukraine an "absolute failure" and said Russian leaders were afraid to acknowledge "that catastrophic mistakes were made at the highest military and state level."
This story was provided to Newsweek by Zenger News.