Ukraine's Children Endure Levels of Suffering 'Not Seen Since' WWII: UNICEF
At a time when Ukraine's children should be celebrating a summer break, Russia's war has instead brought the young victims of the fighting a level of suffering not endured since World War II, a UNICEF official said.
Citing U.N. figures, Murat Sahin, a UNICEF representative in Ukraine, said each day an average of more than two children are killed and four more are injured, "mostly in attacks using explosive weapons in populated areas."
Sahin spoke Saturday at St. Sophia Cathedral in Kyiv at an event organized by Ukraine's First Lady Olena Zelenska for the U.N.'s International Day of Innocent Children Victims of Aggression, marked each year on June 4.
"One hundred days of war have brought devastation and suffering to Ukraine's children–at a scale and scope that we have not seen since the Second World War," Sahin said, according to a UNICEF statement. "And it has deeply impacted children's lives with consequences that we will need to address for years to come."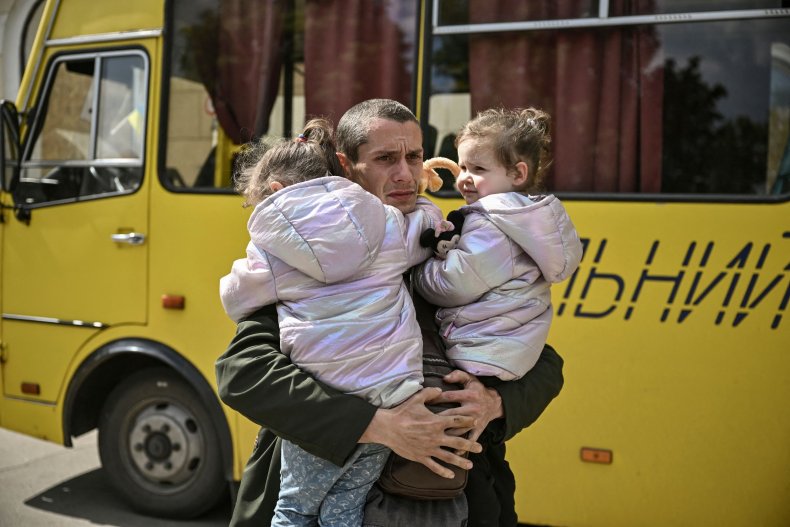 Sahin noted his remarks came as Ukrainian children should be celebrating the end of the school year, bringing home report cards and making plans for summer break. But the war has "changed everything for them and their families."
"It is robbing children of stability, safety, school, friends, family, a home and hopes for the future," Sahin said. "And it is taking children's lives and harming their bodies and souls."
Fighting has displaced nearly two out of every three of Ukraine's children, according to the U.N.
"Families have been ripped apart. Schools, hospitals, playgrounds, parks and thousands of homes were damaged and continue to be destroyed," Sahin said. "Conditions for children in areas where fighting has intensified are increasingly desperate. Children fleeing from violence are at significant risk of family separation, violence, abuse, sexual exploitation and trafficking."
Suhin predicted the "deep trauma and emotional suffering" will affect Ukraine's children for many years.
"The violence and suffering need to stop," he said. "Every day of war is increasing the long-lasting devastating impact on vulnerable children around the world."
Sahin offered his "deepest condolences" to families who have lost children "to this horrible war" and said the number of children's fatalities is believed "to be much higher" than figures able to be verified by the U.N.
He spoke of the struggles Ukrainian parents face as they try to raise their children in a war-torn country.
"The strength of every parent and every caregiver in Ukraine and abroad deserves our highest level of respect," he said. "Every single day, Ukrainian mothers, fathers and caregivers wake up and go to bed not knowing what the next day will bring. And yet they are doing their absolute best for all children in their care to keep them safe. I would like to sincerely thank them for that."
Newsweek reached out to the Russian government for comment.