Ukraine's Children Risk Becoming a Lost Generation | Opinion
Ukraine's children are in trouble—and it's much more than their lives being at risk, it's the future of Ukraine itself.
The Russian ground invasion and incessant artillery shelling have already caused the largest forced migration of civilians in Europe since the Second World War. As of last month, more than 12 million Ukrainians have evacuated their homes and communities, a number bound to increase as the war rages on. And now, Ukraine's President Volodymyr Zelensky has directed several hundred thousand residents still living in Ukraine's Donetsk Province to evacuate immediately.
Children have been severely impacted by this unprovoked war. Hundreds of children have died in eastern or southern Ukraine since Feb. 24, and hundreds more have been injured – some severely. Many have been transferred to a children's hospital in Lviv, where I had an opportunity to make rounds with some highly skilled and compassionate medical, nursing, and social services staff. I saw children with multiple traumatic amputations, head injuries and other wounds of war. Adding to the horror is that some of these injured children had witnessed their parents being killed by bombs or shot by Russian ground troops.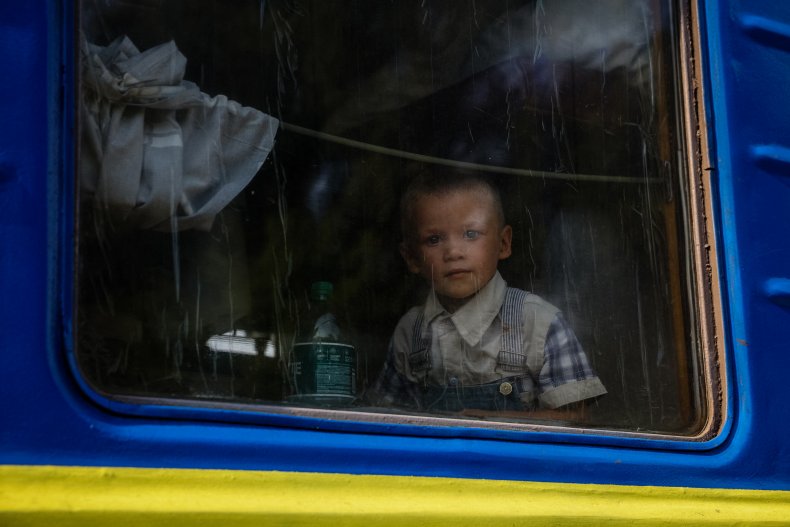 In addition to the children who have been killed or injured, there are literally millions more who are psychologically traumatized. Consider the fact that about 5 million children (or about 60 percent of Ukraine's population under the age of 18), have fled to relative safety in the west of the country or out of Ukraine entirely. And if residents of Donetsk Province comply with Zelensky's directive, we should expect at least another 100,000 children who will need to be accommodated in host communities in western Ukraine, Poland or any number of neighboring countries.
While most displaced children have been accompanied by their mothers or other close relatives, the loss, uncertainty, and fear they experience creates high levels of psychological trauma. Separation from fathers has been particularly tough for children and mothers. Most able-bodied men have stayed behind to fight the invaders or are providing humanitarian assistance in the regions under the brutal Russian siege.
In our multiple trips to the region, Karen Redlener, co-director of the Ukraine Children's Action Project, and I have had an opportunity to visit with many displaced children and mothers who have talked—and wept—about the details of their experiences living in below-ground shelters for weeks, comforting each other over the sounds of shelling overhead, foraging for clean water and food and running out of needed medications.
When they finally evacuated their communities, for many it was under impossibly dangerous circumstances with little time for preparation. Families headed west by any means available, taking minimal possessions, often leaving behind everything from prescription glasses to family pets. It's not difficult to imagine the level of stress and disorientation Ukraine's displaced children are experiencing. A report by Save the Children, suggests that as many as 85 percent of displaced children are suffering severe psychological trauma that is exacerbated by living in makeshift shelter facilities or staying with strangers in Poland.
Adding to the psychological burden, most school age children have had their education disrupted for extended periods of time. And no one is clear about what will happen when the new school year begins just weeks from now. Officials we met with in Lviv are hopeful that they will be able to expand their classes enough to accommodate the displaced kids. If not, they say online education will be available. We hope that the optimism officials express is warranted.
And in Poland, the city of Warsaw has taken in about 100,000 Ukrainian school-age children, yet no more than 20,000 were enrolled in the city's public schools last semester. The other 80,000 were mostly unaccounted for, although some number of children attended online classes in newly established "learning hubs."
And there are further challenges in host nations like Poland since few refugee kids speak Polish and schools have a great unfulfilled need for Ukrainian-speaking teachers. No surprise that Ukrainian children who are unable to understand Polish are socially isolated, adding to their already overwhelming psychological stress, even as Poland has been uniquely generous and welcoming of refugees from their closest neighbor to the east.
Persistent, unmanaged psychological trauma and prolonged loss of educational continuity, unless properly addressed, will have long-term consequences for these children and will prevent many from leading productive, fulfilled lives. Ukraine's kids need to be assets for the future, not liabilities that will require remediation.
These children are part of a new "war generation." But it's not hopeless. Many large international agencies and non-profit organizations, in addition to scores of talented and dedicated local officials in Ukraine and Poland are working hard, though the scale and scope of the challenges they face are huge and progress is painfully slow.
For our part, we are helping develop language-appropriate "trauma-informed" training programs for teachers and schools, as well as proposing new screening protocols to identify treatable health barriers to learning, like psychological and behavioral issues, visual defects, and chronic hunger. All these conditions can impair a child's ability to concentrate and learn.
We've raised funds already to send dozens of refugee children to summer camp in Warsaw and will be supporting new learning hubs in Ukraine and Poland. The challenges are endless, but most are theoretically solvable. To this point, we were told by a member of Ukraine's parliament that funds originally identified to provide needed textbooks for elementary students have been diverted to support the war effort. This is something that is easily addressed by funders who want to do something meaningful.
Meanwhile, no matter what other critical issues are demanding our attention, we must not forget about how much Putin's brutal war of Russian expansionism is harming Ukraine's children—and the very future of Ukraine itself.
Irwin Redlener is an American pediatrician and public health activist who specializes in health care for underserved children and disaster planning, response, and recovery. He recently co-founded Ukraine Children's Action Project, a new initiative to support the critical needs of traumatized Ukrainian children.
The views expressed in this article are the writer's own.