The Field of Mars cemetery in Lviv, Ukraine, located just behind the monument-filled 18th Century Lykachiv Cemetery, contains over 500 graves of local soldiers killed since February 24, 2022, the date that Russia launched its full-scale invasion of the neighboring nation. While the sight of large blue-on-yellow flags flying above gravesites has become common in city and village burial sites across the country, the collection in Lviv is especially large.
Like everywhere else, it continues to grow.
"We do this almost every day," a priest from the city's Saints Peter and Paul Garrison Church told Newsweek following a funeral service this past weekend.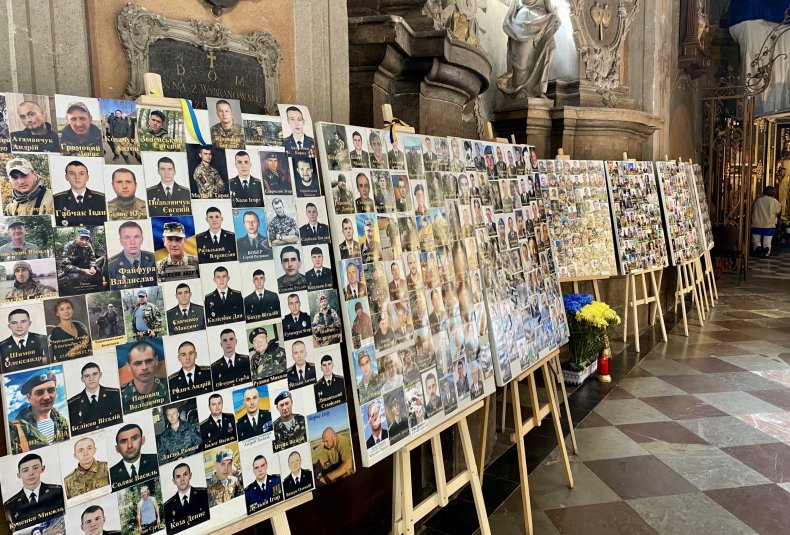 The farewell featured two coffins, both closed. One contained the body of a soldier born in 1995, the other of a soldier born in 1977. A crowd numbering in the hundreds gathered to pay their final respects. It contained dozens of young men, some in military uniform, some in black T-shirts, fighting to hold back tears, often unsuccessfully.
Since the start of the full-scale war, both Ukraine and Russia have been very protective of their respective casualty figures. According to a U.S. Department of Defense document that was leaked earlier this year, American officials estimated the number of killed in action as of February 2023 have been as high as 43,000 on the Russian side, with 17,500 on the Ukraine side.
In the ensuing months, as Kyiv's troops have endured slow progress while attempting to break the Russian land bridge to Crimea in the south while Russian forces have fixed some of Ukraine's best units on the defensive in the east around Kupiansk, those numbers continue to grow.
Exactly how much the death toll has risen on both sides remains a closely guarded secret, and how high that toll will reach until the bloodshed ends is unknowable. Until that day comes, scenes like the one on display almost every day in Lviv will continue.
At the end of the service, as the congregation filed slowly out of the cathedral, the mother of the soldier born in 1977 was heard saying repeatedly through her tears, "my child; my child."