Ukraine's Depleted Air Force Rallies Against Russian Invaders, Kyiv Says
Ukraine's air force destroyed four Russian military planes, two drones and a helicopter as well as intercepting two missiles over 24 hours last weekend, Ukrainian military chiefs said.
"The Air Force aviation, was also deployed to strike specific terrestrial targets and objects of the occupiers," General Staff of the Armed Forces added in a Facebook post on Monday, vowing: "Together we will win!"
Invading Russian forces have targeted the outnumbered and outgunned Ukrainian air force since the war began on February 24. Russia's Defense Ministry said on March 9 that it had it had destroyed 81 radar stations and damaged 90 percent of Ukraine's airfields, crippling its combat aviation.
While neither Kyiv nor Moscow's claims nor the number of aircraft lost can be verified, Russia—boasting many more fighter jets—is yet to win total control of the skies.
Instead, Su-30s, Su-34s and Su-35s emblazoned in Ukraine's blue and gold flag have been running night sorties in defence of Ukrainian cities from aerial bombardment.
There have also been unverified reports about a flying ace dubbed the "Ghost of Kyiv," who is said to have single-handedly brought down six Russian planes.
On Monday, U.S. officials and military analysts told the Washington Post the air war over Ukraine appeared to have entered a new phase, with Russia's air force boosting the number of daily flights by 50 percent and deploying more Russian drones.
And there are fears in Ukraine that it could run out of planes.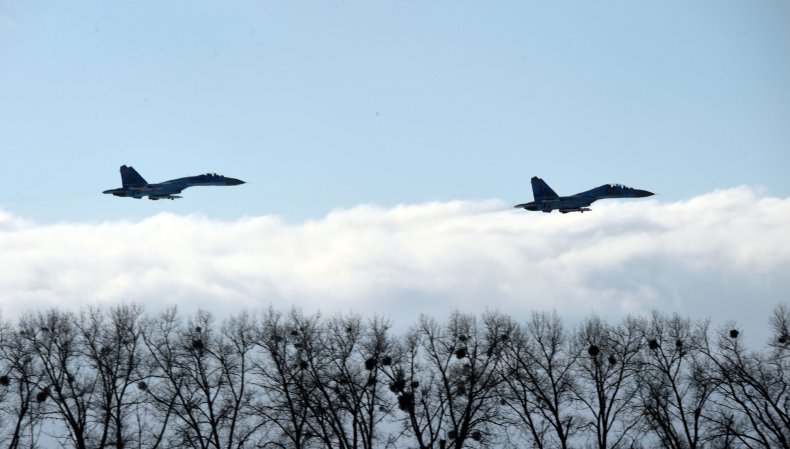 Poland's plan to get planes into Ukraine has been blocked by the U.S., where officials fear such a move could escalate the war.
Ukrainian President Volodymyr Zelensky has appealed directly to NATO for "1 percent" of the alliance's tanks and planes.
"We did not ask for more, and we do not ask for more," he said on Saturday. "And we have already been waiting for 31 days."
During that time, Russia has continued to shell cities, including Kharkiv and Mariupol.
On Saturday, Russia fired at least 70 rockets at targets in Ukraine, the most in one day, independent Russian website The Insider reported. But it said only eight hit their targets as many were shot down.
In its most recent update on the conflict on Sunday, Ukraine's Foreign Ministry said about 16,600 Russian military personnel had been killed, 121 aircraft and 127 helicopters either destroyed or captured by Ukrainian forces. Fifty-two Russian anti-aircraft warfare systems had also been lost. Russia has been cagier in releasing death counts publicly.
NATO has estimated between 7,000 and 15,000 Russian servicemen have been killed in the war—the higher estimate roughly equals the number of Soviet soldiers killed during a decade of fighting in Afghanistan.
Update: 3/30/22, 12:44 p.m. ET: This article has been updated throughout.